'The Division 2' Twitch Prime Bundle: How to Unlock Baseball Apparel
The Division 2 is partnering with Twitch to give players gear for the loot shooter. Users who have Twitch Prime, a service that comes as part of Amazon Prime, can unlock the Spears baseball apparel bundle and baseball mask right now in Ubisoft's post-apocalyptic third-person shooter. Cosmetics that turn you into an extra from The Warriors will come in handy when you are grinding for hours to unlock the new Gunner specialization.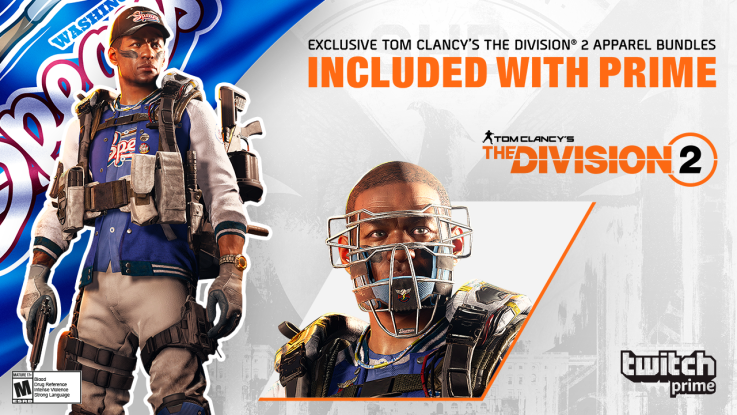 In order to get the goods, you need to link an Amazon Prime subscription to your Twitch account. Click on the Twitch Prime crown on the streaming site's homepage and you'll be directed to the Amazon website. Log in to your account and you should be prompted to link the pair. Once you do, you'll get content for a number of games including Warframe, League of Legends and Runescape.
Three additional in-game loot bundles will drop on July 23, August 22 and September 24.
How To Link Your Twitch Prime and Ubisoft Accounts
In order to link your Ubisoft account to your Twitch Prime account, you'll need to log into Twitch. From there, click on the crown icon in the upper right corner and then on The Division 2 drop-down menu. You'll be directed to the Ubisoft account page where you'll either have to log in, or create a new account. If you play The Division 2 on Xbox or PlayStation 4 you will need to link those consoles to your game which can be done from the in-game menu.
Once you're linked up, the next time you log into The Division 2 on any platforms you have connected, you'll be able to find the items in the stash in your base's inventory.
For those of us that have had other loot shooters to occupy our time, it's nice to see new content getting added to the game. Cosmetics keep players entertained and the constant updates keep them from moving on. With so many other competitors on the market, it's nice to know that your time won't be wasted.
How do you like these cosmetics? Tell us in the comments.
'The Division 2' Twitch Prime Bundle: How to Unlock Baseball Apparel | Gaming