Twitch Streamer Jenna Accused of Anti-Semetic, Homophobic Language on Discord Server
Leaked messages containing alleged antisemitic, racist and homophobic language from the private Discord of Twitch streamer Jenna have leaked online. Jenna has been streaming on Twitch since March 2014, pulling in over 250,000 Twitch followers and over 54,000 Twitter followers, while playing video games and chatting with her fans.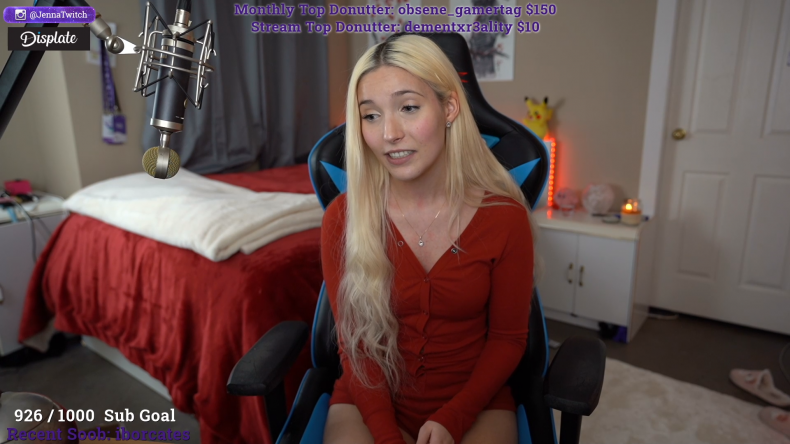 Discord is a community-based chat room service, which Jenna used to speak to her fans. On Monday, Reddit user euphoricpup visited the streamer's Discord and searched through her messages from 2016 to 2019. Dozens of posts containing slurs like retard, f-g and n---r can be found alongside statements like "cause f--k Jews, theyre (sic) done" and "this is why there's no black people on my server."
Though the legitimacy of these messages cannot be 100 percent confirmed, Jenna has not denied their contents and has since apologized for the offensive content on stream. The reddit post went live while she was streaming, and she reacted to it in real time saying "I feel terrible. I'm a f---k up. I'm not going to lie guys, I don't remember doing any of this. It's not how I feel. And if I lose my partnership for it, I deserve it." She later added, after her viewers mentioned she did not apologize, "I'm sorry I said stupid things, and I'm sorry I'm a f--- up."
The Discord messages have since been deleted from her server. When asked what was happening on her platform, Jenna wrote that her "DMs got leaked" and "no one should support any actions like this."
Jenna's Discord is partnered, meaning her server has access to special tools and personalization options. Breaking the platform's Terms of Service, which does not allow users to "defame, libel, ridicule, mock, stalk, threaten, harass, intimidate or abuse anyone," could result in an account suspension. She is also a Twitch partner, which offers access to increased monetization options on the platform that can be taken away for breaking the Community Guidelines which forbid "hateful conduct and harassment" both on and off the platform.
This isn't the only controversy Jenna has been dealing with this week. On January 8, reddit user euphoricpup posted a clip of the streamer admitting to kissing a man without his consent and suggesting she was going to "roast" him on her livestream before eventually "getting [her] way." Reddit users flooded the comments section with their opinions on the situation. "Shaming anyone into kissing you regardless of gender is really disgusting," wrote one user. "REVERSE THE ROLES," wrote another.
Discord, Twitch and Jenna have not yet responded to Newsweek's request for comment before publication.