Twitter Page of Alexandria Ocasio-Cortez Dancing to Different Tunes Created Following Conservative Backlash of College Video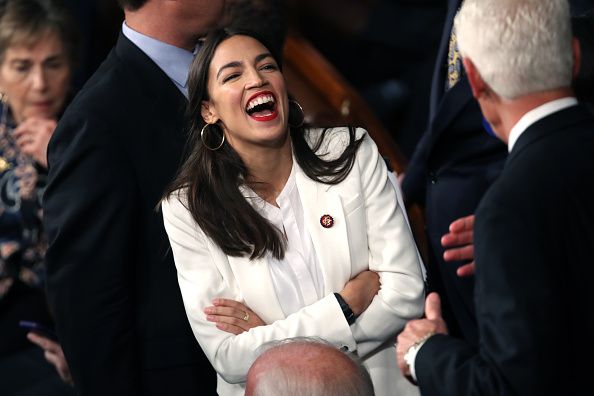 The viral video of Alexandria Ocasio-Cortez dancing while she was in college has become a big hit on Twitter, especially since a Twitter user got the idea to show her dancing to different hits.
Twitter user @leftistthot420 created the "AOC Dances to Every Song" Twitter account, which is a compilation of the U.S. Congresswoman dancing to different songs. The Twitter user, whose real name is Valentina, told Newsweek that she knew the original video of Ocasio-Cortez dancing was a big hit and was waiting for a social media account like this to materialize.
"It seemed like an obvious trend that was gonna happen," Valentina told Newsweek. "But then, like10 minutes later, I realized, 'Hey, I could be the one to do that and get 10k followers.'"
The Twitter page, which was created on Thursday, quickly grew popular, attracting more than 15,000 Twitter followers. Ocasio-Cortez was depicted dancing to songs like LMFAO's "Party Rock Anthem," Kenny Loggins's "Footloose" and ABBA's "Dancing Queen."
Valentina told Newsweek that her favorite songs she's had Ocasio-Cortez dance to are Town Hall's "Animal Crossing: New Leaf" and ABBA's "Gimme Gimme Gimme."
The original video of Ocasio-Cortez surfaced on social media on Thursday. The video was recorded while she was in college at Boston University dancing to Phoenix's "Listomania" as a tribute to the classic '80s film The Breakfast Club. The internet was divided by the video, with some conservatives saying the video would destroy her career.
Many of Ocasio-Cortez's supporters made fun of conservatives who found the video scandalous.
"Oh look! @AOC acted like a typical high-school teenager when she was a teenager in high-school. Clutch your pearls, everyone," wrote Ana Navarro on Twitter.
"Well, @AOC is officially done. She'll never recover from the world seeing her... (watches video) ...dancing adorably and having fun with her friends in high school?" Comedian Patton Oswalt wrote on Twitter.
In response to the video, the 29-year-old U.S. Congresswoman posted a video of her dancing into her new office to the song "War" by Edwin Star.
"I hear the GOP thinks women dancing are scandalous. Wait till they find out Congresswomen dance too! Have a great weekend everyone," Ocasio-Cortez wrote on Twitter on Friday.
On January 3, Ocasio-Cortez, who is originally from the Bronx, was the youngest woman to be sworn in to Congress. When Newsweek asked Valentina if she had anything else to add about the AOC Dances to Every Song Twitter account, she encouraged Twitter users to follow her account.
"Tell everyone to follow my main account, @leftistthot420, and to abolish ICE," she said.