Anti-Trump Krassenstein Brothers Claim Jacob Wohl Called Them After Twitter Ban to Fight Internet Censorship Together
Ed and Brian Krassenstein, the brothers best known for their relentless use of Twitter to attack President Donald Trump, have denied breaking the social media platform's rules after their accounts—followed by hundreds of thousands of users—were permanently suspended.
They also claimed the notorious pro-Trump conspiracy theorist Jacob Wohl, himself banned permanently from the site for using fake accounts and other rule violations, called them shortly after their ban to say they should all join together and fight Twitter and internet censorship.
Wohl, who has a history of making false and outlandish claims, later appeared to take credit for the Krassenteins' ban in an Instagram post. "Another set of enemies have been vanquished. And all it took was $1,000 on BoostFollower.com and some bogus emails to twitter execs. #Don'tFuckWithJacobWohl," posted Wohl.
Writing on their Hill Reporter website, the brothers said Twitter notified them through their @EdKrassen, @Krassenstein and @KrassenCast accounts that they were banned for the use of fake accounts and selling usernames.
"The Twitter Rules apply to everyone," a Twitter spokesperson said in a statement to Newsweek. "Operating multiple fake accounts and purchasing account interactions are strictly prohibited. Engaging in these behaviors will result in permanent suspension from the service."
But the Krassensteins wrote that they have only used other Twitter accounts "in a 100% non-manipulative or misleading way" to monitor threatening tweets against them and their families, or for now-defunct accounts for past business projects.
"We NEVER, and we want to make this as clear as day, ever bought or sold ANY Twitter accounts or interactions. We swear on our graves that this is 100% true," the brothers wrote.
They continued: "We have long defended Twitter's actions of banning and suspending users, and our stance still remains the same. Twitter, as a private company, has every right to ban whoever they choose, including us.
"We would, however, appreciate that Twitter reviews our suspension and issues a correction in regards to their comments about us buying or selling Twitter accounts or interactions.
"This is 100% false, and if Twitter believes they have evidence to prove otherwise, we ask and encourage them to release these details to the media."
They also said they have seen little evidence that Wohl, a fraudster who conned investors out of money they put into his failed hedge fund, is responsible for their Twitter ban.
Ed Krassenstein told Newsweek that Wohl called him from an unknown number. The conversation, he said, was uneventful, and after Wohl suggested they band together to fight censorship, he hung up.
"Where do we go from here? Well, we plan to appeal the suspension because Twitter says we were suspended for purchasing accounts and interactions," he told Newsweek.
"We know for 100% fact that we did not do this, and would welcome Twitter to release any details they have. If they believe we purchased any accounts then we could prove to them that we always owned them since we should have the original registration signup email in our archived email boxes.
"The idea that we would have purchased interactions is ridiculous. We had 1.6 million followers. Why would we pay anyone to interact with us? It doesn't make any sense. They should be able to verify our IP addresses and see that none of this ever happened."
Twitter did not comment on the Krassensteins' op-ed. Wohl did not respond immediately to Newsweek's request for comment.
Critics accuse the Krassensteins of grifting, exploiting the genuine anger at the Trump administration purely for their own commercial gain through the online "resistance" movement. However, the brothers say they are sincere in their beliefs.
Their business history is also chequered, having previously come under scrutiny from federal investigators amid suspicions of fraud relating to their past ventures TalkGold.com and MoneyMakerGroup.com, reported The Daily Beast.
The feds reportedly seized half a million dollars from the brothers, who were suspected of aiding financial scams, though they were never arrested or charged. They deny any wrongdoing.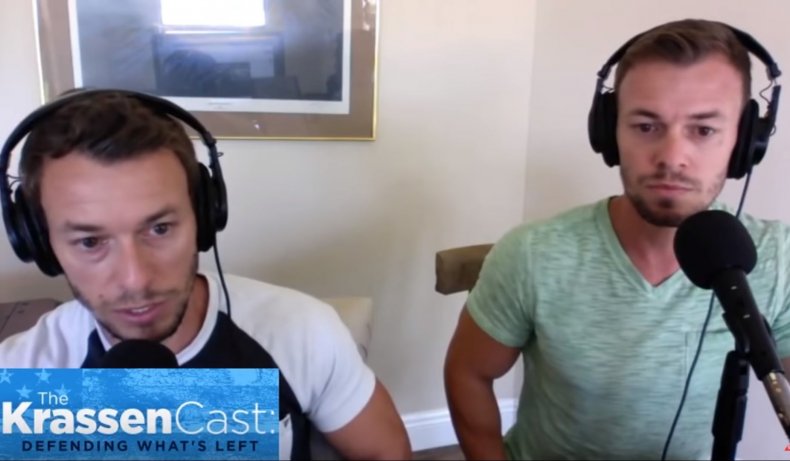 This article was updated with comments by Ed Krassenstein.