Twitter Blocks 'Uncle Tim' From Trends After Racist Phrase Goes Viral in Response to Tim Scott's Speech
Twitter said Thursday it was blocking a racist term that circulated on the site following Senator Tim Scott's speech Wednesday evening in response to President Joe Biden's congressional address.
The slur was "Uncle Tim"—a reference to the derogatory phrase "Uncle Tom" used against Blacks who are viewed as too deferential to whites.
"I can confirm that we are blocking the phase you referenced from appearing in Trends," a Twitter spokesperson told Newsweek.
"This is in line with our policies on Trends, specifically: 'We want Trends to promote healthy conversations on Twitter. This means that at times we may not allow or may temporarily prevent content from appearing in Trends until more context is available. This includes Trends that violate The Twitter Rules,'" the spokesperson said.
Scott, the Senate's only Black Republican, delivered the party's rebuttal to Biden's first address to a joint session of Congress.
The South Carolina lawmaker discussed an array of hot-button topics in his speech, including voting rights, policing and racism. At one point, he recounted his own experience with discrimination but emphasized that "America is not a racist country."
"I get called 'Uncle Tom' and the n-word by progressives, by liberals," Scott said. "Just last week, a national newspaper suggested my family's poverty was actually privilege because a relative owned land generations before my time."
He added, "Believe me, I know firsthand our healing is not finished."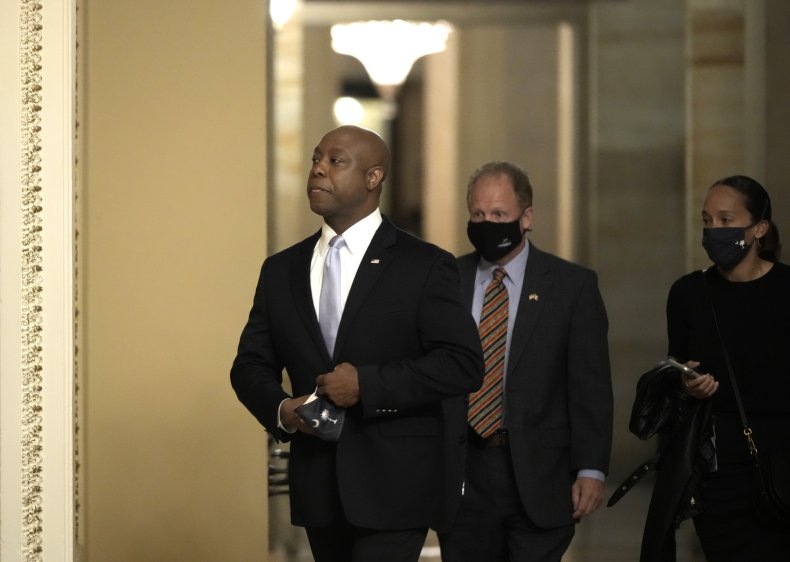 The phrase "Uncle Tim" quickly began appearing on the social media site during Scott's address. After he finished speaking, the term appeared on the Trending page, prompting conservatives to question why Twitter was allowing it to spread.
"Last night, Twitter allowed a racist term to trend about @SenatorTimScott. Doesn't this violate the rules @jack? Why is @Google allowing Twitter on their store, but not Parler?" GOP Representative Ken Bucks of Colorado tweeted Thursday morning.
Laverne Spicer posted: "Racist Twitter had "Uncle Tim" trending last night in reference to our man Tim Scott. Y'all know Twitter only let's trend what they want. So they are complicit in RACISM."
During an appearance on Fox News Thursday morning, Scott said the Twitter trend was "disappointing."
"What they want for us is for us to stay in a small corner and not go against the tide that they think is America," he said. "Their America and my America are not the same if they think that discriminating is the fastest way to end discrimination."