ISIS Calls on Muslims to Attack Spain, Becomes Top Twitter Meme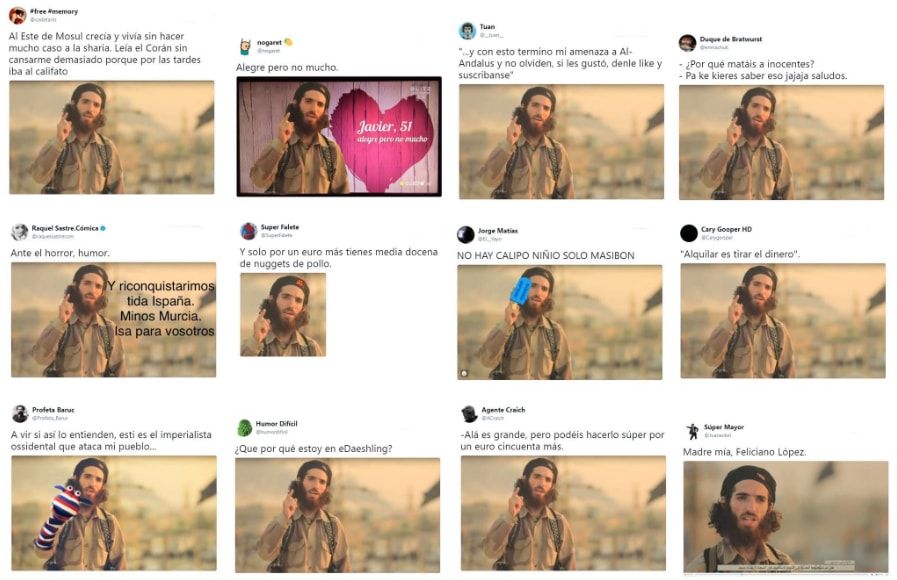 Social media users in Spain have slammed a supporter of the Islamic State militant group (ISIS) who appeared in a recent propaganda video vowing additional attacks on the European country.
About a week after ISIS claimed credit for dual van-ramming attacks that killed 15 and injured 100 more in the Catalonian cities of Barcelona and Cambrils, the jihadist group released a video featuring two men promising more deadly carnage, delivering their message in Spanish with Arabic accents. In response, thousands of tweets mocking the militants flooded the popular social media platform.
Related: After Barcelona attack, Spanish Twitter users are sharing cat pictures
Users especially went after the jihadist identified in the video as Abu Lais al-Qurdubi, who called on Spanish Muslims to "carry out jihad where you are" and told Spanish Christians "don't forget the blood spilled during the Spanish Inquisition" of the 15th century.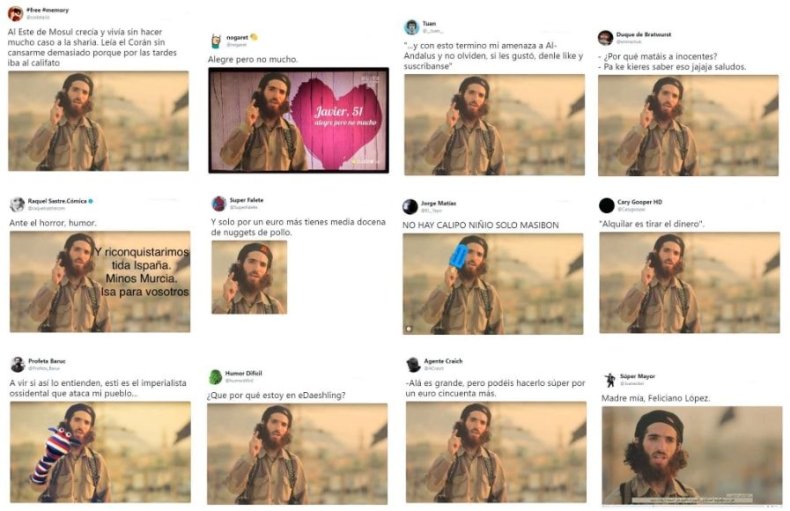 "These kids don't know a thing, Paco, I tell you, I truly hate modern jihadism," one user wrote, along with a picture showing Qurdubi pasted over an earlier image.
"[Beginning] with the letter I, what group will get hell for wanting to conquer Andalusia?"
"ISIS"
"Correct! Qurdubi wins the round!" another wrote, pasting the jihadist's face onto the body of a contestant in a popular local game show, Pasapalabra.
Playing with the video itself, one user dubbed over Qurdubi using the voices of the Spanish version of popular animated television series Pokemon. Others set the jihadists' clip to local songs, such as Puerto Rican hip-hop artist Bad Bunny's "Tu No Metes Cabra" (You Don't Scare Me) and Italian singer Raffaella Carrà's "Hay Que Venir Al Sur" (You Must Come to the South).
Seeing the onslaught of memes, natives and foreigners alike offered online praise to the country for turning tragedy into comedy as a means of undermining the global jihadist network's threats to re-establish the Islamic territory of Al-Andalus that existed between 711 and 1492. Qurdubi's name is likely a nome de guerre, possibly devised to evoke the Muslim rule over the city of Cordoba, which at the time became a major cultural, intellectual and social hub throughout Europe and the Middle East.
Police have revealed Qurdubi's true identity to be 22-year-old Muhammad Yasin Ahram Pérez, who was actually born in Cordoba, according to Spanish daily El País. Pérez's father, Abdela Ahram of Morocco, is reportedly in prison in Tangier for his involvement in an Islamic militant cell. His mother, Tomasa Pérez, comes from a Catholic background, but moved with her children to ISIS-controlled territory in Syria in 2014.
Tweets targeting Qurdubi became one of Twitter's top trending topics on Thursday and Friday, according to Reuters. Last week's attacks in Spain were ISIS's first strike on the country, and the deadliest since an Al-Qaeda cell launched a series of attacks on the Madrid subway in 2004, killing 192 exactly 911 days after the 9/11 attacks in the U.S.