Jamal Khashoggi Disappearance: Conservatives and Twitter Bots Are Spreading Disinformation to Protect Donald Trump and Saudi Arabia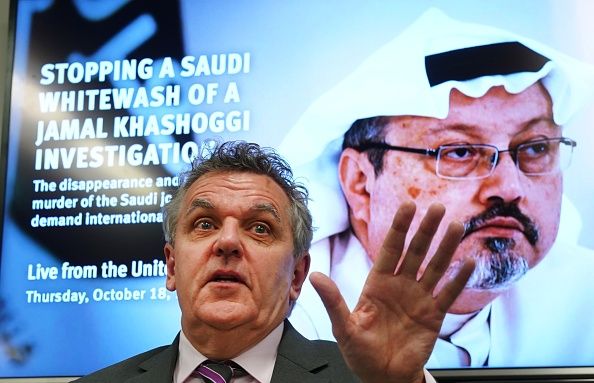 As evidence mounts that Saudi journalist Jamal Khashoggi was killed after he entered the Saudi Consulate in Istanbul on October 2, some social media accounts and conservative commentators have attempted to spread disinformation about his disappearance and promote talking points to exculpate the kingdom.
On Thursday, Twitter suspended a number of bots after NBCalerted the tech company to the presence of social media accounts casting doubt on Saudi Arabia's culpability.
"There are multiple bot networks, and the main aim appears to be to manipulate trends to hide negative information about Saudi's involvement in Khashoggi's disappearance. The sheer amount of bots drives down critical trends, while promoting banal information or pro-MBS [Saudi Crown Prince Mohammed bin Salman] propaganda," Marc Owen Jones, one of the researchers who tracked Saudi bots tweeting about Khashoggi's case, told Newsweek.
"In addition to this, patriotic accounts and trolls tweet on nationalistic hashtags in order to promote a positive message about MBS," he added.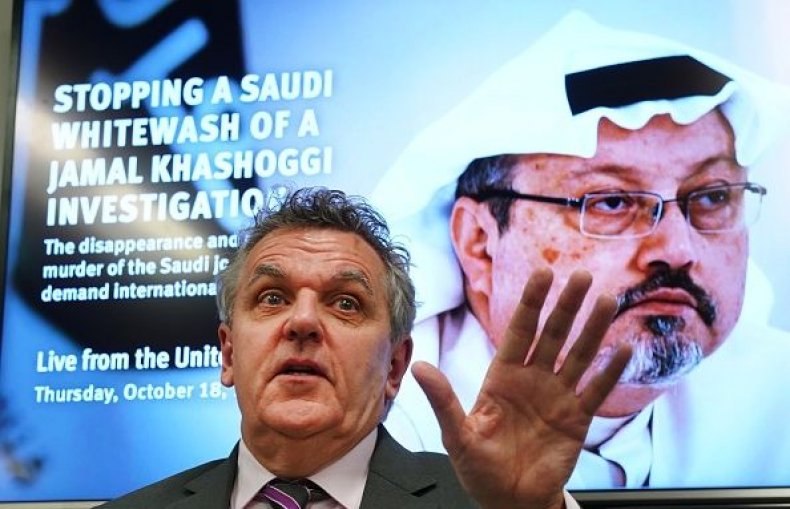 Many of the bots also portrayed Khashoggi as an Islamist and Muslim Brotherhood sympathizer, and attempted to discredit his Turkish fiancée—who has been vocal since his disappearance—and encouraged a boycott of tourism in Turkey, Jones said.
Josh Russell, another researcher, told Newsweek that "most of the bots I found were spam bots, but there were a lot of political-looking bots mixed in as well. The bots mostly did re-tweets."
Experts noted that the majority of the bots are in Arabic and aim to deflect criticism of Saudi Arabia.
"What I've seen is very high traffic on hashtags which defend the Saudi monarchy or attack its critics, such as calling for Al Jazeera to be shut down. Some of the traffic looks organic. Some is definitely driven by relatively small clusters of bots, numbered in the dozens or low hundreds, boosting individual messages. Some look as if it's driven by organized groups of human users, posting in coordination," Ben Nimmo, a senior fellow at the Atlantic Council's Digital Forensics Lab, which tracks online disinformation campaigns, told Newsweek.
"The hashtags I've seen are in Arabic, so they're largely targeting local users. This looks like an effort to flood the Arabic Twittersphere with messages supporting the Saudi monarchy," Nimmo said. "One message even called on users to stop following 'enemies of the homeland.' That looks like a defensive campaign aimed at fending off criticism."
In an era of disinformation and accusations of fake news, conservative commentators also appear poised to spread a narrative about Saudi Arabia's innocence in an effort to protect President Donald Trump. In recent weeks, as officials from around the world demanded answers from Saudi Arabia about the journalist's disappearance, Trump seemed to be laying the groundwork for accepting whatever explanation the Saudi leadership planned to offer, claiming that perhaps "rogue killers" were responsible for Khashoggi's disappearance.
Secretary of State Mike Pompeo, who visited Saudi Arabia to speak with officials shortly after the disappearance, also appeared ready to give Saudi Arabia the benefit of the doubt. The Saudis are being permitted to launch their own investigation into the case, and Pompeo said he believes "there is serious commitment to determine all the facts and ensure accountability, including accountability for Saudi Arabia's senior leaders or senior officials." Meanwhile, Pompeo did not review the audio tapes Turkish officials said proved that the journalist had been killed in the consulate.
In this context, allies of Trump were sharing information that worked to discredit Khashoggi by linking him to controversial groups such as the Muslim Brotherhood while raising questions about his work as a young reporter embedded with the late al Qaeda leader Osama bin Laden. Fox News parroted the accusation about Khashoggi's link to the Muslim Brotherhood, while Trump's son Donald Trump Jr. retweeted some of the claims. Sources told The Washington Post that the information was also being spread around conservative circles on Capitol Hill.
The conservatives apparently planned to use the right-wing narrative to defend Trump if and when the president decided to support the Saudi claim that the kingdom's top leadership was not involved in the journalist's disappearance. Trump had previously signaled that he was not prepared to halt the lucrative sale of arms to Saudi Arabia over this incident.
But evidence continues to demonstrate that Saudi Arabia's Crown Prince Mohammed bin Salman was likely aware of whatever happened in the consulate that day. For example, a frequent companion of the crown prince was caught in video footage entering the consulate the same day that Khashoggi disappeared. And as he entered Air Force One on Thursday, Trump told reporters that he believed Khashoggi was dead.
Khashoggi, a U.S. resident and a columnist for the Washington Post, had visited the Saudi Consulate in Turkey to obtain the paperwork needed for his upcoming wedding. He was never seen again.