Twitter CEO Says Holocaust Misinformation Does Not Violate Its Policy
Certain misinformation on Twitter's platform, such as false claims about the Holocaust, is not censored or flagged because it does not fall under three specific misinformation categories that the social media giant regulates, co-founder and CEO Jack Dorsey told a congressional panel Wednesday.
Amid a bipartisan shellacking from members of the Senate Commerce Committee just six days before the election, Dorsey explained to Senator Cory Gardner (R-Colo.) that Twitter only regulates misleading information about public health (coronavirus-related), election interference and voter suppression, and media manipulation.
"We don't have a policy against misinformation. We have a policy against misinformation in three categories," Dorsey said. "That is all we have policy on for misleading information."
Dorsey added that the platform does have policies for inciting violence, which false tweets denying the Holocaust could fall under. Tweets that are reported are moderated either by employees, an algorithm, or a combination of the two.
The CEO's answer did little to satisfy Gardner, who grilled Dorsey about why certain posts by people like President Donald Trump and U.S. politicians are flagged for misinformation while others from world leaders, such as Iran's Ayatollah Ali Khamenei, and Holocaust deniers are not.
"It's strange to me that you've flagged tweets from the president but haven't hidden the Ayatollah's tweets on Holocaust denial or calls to wipe Israel off the map," Gardner said. "Millions of people died and that's not a violation of Twitter?"
"It's misleading information," Dorsey said, "but we don't have a policy against that type of misleading information."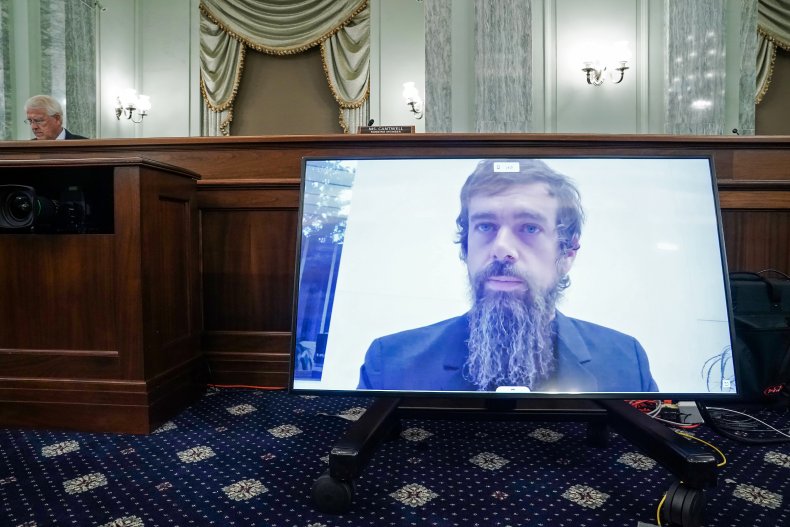 Twitter has flagged an increasing number of tweets from Trump for misinformation or manipulated video, as the election grows near and the president has repeatedly posted false information about voting to his 87 million followers. Twitter's move has prompted outrage from Republicans and conservatives.
Also testifying before the committee was Facebook co-founder and CEO Mark Zuckerberg and Sundar Pichai, CEO of Alphabet, which includes Google.
The tech giants explained the invaluable protection of free speech and expression that Section 230 of the Communications Decency of 1996 offers online users. However, all three CEOs said they would support increased regulation and transparency, and they asked Congress' help in implementing such changes.
Zuckerberg said Facebook spends more than $3 billion annually on content moderation while Pichai said Google spends $1 billion. Dorsey said he did not know.
In a separate testy exchange with Senator Ted Cruz (R-Texas), Dorsey denied the notion that Twitter has the ability to influence U.S. elections.
"We are one part of a spectrum of communication channels that people have," Dorsey said. "We have policies that are focused on making sure that more voices on the platform are possible. We see a lot of abuse and harassment, which ends up silencing people and making them leave the platform."
Cruz blasted not only Dorsey, but all three of the big tech CEOs.
"The three witnesses we have before this committee collectively pose, I believe, the single greatest threat to free speech in America and the greatest threat we have to free and fair elections," Cruz said.