Fake Trump Account Suspended After Tweeting 'Don't Vote for Me, I'm a Massive Idiot'
Twitter unverified and suspended the account of Australian comedy group The Chaser today after it posed as Donald Trump.
The satirical group changed its name and image on Twitter to mirror Trump's account before tweeting: "Don't vote for me, I'm a massive idiot." Its bio read: "Not the 45th President of the United States of America, just some very naughty boys."
The post attracted thousands of likes and shares before being deleted from the website, although screenshots continued to circulate across the platform today.
"Well, we had a good run," the Chaser team wrote on Facebook about the moderation decision. The post likely violated the social network's impersonation policy that stops users creating accounts that could potentially dupe other users.
Twitter's rules state: "accounts that pose as another person, brand, or organization in a confusing or deceptive manner may be permanently suspended."
While the rules say users are allowed to have parody or fan accounts, portraying another profile "in a misleading or deceptive manner" is deemed to be against policy.
"We understand why Twitter would do this," The Chaser's website editor Cam Smith said in a statement to The Shot, a news website created by the comedy group.
"After all, it would not be out of the ordinary for Trump to tweet something so outlandish. If anything this would have been one of his more reasonable tweets, so we could see how people might get mixed up," Smith continued.
"It's impressive that Twitter only took 20 minutes to unverify our tweet—given it took them almost four years to start fact checking the actual President.
"I guess that's to be expected though, we all know comedians words are much more dangerous than those of the guy who controls 50 percent of the world's nukes."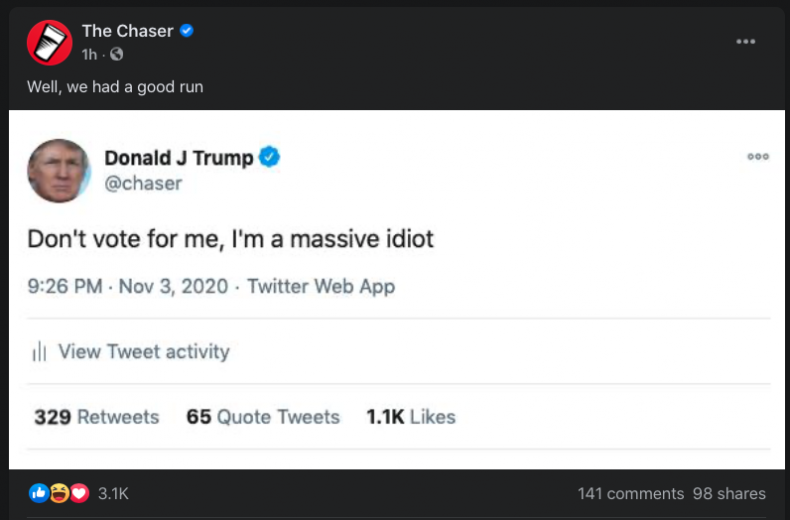 The group remains active on Facebook, promoting a new show called The War on 2020 Livestream. The team appeared well aware their impersonation of the president would likely result in swift action from Twitter. Posting a screenshot of the tweet, they wrote in a caption: "Please buy tickets to this before we get wiped off the face of the earth."
The Chaser describes itself as "a satirical media empire which rivals [Australian media mogul] Rupert Murdoch's News Corporation in all fields except power, influence, popularity and profitability."
Under the now-deleted Twitter post, fans filled the thread with memes and replies, some claiming to have been fooled by the Trump impersonation at first.
"For a quick second I thought he got hacked on Election Day," one user wrote. Another said: "I just watched someone lose their blue check mark in real time damn." A third commenter joked it was a conspiracy, writing: "Must be the deep state at work."