Twitter Criticizes Jeff Bezos' 'Joyride' Space Flight With #TaxTheRich
Amazon billionaire Jeff Bezos launched into space Tuesday morning with an approximately 10-minute-long flight aboard the New Shepard—and while the flight may have been successful, many progressive politicians, activists, and commentators have taken to social media in order to express their grievances with Bezos and the so-called "billionaire space race."
Following liftoff at 9:13 a.m., the Blue Origin spacecraft passed the Kármán Line, reaching a peak altitude of 351,210 feet. Alongside Bezos were several other passengers: his brother, Mark Bezos, pilot Wally Funk, and 18-year-old Oliver Daemen.
Upon landing back at Launch Site One in West Texas, Bezos can be heard in video footage describing the occasion as the "best day ever." And, in a press conference following the flight, he said: "I want to thank every Amazon employee and every Amazon customer because you guys paid for all this."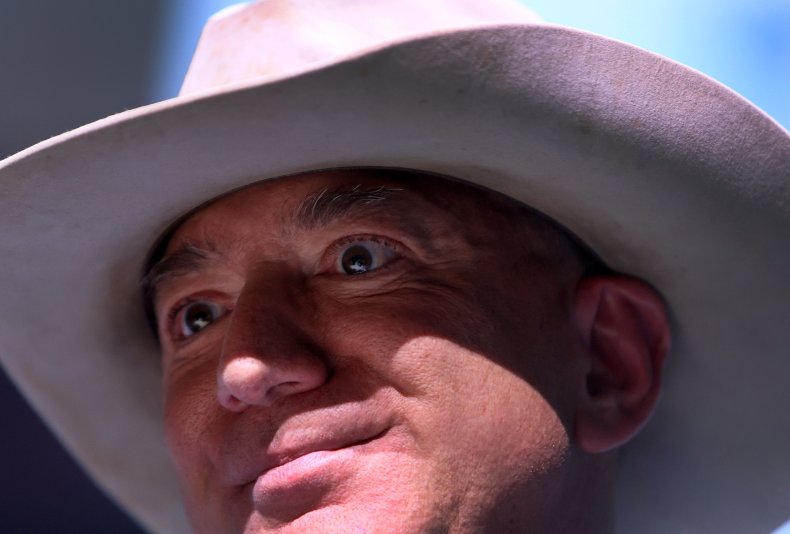 While the flight might have been a success for Bezos, public opinion expressed online appears less enthusiastic. Commentators have taken to Twitter with their reactions, and many are criticizing the controversial mission under the hashtag #TaxTheRich.
"During the course of a single day earlier this year, Jeff Bezos's wealth increased by $8 billion," tweeted journalist and author John Nichols. "Yet, on many days, he pays less in taxes than an Amazon warehouse worker."
"It is time to #TaxTheRich," he wrote. "And we should start with Bezos."
New York-based community organizer and progressive politician Isiah James seemed to agree. "Let's institute a $5 Billion dollar per trip tax for any civilian leaving earth's atmosphere. If you got money to light a rocket under your a**, you got money to pay taxes," he wrote.
Others, meanwhile, pointed out that the costly and resource-intensive space flight coincided with a number of catastrophic weather events linked to the acceleration of climate change, including Oregon's Bootleg Fire and extreme flooding in Europe.
As writer Molly Knight said, "It's hard to get excited about billionaires lighting their money on fire when the planet is headed toward extinction."
Podcaster and filmmaker Abigail Disney also weighed in. "Is anyone wondering how much in greenhouse gas emissions it is costing us all to send a couple of overgrown adolescents into space for half an hour? Just curious," she tweeted.
This being Twitter, many more took a comedic approach to the event, highlighting the more absurd and ironic aspects of Bezos' flight—including the spacecraft itself.
"On my 2nd birthday we landed on the moon. On my 54th birthday a billionaire rode a d*** to the edge of space," tweeted designer Mike Monteiro.
Not all of the feedback on Bezos' excursion has been as harsh—CNN Anchor Jim Sciutto, for example, spoke out against the backlash, tweeting, "Excuse my (mostly) incurable optimism, but could two successful private space launches in 9 days be something all Americans rally around together?"
However, many more were quick to criticize Sciutto's take, including former presidential candidate and Newsweek columnist Marianne Williamson. "Multi-billionaires seeking to escape a planet that is literally ravaged by systemic greed produces well-deserved cynical laughter," wrote Williamson. "Optimism would be appropriate were they to do more to make things better for those here on earth."
Bezos' mission came just days after fellow billionaire Richard Branson, owner of Virgin Galactic, successfully journeyed to space, leading to what has been coined the "billionaire space race"—a categorization that Branson firmly denies. Blue Origin echoed that point, noting, "We are not in a race, and there will be many players in this human endeavor to go to space to benefit Earth."