Trump Retweets of COVID-19 Misinformation Deleted for 'Violating Rules'
Twitter posts containing unsubstantiated claims about COVID-19 shared by President Donald Trump overnight were "no longer available" Tuesday morning.
Multiple updates that briefly enjoyed a boost to the president's 84 million followers had vanished in a matter of hours, leaving gaps in his Twitter feed indicating the posts were either deleted by the original authors or scrubbed by site moderators.
A search on the Internet Archive's Wayback Machine shows the posts in question made references to the anti-malaria drug hydroxychloroquine as a possible treatment for novel coronavirus infections, a claim previously made by the president himself.
One tweet, from the handle @SidneyPowell1, read: "Make hydroxychloroquine available over the counter! It will prevent and stop it for next to nothing! This is all outrageous and needlessly destructive. All of #America should be open now."
While the thread is partially still online, a notice on the @SidneyPowell1 tweet shared by president Trump now reads: "This Tweet violated the Twitter Rules."
The content from another account with the handle TBUNews had linked to a week-old Fox News article claiming hydroxychloroquine "could save up to 100,000 lives if used for COVID-19," citing a professor at the Yale School of Public Health.
The TBUNews post—also deleted from Twitter for violating rules—had used the hashtag #immunity, the Wayback Machine shows. However, another post with a link to the article retweeted by Trump from user Tom Fitton remained online at time of writing.
The platform recently flagged several of the president's tweets, including for breaking its policy about glorification of violence. However the posts in question did not receive a flag on Trump's feed, simply the notice: "This Tweet is no longer available."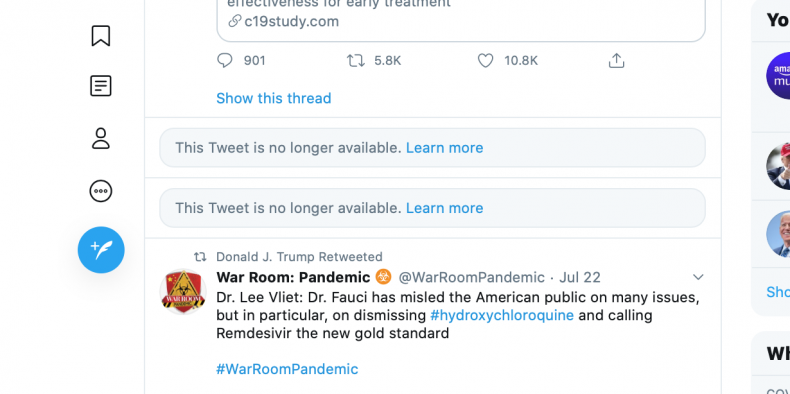 The Jack Dorsey-led platform has specific rules about spreading misinformation about the COVID-19 pandemic, now linked to more than 148,000 deaths in the U.S.
Officials said this month that the site would continue to remove "demonstrably false or potentially misleading content that has the highest risk of causing harm."
"For a Tweet to qualify as a misleading claim, it must be an assertion of fact (not an opinion), expressed definitively, and intended to influence others' behavior," it said. This included "preventative measures, treatments/cures and other precautions."
A Twitter spokesperson told Newsweek the platform was currently "taking action" while
also working to limit the spread and accessibility of a video—also retweeted by Trump—that contained false claims about COVID-19, traced back to Breitbart News.
The video, featuring people claiming to be medical experts from a group self-described as "America's Frontline Doctors," went viral across social media Monday, attracting up to 14 million views on Facebook alone before the platforms forced its deletion.
"This virus has a cure, it's called hydroxychloroquine, zinc, and Zithromax," one woman claimed in the video, as CNN reported. "You don't need masks, there is a cure."
The Breitbart News clips were also published to YouTube.
The Twitter spokesperson told Newsweek: "Tweets with the video are in violation of our COVID-19 misinformation policy. We are taking action in line with our policy." Trump's feed still contains the video retweet, however the content no longer plays.
Despite multiple trials being underway across the world, U.S. health officials say there is no known cure or treatment for COVID-19, which is an infectious respiratory disease caused by a coronavirus that was first identified in the Chinese city of Wuhan last year.
Trump previously claimed he had been taking hydroxychloroquine. On July 1, the Food and Drug Administration (FDA) cautioned against its use for COVID-19 outside of hospitals or clinical trials due to the "risk of heart rhythm problems."
On Monday, Trump had criticized Twitter via his own personal account, asserting that trending topics about him were "ridiculous, illegal, and, of course, very unfair!"
Globally, COVID-19 has now infected more than 16 million people and been tied to more than 654,000 deaths, according to data compiled by Johns Hopkins University.