Is Twitter Down? Users Report Issues With Social Media Website
Ahead of a social media summit at the White House, Twitter experienced a technical difficulty and users couldn't access the site.
On Thursday afternoon shortly before 3:00 p.m. EST, Twitter's website gave users a blue screen that said, "Something is technically wrong."
The website Down Detector, which tracks website outages, initially had over 1,500 reports of problems, including from users in Virginia, Georgia and even the Netherlands complaining of errors. Within minutes, the number of reports climbed to more than 40,000. A few minutes after that, it grew again to over 47,000 reports.
"Thanks for noticing­–we're going to fix it up and have things back to normal soon," the Twitter website said.
Twitter confirmed on its status website that there was an active incident, which was described as a service disruption. Twitter informed users that the organization was investigating the issue people were having with accessing the website and promised to keep people updated on the situation.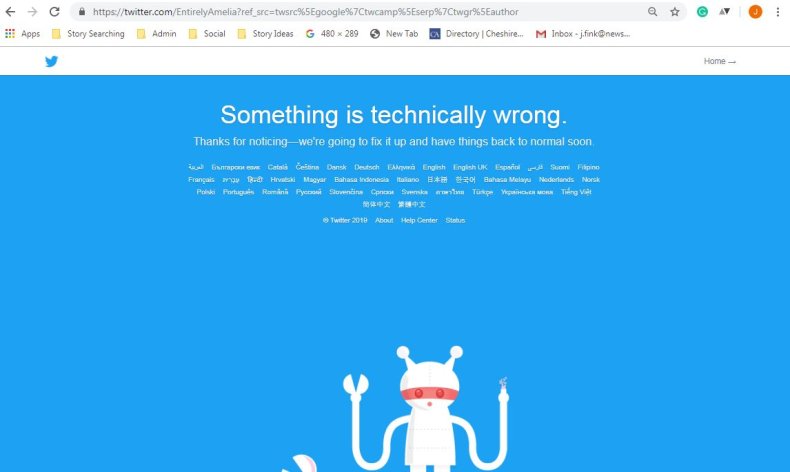 Earlier on Thursday, users complained that Reddit had issues as well. When attempting to access the website from a desktop, users saw the "Ow!" error message and were informed that their "CDN" was unable to reach servers. However, it seemed the problem didn't carry over to the mobile version of the website because users were still able to access it and browse subreddits on mobile devices.
About a week earlier, on July 3, Twitter users posted on the social media website that they weren't able to send direct messages. Others said messages weren't loading and Twitter apologized for the inconvenience.
President Donald Trump regularly uses Twitter to communicate messages to both his supporters and critics but when it came to the social media summit, Twitter and Facebook were not invited.
On Thursday morning, Trump discussed the social media summit on Twitter, which he labeled "very big and very important." He explained that a big subject would be the "tremendous dishonest, bias, discrimination and suppression" that certain companies practice.
"We will not let them get away with it much longer," Trump posted on Twitter.
Twitter, co-founded by Jack Dorsey in 2006, has grown to become a billion-dollar company.
Some conservatives have spoken out about the way they say they've been treated differently than accounts that belong to people on the liberal side of the political aisle. Dorsey admitted to CNN in August 2018 that Twitter has a left-leaning bias but rejected claims that the company operated based on political ideology or viewpoints.