Twitter Dunks on Donald Trump's Failed Airline, Trump Shuttle, After President Suggests Boeing 737 Name Change
After President Donald Trump advised Boeing to change the name of its 737 Max given the plane's recent problems, several Twitter users called him out for the running of his now-defunct airline. From 1989 to 1992, the former businessman ran a failed airline called Trump Shuttle.
"What do I know about branding, maybe nothing (but I did become President!), but if I were Boeing, I would FIX the Boeing 737 MAX, add some additional great features, & REBRAND the plane with a new name," Trump tweeted on Monday. "No product has suffered like this one. But again, what the hell do I know?"
Many Twitter users subsequently reminded Trump about his formerly struggling airline, Trump Shuttle, amid his suggestions for Boeing 737 Max to "rebrand" itself. Ian Bremmer, a political scientist and New York University professor, pointed out that Trump's airline "lost $125m in 18 months and ceased to exist in 1992." Sean Colarossi of PoliticusUSA tweeted about how the president "literally ran Trump Airlines (among other self-titled brands) into the ground." Individuals like Silicon Valley Story Lab co-founder Lance Gould chose to mock Trump, tweeting: "Say what you will about Trump Airlines, but they did have an amazing Frequent Liar program."
One individual questioned Trump's questioning the practices of another business by citing all of the president's own failed business ventures, tweeting: "Sweet baby Jesus on a pogo stick, is the guy who failed at Trump Casinos, Trump Airlines, Trump Vodka, Trump Steaks, Trump Magazine, Trump University, Trump Foundation, and pretty much everything else he's ever touched REALLY trying to flex on his branding chops?"
"Today I'll be flying on Trump Airlines to one of Trump's casinos while eating a Trump Steak and drinking Trump Water and reading Trump Magazine," one person jokingly tweeted. "Oh wait I won't be doing any of those things because the genius in charge of them ran them straight the fuck into the f***ing ground."
Trump has some successful business ventures like Trump Tower and The Apprentice reality series, but he's had many failed projects like Trump Shuttle. Trump acquired $365 million to purchase 21 Boeing 727s to offer flights from Washington, D.C., New York City and Boston. Within 18 months, the airline lost $125 million and 1,000 employees were soon left jobless.
The Federal Aviation Administration (FAA) grounded all Boeing 737 Max planes on March 13 after deadly crashes killed 346 people. The first crash occurred through the Lion Air Flight 610 on October 29, and the second happened via an Ethiopian Airlines Flight on March 10.
"It became clear the track was very close and behaved similarly to the Lion Air flight," FAA Acting Administrator Daniel Elwell said, according to CNBC. "My hope is the FAA, the carriers, the manufacturers and all parties will work very hard to make this grounding as short as possible so that these airplanes can get back up in the sky."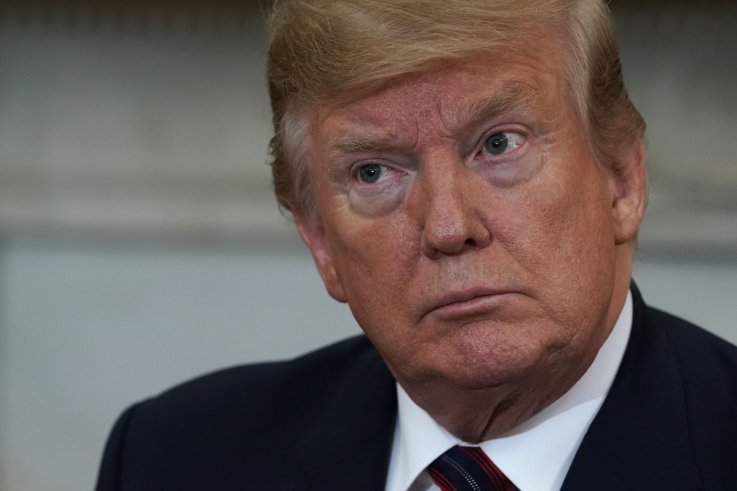 Twitter Dunks on Donald Trump's Failed Airline, Trump Shuttle, After President Suggests Boeing 737 Name Change | Culture