Facebook Boycott Is Now Hurting Twitter as Companies Pause Paid Advertising
An advertising boycott of social media giant Facebook is spreading, and rival platform Twitter has found itself caught in the crossfire.
Shares in the Jack Dorsey-led website plunged by roughly seven percent last Friday as the news broke that consumer goods giant Unilever was halting its ad spending across Facebook, Instagram and Twitter in the U.S. until at least the end of 2020.
A campaign was launched last week by a collective of civil rights organizations, calling on businesses to halt advertising on the site in protest at its policies on hate speech, extremism, harassment, racism, incitement and misinformation.
And despite an attempt by Facebook boss Mark Zuckerberg to appease his advertisers with policy updates—more companies have followed in Unilever's footsteps.
Starbucks, Coca-Cola and Diageo have announced the pausing of their advertising and, unfortunately for Twitter, the boycott is no longer being limited to Facebook.
Coca-Cola CEO James Quincey confirmed the company is pausing paid advertising on "all social media platforms" globally for at least 30 days, although a spokesperson for the firm told CNBC that it was not joining the official platform boycott.
"There is no place for racism in the world and there is no place for racism on social media," Quincey said in a statement on June 26. "We will take this time to reassess our advertising policies to determine whether revisions are needed. We also expect greater accountability and transparency from our social media partners."
Starbucks said it was pausing its ads on all social platforms as it discusses policies with media partners and civil rights organizations. Meanwhile alcohol giant Diageo said it was stopping paid ads on "major social media platforms" globally from July 1.
It remains unknown how much revenue Twitter stands to lose as a result of the firms' decisions to review paid advertising or marketing campaigns.
In a statement to Newsweek, Sarah Personette, vice president of global client solutions at Twitter, said the company remains "respectful" of its partners' decisions.
Personette said: "Our mission is to serve the public conversation and ensure Twitter is a place where people can make human connections, seek and receive authentic and credible information, and express themselves freely and safely.
"We have developed policies and capabilities designed to protect and serve the public conversation, and as always, are committed to amplifying voices from underrepresented communities and marginalized groups. We are respectful of our partners' decisions and will continue to work and communicate closely with them during this time."
As reported, the boycott—officially "Stop Hate for Profit"—gained the support of several firms last week, including Verizon, Ben & Jerry's, The North Face and Patagonia.
"Every day, we see ads from companies placed adjacent to hateful content, occupying the same space as extremist recruitment groups and... disinformation campaigns," the Anti-Defamation League (ADL), one of the campaign's organizers, wrote.
"Your ad buying dollars are being used by the platform to increase its dominance in the industry at the expense of vulnerable and marginalized communities," it added.
Stop Hate for Profit emerged amid nationwide anti-racism and Black Lives Matter (BLM) protests sparked by the killing of Floyd by police in Minneapolis on May 25.
Facebook was widely criticized after declining to remove a post by President Trump in which he appeared to suggest U.S. authorities would start shooting looters.
As reported by The Guardian, paid advertising is the main money-maker for Facebook, accounting for roughly 98 percent of its $70 billion in annual revenue.
Nicole Perrin, analyst at market research firm eMarketer told The Guardian the inclusion of Twitter in the boycott "suggests a deeper problem with user-generated... platforms, as divisiveness is to be expected on any platform that allows political expression."
The graphic below, provided by Statista, shows the scope of the Stop Hate for Profit ad boycott on Facebook so far, based on the biggest spenders from 2018.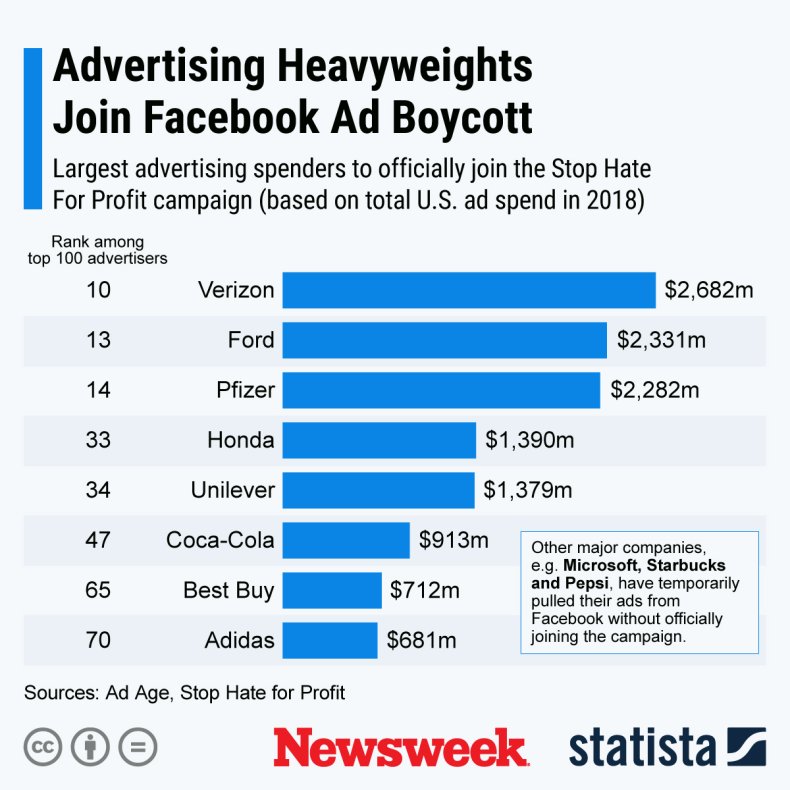 Amid a mounting backlash, Zuckerberg said last Friday that Facebook will start labeling policy-breaking content that is left up because it is deemed to be in the public interest or newsworthy, and talked up the site's ability to detect hate content.
"I'm committed to making sure Facebook remains a place where people can use their voice to discuss important issues, because I believe we can make more progress when we hear each other," he wrote on his personal account.
"But I also stand against hate, or anything that incites violence or suppresses voting, and we're committed to removing that no matter where it comes from."
The move echoed a policy already in place on Twitter, used to flag posts by President Trump for violating rules on glorifying violence and abusive behavior.
In a statement published today, the coalition behind the "Stop Hate for Profit" campaign rejected Facebook's policy shift. It wrote: "Sadly, none of these initial steps will make a significant dent in the persistent hate and racism so prevalent on the largest social media platform on the planet. That's why we need to keep up the pressure."