Twitter Faces Fresh Calls to Ban Richard Spencer after Alleged Audio of Racist Tirade at Charlottesville Rally Leaks
Twitter is facing renewed calls to ban Richard Spencer—the neo-Nazi and white supremacist who coined the term "alt-right"—after a leaked audio recording appears to document him going on a deeply racist and offensive rant.
The audio, released by Milo Yiannopoulos, appears to show Spencer embark on the tirade directly after the Unite the Right rally was held in Charlottesville, Virginia, in August 2017.
It was allegedly recorded at an "emergency meeting" that Spencer held after the rally where white supremacist James Alex Fields plowed his car into counter-protesters—injuring dozens of people and killing 32-year-old Heather Heyer.
"We are coming back here like a fucking hundred times," the voice believed to be Spencer's is heard shouting.
"I am so mad. I am so f****** mad at these people. I am coming back here every f****** weekend if I have to.
"They don't do this to f****** me. We're going to f****** ritualistically humiliate them!
"I am coming back here every fucking weekend if I have to. Like this is never over. I win. They fucking lose. That's how the world fucking works.
"I rule the f****** world. Those pieces of sh** get ruled by people like me."
The one-minute rant also uses repeated use the anti-Semitic slur "kike" and, in an apparent reference to black people, the voice says his ancestors "fucking enslaved those pieces of shit."
Spencer arranged the Unite The Right rally in Charlottesville to protest the planned removal of a statue of Confederate general Robert E. Lee. The planned removal of the statue was prompted by the backlash to the Charleston church massacre two months earlier in which nine black people were killed.
Hundreds of people from various far-right factions descended onto the rally that quickly became violent as they were met with counter-protesters who wanted to show their disdain for white supremacist beliefs.
On the second day of violence, Virginia State Police declared the gathering unlawful and tried to disperse protesters with riot police. However, they were ultimately unsuccessful in preventing the violence that led to the death of Heyer.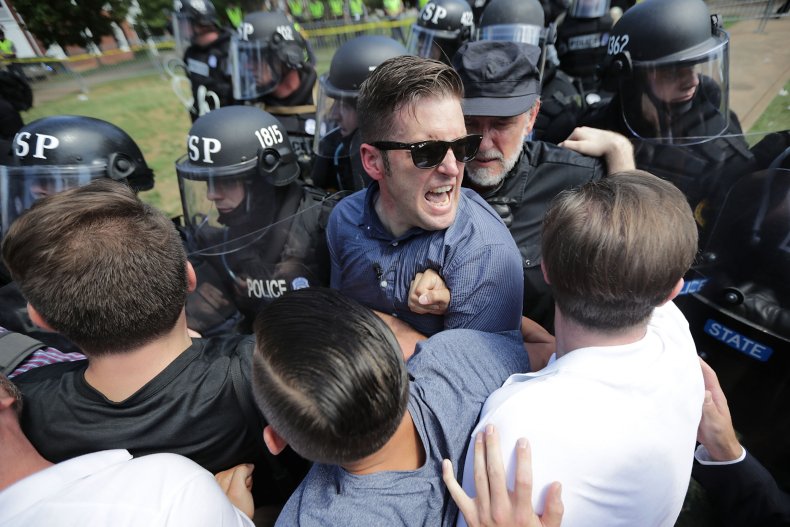 In spite of Spencer's involvement with the far-right groups that were responsible for Heyer's death, Twitter has never banned Spencer from its platform.
Following the release of the audio, scores of people have again written to Twitter and questioned why someone like Spencer was allowed to remain active in spite of being in violation of their hate speech policies.
Dozens of people also shared old news articles in which it was reported that Twitter CEO Jack Dorsey personally stepped in to overturn a decision to ban Spencer after staff decided he was in breach of hate speech policies.
Newsweek has contacted Twitter for comment.
In an article on Freespeech.tv, Yiannopoulos said the audio was authenticated by three different sources. Newsweek was not able to independently verify that claim.
As to why Yiannopoulos released the audio, in a statement to Newsweek, he said: "I have always publicly hated Spencer, and he has always publicly hated me. He thinks I'm a degenerate race-mixing kike and I think he's a knuckle-dragging racist in a cheap suit.
"As you will recall, he was paid to sneak into a bar I was singing karaoke in and throw up Nazi salutes and film it without my knowledge. So it has been very satisfying for me to, once again, draw a crisp bright red line between the two of us."