Twitter Flagged 300,000 Election Tweets Including At Least 50 Donald Trump Posts, Retweets
Twitter on Thursday announced that it had flagged about 300,000 tweets shared around the 2020 election for containing "disputed and potentially misleading" content. The labeled tweets accounted for approximately 0.2 percent of all election-related tweets posted during a two week period between October 27 and November 11—and at least 50 were shared or retweeted by President Donald Trump.
Of the roughly 300,000 tweets, 456 were covered up with labels that required the reader to click through to read the post. About 74 percent of users that scrolled upon the tweets did click through to view them, according to the social media company.
"These enforcement actions remain part of our continued strategy to add context and limit the spread of misleading information about election processes around the world on Twitter," Twitter representatives Vijaya Gadde and Kayvon Beykpour wrote in a blog post.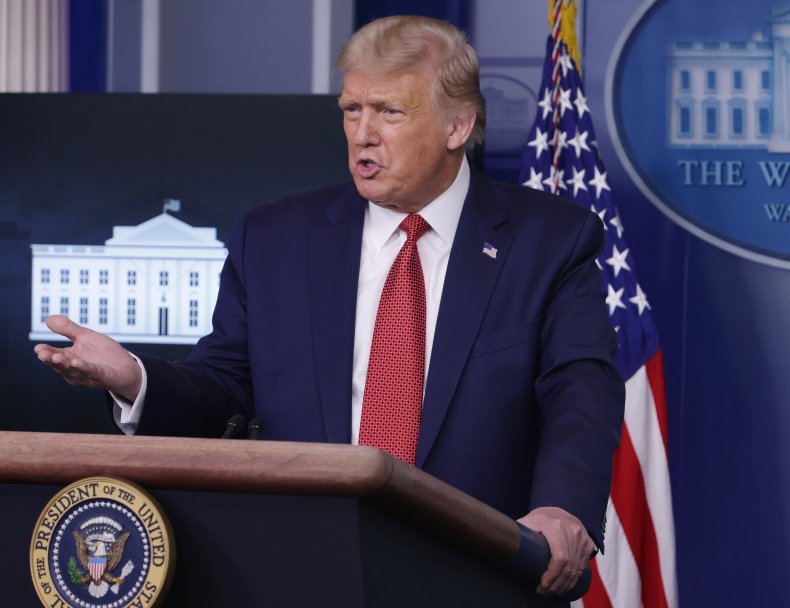 Trump's official account was hit hard by Twitter's decision to sort through election information. A Newsweek analysis found that at least 51 tweets shared or retweeted by the president during the two week period were flagged. Most of the tweets were posted by Trump, while a smaller number were retweets of posts shared by the president's allies and other accounts.
Since November 12, Trump has shared more tweets that have been flagged.
In the four days between November 3 and 7, almost half of all Trump's tweets about the election were marked. Twitter used different labeling systems for the president's tweets, including "This claim about election fraud is disputed," "Official sources may not have called the race when this was tweeted" and "Some of all of the content shared in this Tweet is disputed and might be misleading about an election or other civic process."
Newsweek's count of flagged Trump tweets did not include ones about election fraud that Twitter simply labeled, "Learn how voting by mail is safe and secure."
"People will not accept this Rigged Election!" the president tweeted to his 88.9 million followers on November 11. The post was marked with the stamp, "This claim about election fraud is disputed."
Twitter said that the flagging practice limited the spread of disinformation and stopped the sharing of these tweets by roughly 20 percent. "This change introduced some friction, and gave people an extra moment to consider why and what they were adding to the conversation," the company wrote in its blog post. "In short, this change slowed the spread of misleading information by virtue of an overall reduction in the amount of sharing on the service."
The company's disclosure came as it moved to roll back some of its election policies on Thursday. One Election Day policy that removed recommendations on who to follow for users didn't have much impact, the company said. That policy, along with some others, will be changed.
Newsweek reached out to the White House for comment.