Twitter Flooded With Jokes After Cuomo Compares Himself and Fauci to 'Modern Day De Niro and Pacino'
New York Governor Andrew Cuomo was criticized on social media Monday after comparing infectious diseases expert Dr. Anthony Fauci and himself to actors Robert DeNiro and Al Pacino.
Cuomo made the comments during a coronavirus press briefing where Fauci made a guest appearance encouraging some New Yorkers to take the coronavirus vaccine once it becomes available. DeNiro and Pacino, both of whom are New York actors, are known for their appearances in The Godfather Part II and Heat.
During the press conference, Cuomo implied he would recruit Fauci to co-star in a television ad about the vaccine.
"Maybe we will do an ad telling New Yorkers it's safe to take the vaccine," Cuomo said. "Put us together. We can be the modern-day De Niro and Pacino. You can choose whichever you want. You can be De Niro or Pacino. Which one do you want to be?"
"I love 'em both," Fauci said. "I don't want to insult one or the other. If I say one, I hurt the feeling of the other, so either one."
Some social media users compared Cuomo's coronavirus response to the violent actions portrayed by De Niro in his films.
"Who is responsible more Kills?" said Republican strategist Guy Short. "Cuomo in NYC or DeNiro in the movies?"
"is Cuomo basing his own personal comparison on the total number of people dead at the hands of Pacino and De Niro's characters in their respective movies combined," tweeted journalist Matt Binder.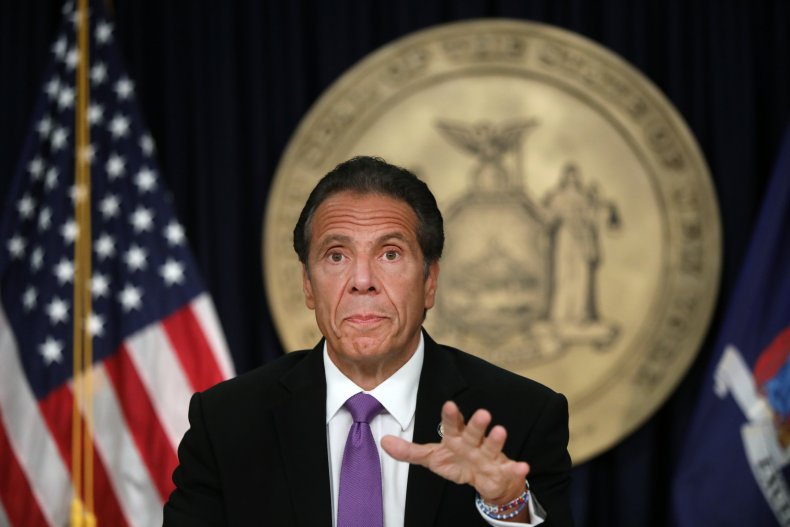 Twitter user The Cookie Queen tweeted that "Fauci and Cuomo are The Joker and The Riddler of Covid-19."
"I'm glad Cuomo and Fauci are having the time of their lives with their bromance," tweeted Twitter user @cmartellaro. "It's not like there's a pandemic trapping millions in their homes or shutting down 1000s of businesses."
In a statement sent to Newsweek on Tuesday, Cuomo senior adviser Richard Azzopardi responded to the social media reaction.
"Twitter isn't real life and we're focused on combatting the pandemic," Azzopardi wrote.
Coronavirus cases have been on the rise in New York. As of December 7, the state of New York had reported 752,073 positive cases of COVID-19 with 8,197 deaths attributable to the virus. As of Sunday, 4,602 COVID-19 patients were hospitalized throughout New York. Cuomo said Monday that if the hospitalization rate does not decrease, he would move to close down indoor dining in New York City. Currently, restaurants with indoor service within New York City are allowed to operate at 25 percent capacity.
On Wednesday, Cuomo announced that enough doses of a coronavirus vaccine from pharmaceutical firm Pfizer would arrive in New York to vaccinate 170,000 individuals. However, Cuomo said during a Friday news briefing that some New Yorkers may not receive the vaccine until 2021.
"Yes, the vaccine is here," Cuomo said. "But you're not going to get it in December, January, February or March, or even early April unless you're in one of the high risk areas."
Updated 12/08/2020 9:10 p.m. EST: This story has been updated with a statement from the office of New York Governor Andrew Cuomo.