Twitter Is Giving Trump 'Special Treatment' Despite New Rules for World Leaders, Says Free Speech Expert
Twitter has announced new rules governing the behavior of world leaders on its platform, stressing that the world's most powerful people are "not above our policies entirely," though suggesting they will be held to lower standards than other users.
The new guidelines were announced following demands for the platform to take action against President Donald Trump, who has been accused of inciting violence via his belligerent online behavior.
Earlier this month, 2020 candidate Senator Kamala Harris sent a letter to Twitter CEO Jack Dorsey calling for Trump's account to be banned, citing six examples of posts that violated the platform's rule that users "may not engage in the targeted harassment of someone or incite other people to do so."
The examples included accusations of treason and threats against Rep. Adam Schiff and the whistleblower regarding Trump's interactions with the Ukrainian president about former vice president Joe Biden.
On Tuesday, Twitter set out fresh guidelines as to specific offenses by world leaders that may result in "enforcement action" against them. However, critics have suggested the platform is still failing to address the dangers posed by divisive leaders like Trump.
The social media giant explained that dealing with world leaders is "largely new ground and unprecedented." Though it acknowledged "the desire for our decisions to be 'yes/no' binaries," Twitter claimed "it's not that simple."
"The actions we take and policies we develop will set precedent around online speech and we owe it to the people we serve to be deliberate and considered in what we do," the company said.
Posts promoting terrorism will be subject to enforcement, as will clear and direct threats of violence. However, Twitter added a caveat to the second offense, noting "context matters...direct interactions with fellow public figures and/or commentary on political and foreign policy issues would likely not result in enforcement."
This clarification would make a leader like Trump near-exempt from enforcement, as his most threatening and troubling posts usually target political opponents whether domestic or foreign.
Last year, for example, Twitter said it would not ban Trump from the site for threatening nuclear war against North Korea. However, the platform did hide and then remove a tweet from Iranian Supreme Leader Ayatollah Khamenei, which cited an execution order against novelist Salman Rushdie.
And though Trump has been accused of stochastic terrorism—using rhetoric to inspire politically-motivated violence—the president has not directly called for direct terrorist action on Twitter. It is unlikely anything Trump has posted on Twitter would be defined as falling foul of the new rules, especially considering the platform is unlikely to want a dispute with a sitting president.
The other offenses are posting other peoples' private information such as a home address or non-public personal phone number; posting or sharing intimate photos or videos of someone produced or distributed without their consent; behavior relating to child sexual exploitation; and encouraging or promoting self-harm.
Twitter also said it would limit how users are allowed to interact with tweets that break the rules. Other accounts will not be allowed to like, reply, share or retweet the offending tweets. Offensive tweets may also be greyed out and require a user to click through to see them.
However, others will be able to quote-tweet to react to the post. This will allow people to stay in touch with world news while also keeping offending tweets in check, the platform said. Twitter added that it planned to "enforce our rules judiciously and impartially."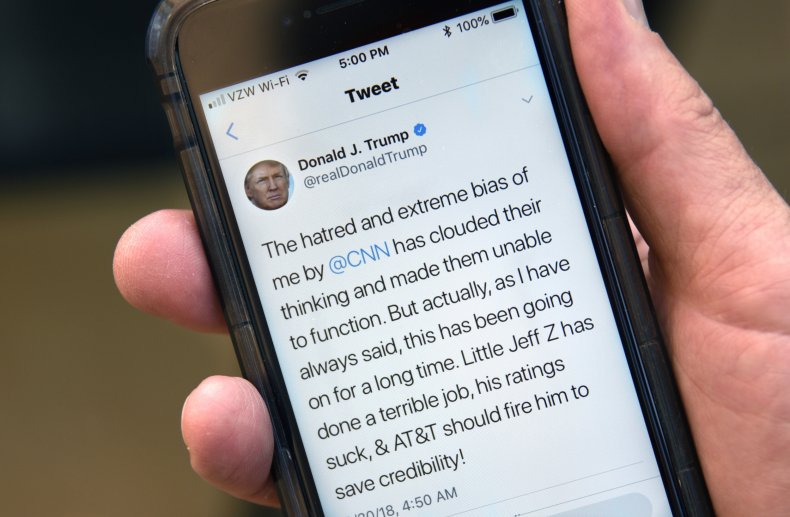 Asked whether the platform had specifically catered to Trump with its new rules, spokespeople referred Newsweek back to the company's blog and Twitter posts detailing the new guidelines.
But Nadine Strossen, a professor at the New York Law School and long-time civil rights activist, told Newsweek that Twitter's rules are "sufficiently vague and elastic that Trump could well be deemed to violate them."
She cited his racist attacks on four congresswomen of color earlier this year. The attack came around a month after Twitter introduced the first elements of the new guidelines, and Strossen said "there was wide agreement that he had violated the rules."
But Twitter failed to act. Strossen suggested this shows Trump "was getting special treatment."
If Twitter's goal was to ease the pressure it is under, Strossen suggested the platform will be disappointed. Indeed, she argued any additional regulation of expression on the platform may well open a Pandora's box.
"Once one expands the scope of suppressable expression beyond the relatively narrow confines that U.S./international free speech law recognize, no one is going to be satisfied," Strossen warned.
"Just about everyone—certainly including Trump and other politicians—will continue to pressure the social media companies" about what they do and do not censor, regardless of political affiliation.
"The most important concern regarding political discourse is that it flows as freely and transparently as possible between actual and potential leaders—i.e., officials and candidates—and 'We the People,'" Strossen explained.
Rather, she added, shining a light on dangerous ideas may better help the electorate see exactly what potential candidates stand for, and organize against them if they desire.
Only expression illegal under U.S. law should be removed from platforms like Twitter, Strossen argued. This would include "intentional incitement of imminent violence that is likely to occur imminently; a 'true threat' when the speaker intends to instill a reasonable fear in targeted audience members that they will be subject to violence; and targeted harassment or bullying."
Strossen noted that Twitter's "standards" are "much broader and vaguer, depending inevitably on subjective discretion in the enforcement, and inevitably chilling and suppressing speech that should be protected."
The 2020 presidential election is expected to be the most bitterly fought race in living memory. Democrats, desperate to eject Trump from the White House, will be fighting tooth and nail with a president whose ouster could prompt multiple criminal investigations against him.
Twitter's announcement noted that the upcoming "critical elections" and "shifting political dynamics around the world" necessitated its new approach.
Strossen believes that to address the toxic political discourse online, "media literacy education, fact-checking, bridge-building initiatives to foster civil discourse/civic dialogue, robust 'counterspeech,'" and similar initiatives have a key role to play.
"Fortunately, many resources are being poured into such efforts by many sectors of society, including the social media themselves, educational institutions, foundations, and public interest organizations," she explained.