Twitter Goes Crazy After Ted Cruz Caught Looking At Photos Of Beto O'Rourke
Senator Ted Cruz (R-Texas) appears to be keeping a close eye on the competition in the upcoming November midterm elections, with the Republican caught looking at a photo of his rival, Democratic Representative Beto O'Rourke.
Photos of Cruz looking at a webpage displaying what appears to be an image of O'Rourke while on a flight from Texas to Washington, D.C. have flooded social media, with many making jokes at Cruz's expense.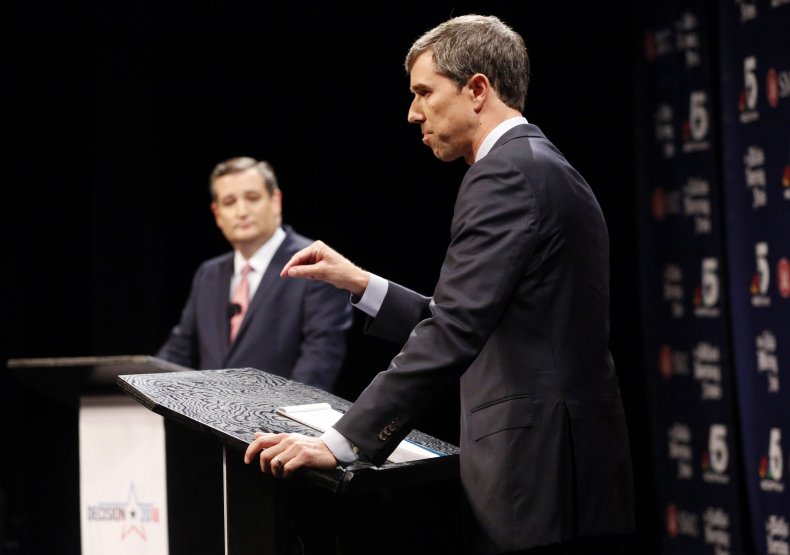 The photos, which were shared by Politico Playbook, were reportedly snapped on Monday, after an already difficult week for Cruz.
The Republican has been caught in a neck-and-neck battle with O'Rourke, despite his being considered a shoo-in for re-election not long ago.
The photo snafu comes during a trying week for the senator, with him and his wife being heckled out of a restaurant in Washington, D.C. over Brett Kavanaugh's Supreme Court nomination on Monday evening.
Protesters followed Cruz and his wife, shouting: "We believe survivors," at Italian restaurant Fiola on Pennsylvania Avenue, in a show of support for Palo Alto University Professor Christine Blasey Ford, who has accused Kavanaugh of sexually assaulting her in 1982 when both were still in high school.
One protester also reportedly shouted "Beto is way hotter than you dude," as Cruz and his wife made their way out of the restaurant.
O'Rourke came to Cruz's defense on Tuesday, writing on Twitter that it was "not right" that Cruz "and his wife Heidi were surrounded and forced to leave a restaurant last night because of protesters."
"The Cruz family should be treated with respect," O'Rourke wrote.
Still, Cruz took yet another hit on Tuesday after The New York Times published a piece by conservative columnist Bret Stephens, which branded Cruz a "serpent covered in Vaseline" and accused him of being "the type of man who would sell his family into slavery if that's what it took to get elected."