Twitter Imagines What It Will Be Like To Have Matthew McConaughey As A Professor
Oscar-winning actor Matthew McConaughey will join the University of Texas as a professor, and Twitter is excited. McConaughey will teach in the university's Department of Radio-Television-Film this coming fall.
One twitter user said on Wednesday, "Imagining Matthew McConaughey going over a syllabus, detailing the point structure of the class and his policy on submitting late assignments."
Another joked, "Y'all know Matthew McConaughey going to be teaching at UT Austin as a film professor. Hurry up and start filling out those transfer documents."
"In recognition of his outstanding work as a teacher and mentor to University of Texas students, and with respect to his career as an award-winning actor and producer, Matthew McConaughey has been appointed as a professor of practice at the Moody College of Communication starting in the fall 2019 term," the university said in an announcement on Wednesday.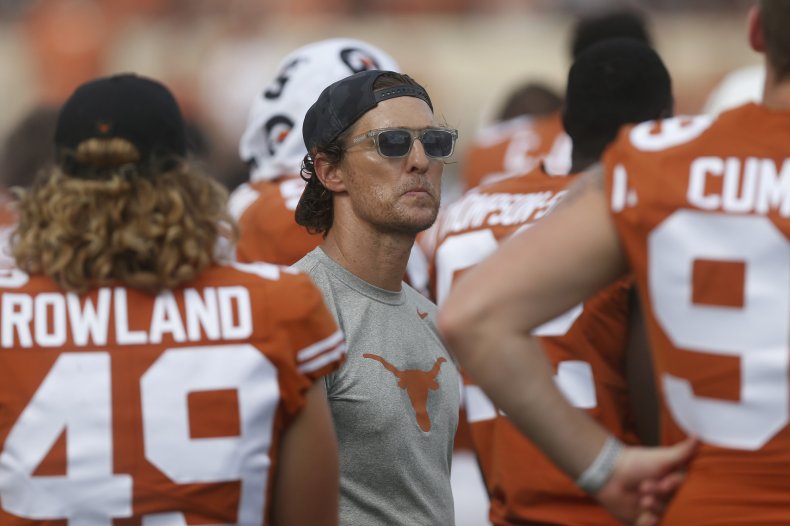 The release noted that McConaughey first joined as a visiting instructor in 2015, co-teaching a Script to Screen film production course. It also credits McConaughey with developing the curriculum for the class, "which provides a unique, behind-the-scenes view of each stage of a film's production."
Students have studied McConaughey films including Free State of Jones, White Boy Rick, and The Beach Bum.
In a statement, McConaughey described the class as one he wishes he'd had when he attended film school at UT — where he earned his film degree in 1993. "Working in the classroom with these students gives me a chance to prepare them," McConaughey said. "Making movies, turning words on paper into film, is both a science and art — no matter the time or generation. The elements of truth and genuine joy for the process are timeless. That will always be our classroom focus."
McConaughey has been a visiting instructor at the university's flagship campus in Austin for four years, and the university said that the appointment recognizes his "outstanding work as a teacher and mentor."
The university also said that McConaughey is respected for his "willingness to work with students beyond the classroom."
The actor-turned-professor has appeared in more than 50 films, including Dazed and Confused, The Wolf of Wall Street and Dallas Buyers Club, for which he won an Oscar and a Golden Globe for his leading role.
McConaughey is not the only entertainer who has joined the world of academia: a couple of years ago, Angelina Jolie made the move as well, becoming a visiting lecturer at the London School of Economics. Other celebrities turned instructors include Oprah Winfrey, Tyra Banks, Alec Baldwin, and Spike Lee.