Twitter iOS Update: Timeline, Feed Gets New Chronological Order Feature, How to Use It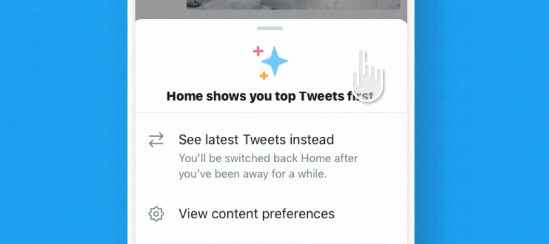 After years of users asking those at Twitter to return the feed to its normal reverse-chronological order, it seems some of the requests may have gotten through. Twitter announced Tuesday that the app would soon have a way for users to switch between the latest and the top tweets of their timelines.
This means users will soon be able to choose when they want to see the top tweets, deemed "top" by Twitter's algorithm, or when they want to see the most recent tweets from the people they follow, meaning tweets in reverse-chronological order. This would put the most recent tweets at the top of the feed and users could scroll down the feed to see those that they missed.
Users have similar complaints about other apps that made the switch from a reverse-chronological feed to an algorithm-based feed, like Instagram. Apps have been exploring ways to change the feeds so that users don't miss anything but still see what the algorithm decides best. Instagram tested a new, "caught up" feature, that shows users when they've caught up with their posts. Now Twitter has introduced this new option to change when they want to see the algorithm or the latest tweets.
How to switch to latest tweets on your timeline from top tweets:
Users should first update their Twitter app. The new feature is only available on iOS devices but will soon be available to Android users Twitter said. The update for the app should be available in the App Store for the iOS devices. Android users should check Google Play in the coming weeks for the update that includes the new timeline feature.
Then once the app is updated users can select the icon that resembles the three-star emoji in the top right corner of the app and their feed. This is sometimes also referred to as the sparkle emoji. This will pull up a menu that allows users to either switch to their most recent tweets or to switch from recent tweets to top tweets. Users can change their preference any time they want in the app.
When they have top tweets chosen, they'll be shown the top-rated tweets of their timeline first when they scroll through the app. When they choose the most recent tweets, they'll just see the tweets from their followers in the order they were sent.
​