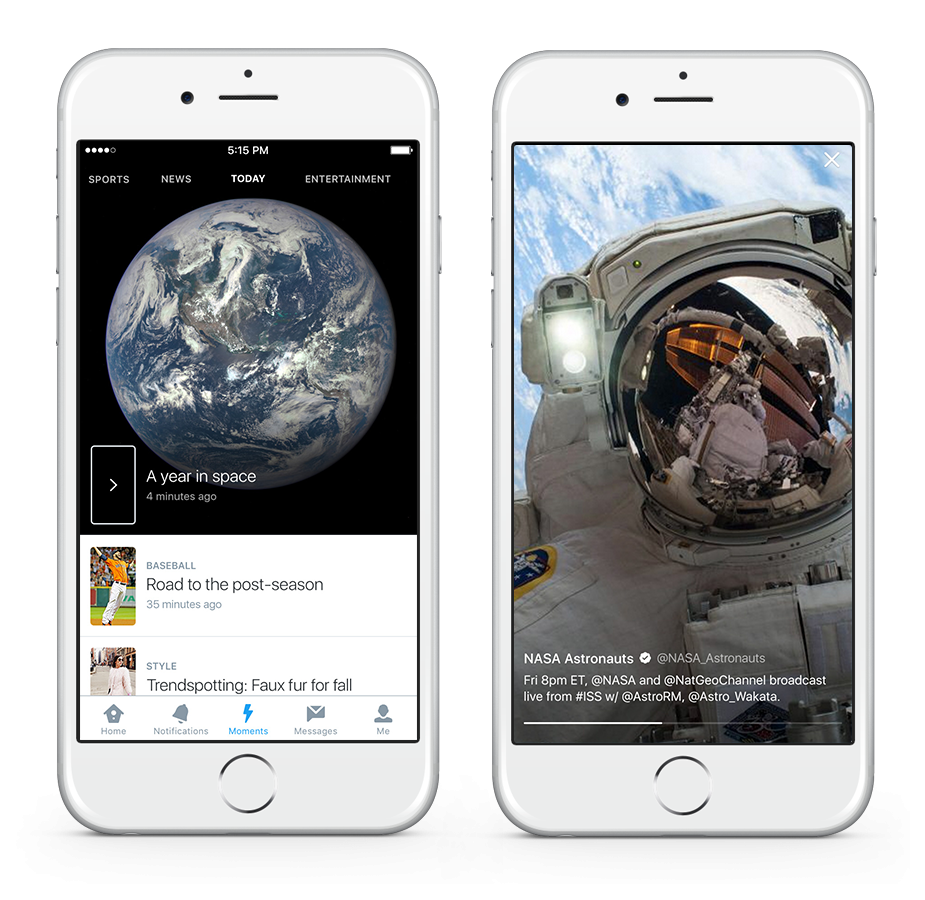 Just one day after Jack Dorsey was named the permanent CEO of Twitter and Adam Bain was promoted to chief operating officer, the company has announced more big news: the launch of a new feature called "Moments."
Moments are curated collections of tweets—including text, images and videos—accessible by clicking the lightning bolt symbol in the bottom bar of the Twitter app or the top bar of the platform's Web version. They are intended to be easily digestible stories that reflect timely news, sports and entertainment events, among the flood of tidbits that is Twitter.
"Every day, people share hundreds of millions of Tweets," Madhu Muthukumar, product manager for Moments, said in a blog post announcing the new feature. "Among them are things you can't experience anywhere but on Twitter: conversations between world leaders and celebrities, citizens reporting events as they happen, cultural memes, live commentary on the night's big game and many more," he added. "We know finding these only-on-Twitter moments can be a challenge, especially if you haven't followed certain accounts. But it doesn't have to be."
Twitter launched its new feature Tuesday morning, rolling Moments out to U.S. users who use Android, an iPhone or a desktop Web version. (To get Moments on your phone, you'll have to update your Twitter app, Muthukumar explained in a Periscope presentation with the Moments team on Tuesday. If you don't see the update yet, don't despair; it's being rolled out over several hours.)
To start, Moments are being curated by Twitter teams in New York and San Francisco. In addition, the company will allow partners like Bleacher Report, BuzzFeed, Entertainment Weekly, Fox News, Getty Images, Mashable, MLB, NASA, The New York Times, Vogue and The Washington Post to curate their own Moments. Eventually, Twitter will extend that invitation to everyone.
Early afternoon on Tuesday, for example, the Moments that appeared on the desktop Web version of Twitter included "Explore the Galapagos Islands," tagged "Tourist for a day"; "South Carolina floods break dams," tagged under "Weather"; "Corgi cuteness," under "Cute"; and "Seahawks hold off Lions for win," tagged "Monday Night Football"; as well as Moments tagged as created by partners, like "Faces of the refugee/migrant crisis" by The Washington Post and "All-Day Breakfast at McDonald's Starts Today" from BuzzFeed.
Each of these has a title and a very brief description to give context to what users will see unfold, and then uses primarily visual tweets (photos and videos) to tell the story in an order that makes sense, rather than appearing in reverse chronological order according to the time stamp on the tweets, as they come up in the timeline. Users can follow a particular Moment to make sure all the tweets the curators select for that collection appear in their timeline (including those from accounts they don't follow) until the Moment ends. They can be linked to or embedded (see below).
The new feature is part of a larger push to make Twitter more accessible to people who are not "heavy users." As Dorsey tweeted Monday, "Our work forward is to make Twitter easy to understand by anyone in the world, and give more utility to the people who love to use it daily!" More than one member of the Moments team said during Tuesday's Periscope presentation that Moments will help new users discover the "magic" of the platform.
To be a little more blunt, "the new feature shows the company inching toward something that has eluded it throughout its troubled history: a reason for being," said Farhad Manjoo of The New York Times in a Tuesday article about Moments. "For years, executives and devotees of Twitter have struggled to explain why they use it, or what anyone who isn't a celebrity, politician, venture capitalist or journalist can get out of it," he added. "Now, Twitter is finally offering a simple, compelling case for the service's mainstream utility."