Twitter Locks Trump's Account and Will Permanently Suspend it on Next Violation of Violence Policy
Twitter announced Wednesday evening it has locked President Donald Trump's Twitter account due to "repeated and severe violations" of the company's Civic Integrity policy.
The social media company said in a series of tweets that Trump's account will remain locked for at least 12 hours. If additional violations occur after the account is unlocked, the president's account may be "permanently suspended," Twitter said.
The decision came following a day of violent protests in the nation's capital. While lawmakers were participating in a joint session of Congress to certify the results of the 2020 presidential election, protesters descended upon the Capitol Building, breached the perimeter of law enforcement officials stationed outside and began flooding in, triggering a lockdown as evacuated lawmakers sheltered in place.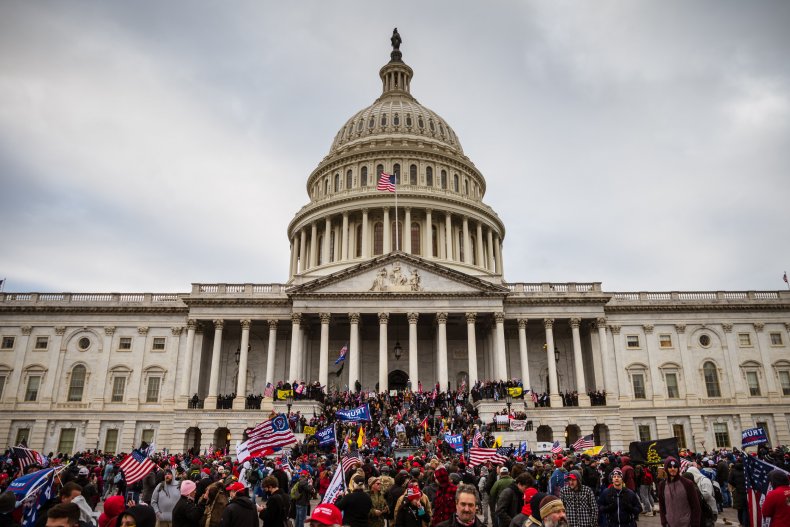 After lawmakers on both sides of the aisle called upon Trump to condemn the violence, the president posted a video on social media that encouraged his protesters to "go home" but also aired allegations that the election had been "stolen" from him.
Facebook removed the video from its platform shortly after Trump posted it and Twitter blocked engagement with the post.
"As a result of the unprecedented and ongoing violent situation in Washington, D.C., we have required the removal of three @realDonaldTrump Tweets that were posted earlier today for repeated and severe violations of our Civic Integrity policy," the Twitter Safety account tweeted. "This means that the account of @realDonaldTrump will be locked for 12 hours following the removal of these Tweets. If the Tweets are not removed, the account will remain locked.
"Future violations of the Twitter Rules, including our Civic Integrity or Violent Threats policies, will result in permanent suspension of the @realDonaldTrump account," the thread continued.
Listed at the top of Twitter's Civic Integrity policy is a rule regarding the spreading of contested election-related information.
"You may not use Twitter's services for the purpose of manipulating or interfering in elections or other civic processes," the company's policy says. "This includes posting or sharing content that may suppress participation or mislead people about when, where, or how to participate in a civic process. In addition, we may label and reduce the visibility of Tweets containing false or misleading information about civic processes in order to provide additional context."
Twitter has flagged numerous Trump's tweets as containing disputed information about the presidential election over the last two months.
The company's safety rules regarding violence say, "You may not threaten violence against an individual or a group of people. We also prohibit the glorification of violence." Twitter's safety policy also includes a note about terrorism and violent extremism that specifies, "You may not threaten or promote terrorism or violent extremism."
Twitter flagged each of the three Trump tweets with a message that read, "This Tweet is no longer available because it violated the Twitter Rules." The company included links to the specific rules that it said the tweets violated, as well as information about its process for identifying and flagging questionable content.
Twitter also posted a link to its policy regarding posts by world leaders.
"Our public interest policy—which has guided our enforcement action in this area for years—ends where we believe the risk of harm is higher and/or more severe," Twitter wrote. "We'll continue to evaluate the situation in real time, including examining activity on the ground and statements made off Twitter. We will keep the public informed, including if further escalation in our enforcement approach is necessary."
Newsweek reached out to the White House for comment but did not receive a response in time for publication.
This story has been updated with additional information and background.