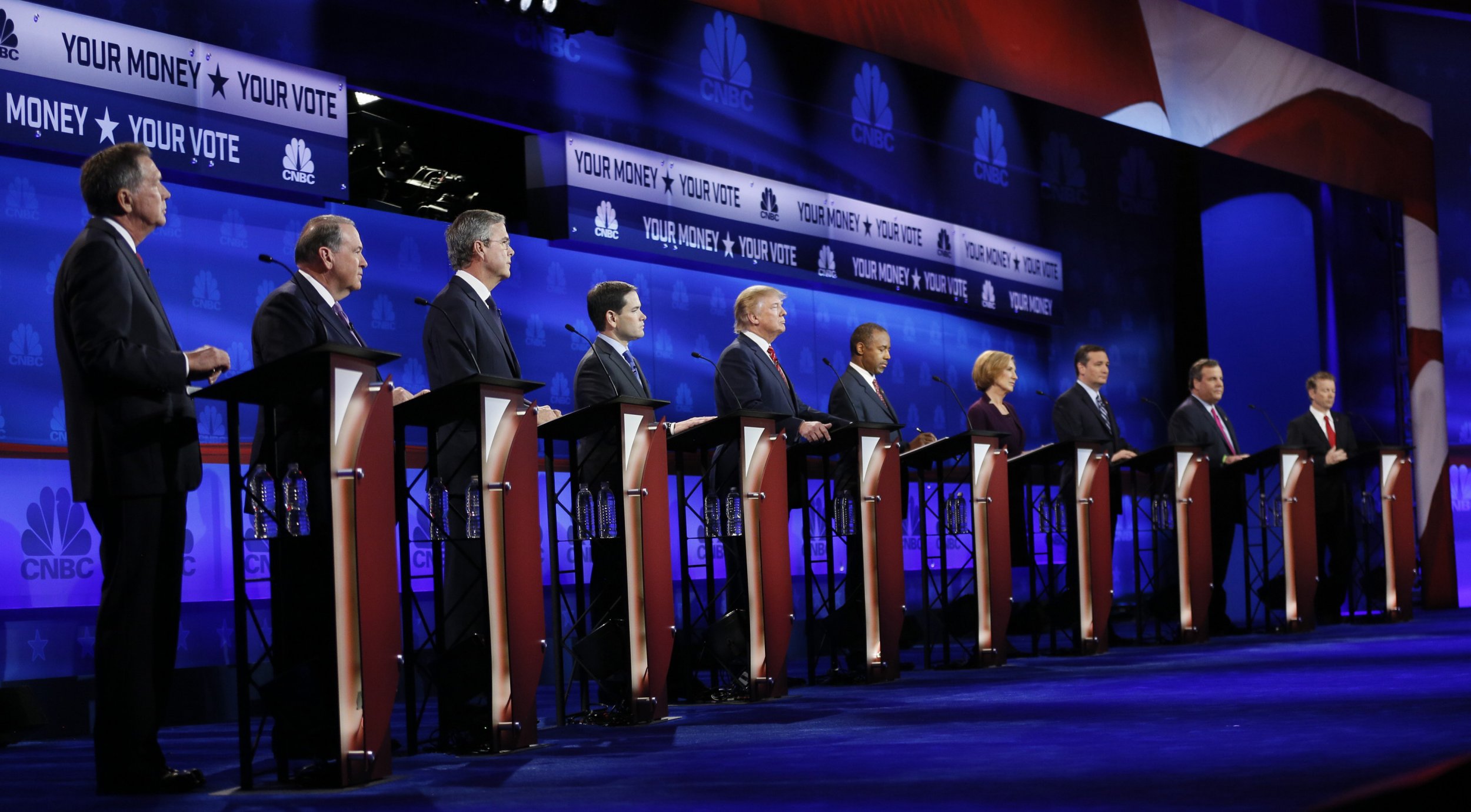 The first bite of the presidential debates was delicious, the second equally so, and while the third bite was different and enjoyable, the fourth was not so much.
The debate Wednesday was the third among the Republicans and the fourth overall, and Twitter now seems to be feeling a bit nauseous about the whole thing, as the overall engagement level dropped significantly compared with past debates, according to Spredfast, a social software platform based in Austin, Texas.
In total, the debate spawned over 1.04 million tweets, which may seem like a lot on its own but is actually a meager showing compared with past debates. The Democratic debate on October 13 and the first Republican debate, on August 6, produced more than twice the amount of tweets, with 2.28 million and 2.06 million, respectively.
In the Democratic debate, Bernie Sanders was the most talked about candidate, with mentions in more than 306,000 tweets. On Wednesday, Ted Cruz finished at the top of the Twitter popularity charts among the 10 GOP candidates—but with a fraction of what Sanders elicited. The senator from Texas was mentioned in 78,000 tweets, most of which were generated from the impassioned interlude when he railed against the debate's CNBC moderators.
The call-out by Cruz was the engagement peak of the debate, with 4,631 tweets per minute. In the Democratic debate, the highest TPM reach was 6,755, when Sanders introduced himself.
Following the debate, critics agreed that CNBC was the biggest loser of the debate, and Twitter users seemed to be on board with that idea. Nearly a quarter of all debate-related tweets (more than 228,000) were about the financial news channel, and the vast majority—both from the political left and right—were critical of the moderators, their questions and how they handled the debate.
Another debate loser was Donald Trump, who had a shockingly quiet day on Twitter. In both earlier debates, more than 200,000 tweets piled up about him; on Wednesday, the billionaire firebrand was mentioned in only 45,000 tweets, finishing third behind Cruz and Ben Carson.
Carson generated over 54,000 tweets and hit the second highest TPM peak on something of a down note for the candidate: When he was asked about his involvement with Mannatech, a nutritional supplement company that settled charges brought by the state of Texas in 2009 on its use of illegal and deceptive materials for its supplements.
While the debate failed to reap the same social media attention as its predecessors, there was one silver lining Wednesday night: It generated more tweets than Game 2 of the World Series, which was broadcast at the same time.