Twitter Reacts to Donald Trump's 2020 MAGA Video: President 'Posts Delusional Video Where He Thinks He's Batman'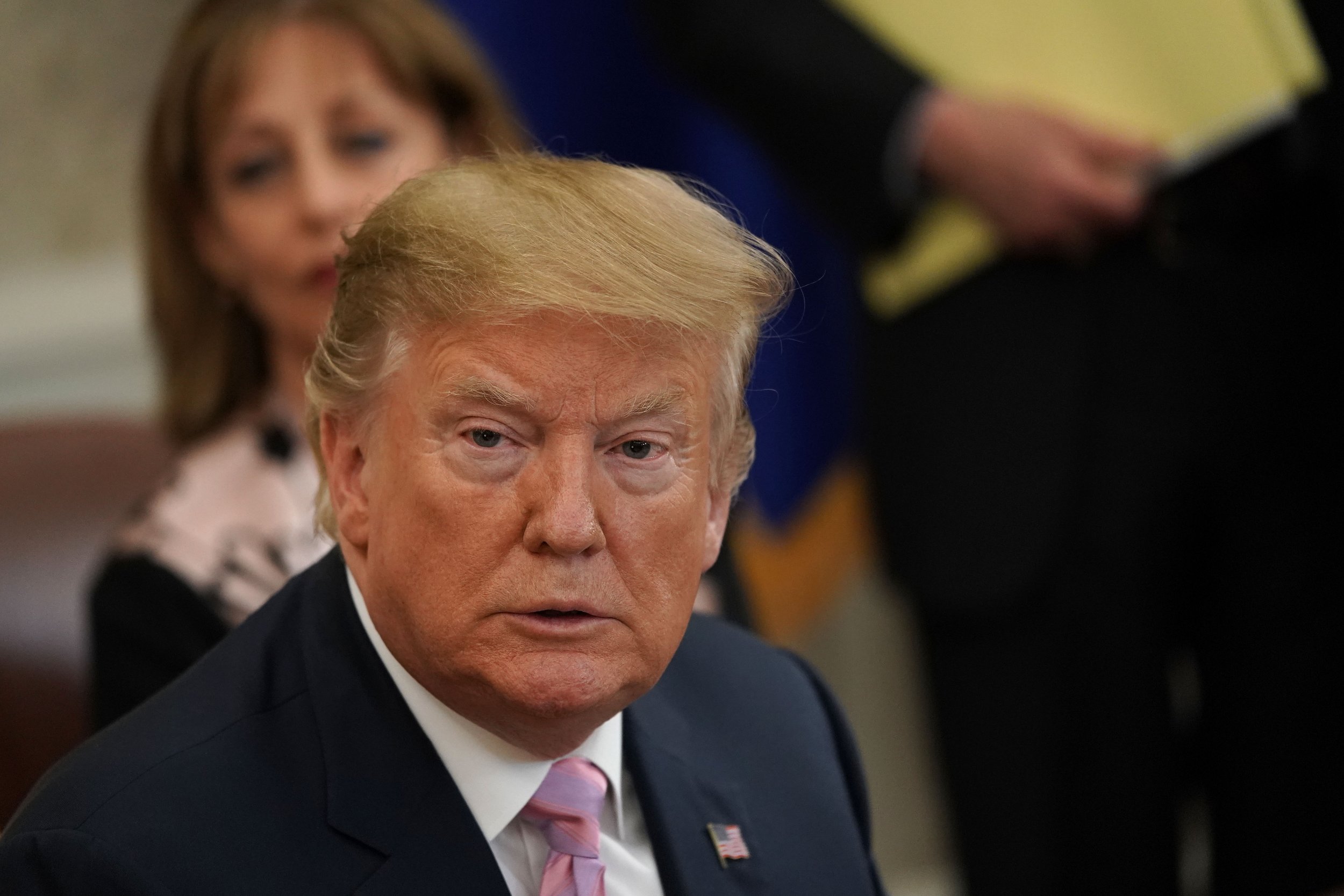 President Donald Trump, who's running for reelection in 2020, shared a trailer-like campaign teaser to Twitter on Tuesday set to music from "The Dark Knight Rises," featuring footage of Kim Jong Un and Rosie O'Donnell.
"MAKE AMERICA GREAT AGAIN," Trump tweeted, alongside the two-minute clip. The video starts with a message — "First they ignore you, then they laugh at you, then they call you racist. Donald J. Trump. Your vote proved them all wrong" — before dramatically cutting to footage of the president's most prominent critics, including Hillary Clinton, Bill Clinton and CNN.
The video then segues to a compilation of Trump's greatest moments since being inaugurated in 2017, including several Republican campaign events, his historic meetings with North Korean leader Kim Jong Un, and a Fox News article stating that Mueller's report found "no proof" that the president's campaign team conspired with Russia.
"Donald J. Trump," the video reads. "Your vote proved them all wrong."
WIthin four hours of posting the clip, Trump's video had gathered nearly 1.5 million views, over 19,000 retweets and around 61,000 likes. Warner Bros. Pictures, who owns the rights to 2012 The Dark Knight Rises song "Why Do We Fall" used in the video, said they plan on filing a copyright infringement complaint to have clip removed, reported Buzzfeed.
While tens of thousands of the president's supporters liked the tweet, other Twitter users were quick to condemn Trump for the unusual video, which several deemed "propaganda."
Editor's note: Some tweets contain vulgar language.
"Okay, this is really frightening. We have a president who makes these propaganda videos you'd expect to see from Stalinist Russia or North Korea. And millions of brainwashed Americans eat this crap up. Meanwhile, we have an inept media that is powerless to do anything about it," U.S. surgeon Eugene Gu tweeted.
"The first thing I thought was that this video was literally frightening," Marah Mason wrote.
"First they ignore you. Then they Laugh at you. Then they call you a racist. THEN YOU PROVE THEM RIGHT, OVER AND OVER AND OVER AGAIN!" Hill Reporter editor Brian Krassenstein tweeted.
"This is factless propaganda at its best. Good for the deplorables. But at least 63% of Americans don't believe this BS," a user under the Twitter handle @Airvooocht added.
"Holy propaganda, Batman!" political cartoonist Laurie Roche tweeted.
"First of all, nobody ignored your loud, boorish ass. Imagine ignoring someone the unnatural color orange yelling his head off. But yeah, still laughing at you. And racist is as racist does, so yeah, that continues. The rest of your video? Political revenge porn. Weak," Majid M. Padellan tweeted.
"What kind of disorder needs an entire 'film trailer' to stoke its ego? Seriously disturbed," Twitter user @sirdigby40 wrote.
See more tweets below: