Twitter Outraged At Report Remington Seeks Report Cards of Sandy Hook Shooting Victims
American gun manufacturer Remington's recent subpoena to nine families who lost loved ones in the 2012 Sandy Hook Elementary School shooting has lead to uproar on Twitter.
On Thursday, Remington subpoenaed the academic, attendance and disciplinary records of five children who were killed in the massacre. The subpoena also included the school records of four school teachers who were killed.
Shannon Watts is the founder of Moms on Demand which is a grassroots organization that focuses on combating gun violence through education and other resources.
"Clearly Remington's lawyers are trying to get the families to settle by threatening them with using this information to further engage and empower the conspiracy theorists who've made the Sandy Hook School families' lives a living hell for almost a decade," Watts tweeted.
Writer Robin Williams Adams said, "For what possible purpose? Do they plan to claim they were bad teachers or pupils whose deaths therefore didn't matter?"
Comedian Jena Friedman questioned the reasoning behind the request.
"What law firm is defending Remington and how do they think a murdered first grader's disciplinary record is going to sway the jury? I am genuinely curious. I also want to know the attorneys' names. This shit is ridiculous," she said.
Screen Rant editor Alisha Grauso tweeted, "'We have no explanation for why Remington subpoenaed Newtown...to obtain the [records]...' I do. Remington hopes to somehow paint the murdered kids as "bad kids" as a defense angle during the trial. Same thing done when a Black man or kid is murdered by cops. Every time."
Actor JD Evermore tweeted that turnabout is fair play.
"The victims' lawyers should subpoena the report cards, attendance records, and disciplinary records of the kids of all the Executives at Remington and all of Remington's lawyers," Evermore said.
Attorney Josh Koskoff, who represents the nine families of the Sandy Hook tragedy, spoke to the Connecticut Post about the subpoena on Thursday.
"We have no explanation for why Remington subpoenaed the Newtown Public School District to obtain the kindergarten and first-grade academic, attendance and disciplinary records of these five school children," said Koskoff. "The records cannot possibly excuse Remington's egregious marketing conduct, or be of any assistance in estimating the catastrophic damages in this case."
"The only relevant part of their attendance records is that they were at their desks on December 14, 2012," Koskoff added.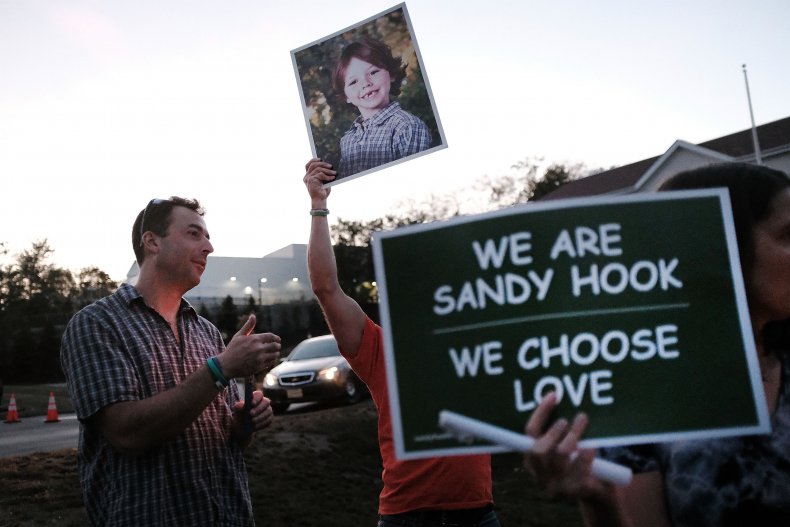 The nine families suing Remington allege that the gun company marketed military-grade guns to civilians.
Remington has stated on numerous occasions that the AR-15 rifle was legally sold to Nancy Lanza, Adam Lanza's mother, who left it in an unlocked closet at her home. Adam Lanza got ahold of the gun and murdered 26 first-graders and faculty members at Sandy Hook Elementary School in 2012.
In July, Remington came under fire after lawyers representing the families discovered 18,000 random cartoons and 15,000 images of people dirt-biking and go-kart racing in pretrial data provided by the company's lawyers.
In 2020, Remington filed for Chapter 11 bankruptcy, but the judge preceding the case allowed the families to have their day in court to hear both sides of their argument.
Jury selection for the case involving both parties is set to take place in September. The Connecticut Supreme Court reinstated the case after being shunned by Connecticut's Superior Court and the U.S. Supreme Court.
Newsweek has reached out to Moms on Demand for further comment.