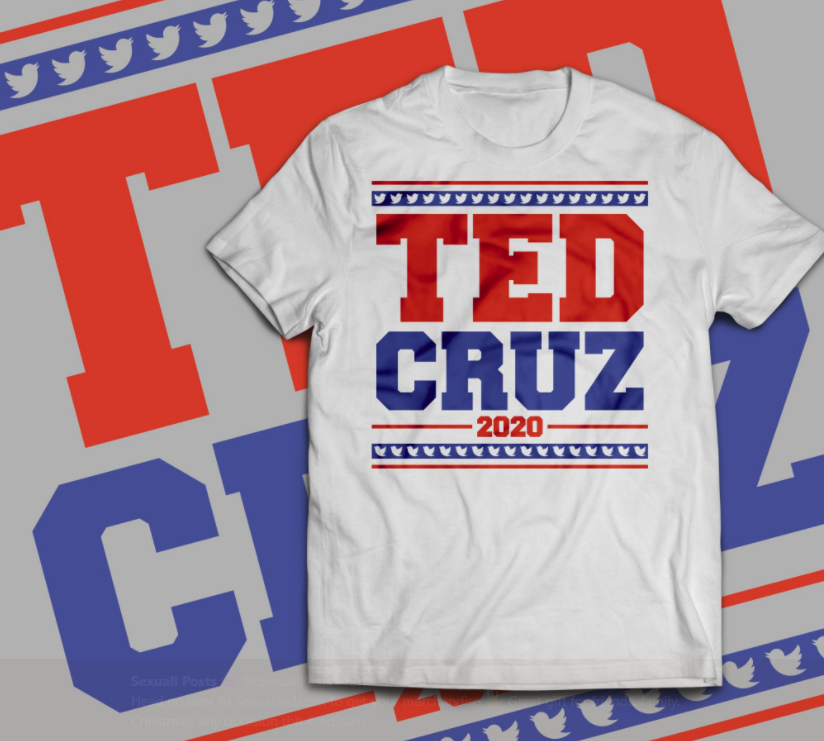 The social media storm provoked after Ted Cruz liked a hardcore porn video on Twitter may be something the Senator from Texas and his staff would sooner forget but the account holder who posted the clip has other ideas.
"Sexuall Posts," the account that shared the video Cruz liked, has been revelling in the backlash against the former presidential candidate and has decided to take advantage of all the attention by pushing merchandise.
Read more: Disney Gives $2.5 million to Hurricane Irma Relief in Florida and the Caribbean
The wearable items celebrating the gaffe are available for just over $20 at sexualted.com. A mug that makes a suggestive pun using Cruz's first name is available for $14. All of the T-shirts feature the senator's name and likeness. In one picture he appears winking. Another T-shirt endorses him for a run in the 2020 presidential election. His name is surrounded by Twitter logos.
Cruz has blamed Monday's incident on "staffing issues," explaining that it was an honest accident and not intended maliciously.
"There are a number of people on the team that have access to the account and it appears that someone inadvertently hit the 'like' button," Cruz told the Associated Press, adding: "It was a staffing issue, and it was inadvertent. It was a mistake; it was not a deliberate action."
"We're dealing with it internally, but it was a mistake, it was not malicious conduct," he added, attempting to brush off the gaffe by saying the mistake could have aided his presidential bid back in 2016.
"I will say that if I had known that this would trend so quickly, perhaps we should have posted something like this back during the Indiana primary," he said.
Cruz, who has styled himself as a protector of Christian family values was widely ridiculed for the Twitter like by his account. The video in question featured a woman who gets increasingly aroused as she spies on a couple as they have sex.
Sexuall Posts had already used its new-found fame to mock Cruz, changing its profile description to "the Same Porn @TedCruz Watches."
His former Princeton roommate, Hollywood writer and producer Craig Mazi made fun of the republican senator. "Now imagine Ted Cruz is doing this four feet below you in the bottom bunk bed," Mazin tweeted. "Yes, my misery very much appreciates your company."
Elsewhere political opponents used the tweet to score points. "Wow, and here I thought the only thing @tedcruz could get off to was stealing healthcare from poor people. Color me shocked," tweeted former Florida Representative Alan Grayson.