Twitter has taken steps to prevent talk show host and conspiracy theorist Alex Jones from sneaking back onto the platform, purging more accounts affiliated with his content.
A spokesperson confirmed to CNN on Monday that Twitter had permanently suspended at least 18 accounts for trying to help Jones and his Infowars website circumvent a ban placed on the organization in September. The action came after "numerous violations and warnings."
The accounts had posted "material related to the media organization," CNN reported.
Twitter did not name the banned accounts, but the confirmation followed a report from The Daily Beast last week that found multiple Infowars-affiliated profiles were still active. These included the "Real News" show, an entity known as "News Wars" and an Infowars store profile.
It is explicitly against current Twitter policy to attempt to covertly bypass a ban. It warns: "If you attempt to evade a permanent suspension by creating new accounts, we will suspend your new accounts." The company did not immediately respond to a request for comment.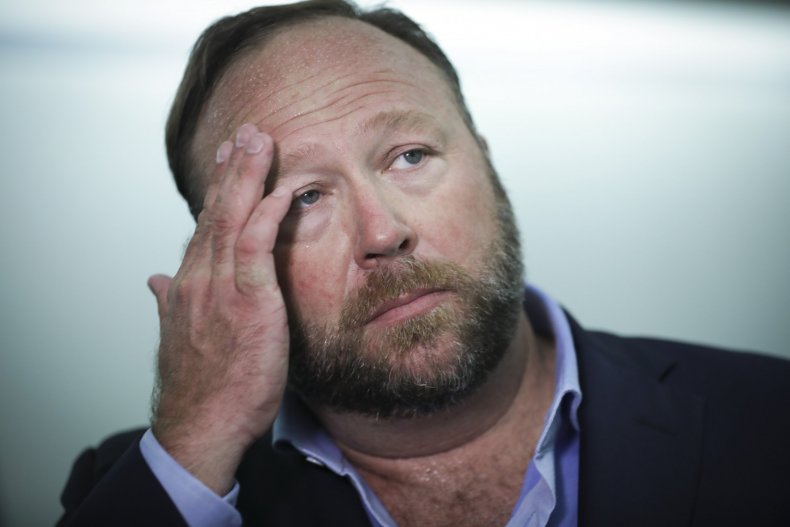 Last month, Twitter purged Jones and Infowars after the host confronted a CNN reporter during a live stream broadcast on its Periscope service. At the time, Jones was stalking the halls of Congress in Washington, D.C., the same day as Twitter CEO Jack Dorsey testified. The ban on Jones's accounts followed similar action from Apple, Facebook and Google's YouTube.
Infowars has promoted fringe conspiracy theories. As host, Jones has claimed that the Sandy Hook Elementary School shooting was "completely fake." A mass shooting in San Bernardino, California, Infowars claimed, had "'false flag' written all over it."
His work caught the eye of Donald Trump. In a 2015 interview, before he entered the White House, Trump told the host: "Your reputation is amazing. I won't let you down."
The New York Times found that the social media purge had a negative effect on traffic to Jones's site and videos. In August, Infowars attracted a daily average of up to 1.4 million visits. Within three weeks, numbers tanked to about 715,000 daily site and video views, the Times reported.
The Infowars website claims to have an "ever-growing number of profiles, pages and groups within the realm of social media." Jones's personal Facebook profile remains online.
Indeed, it appears Infowars is still highly active on the Mark Zuckerberg–led platform. A search on the social network results in a slew of accounts promoting its live streams and material.
On a Facebook profile called Infowars Live, a host who was streaming in Houston after a Trump rally Monday appeared to confirm the purged Twitter accounts were linked to Infowars.
"We had all of our other Twitter accounts banned tonight," the host said. "Now, this is really perplexing to me. I'm just trying to figure out why. We didn't do anything illegal. We weren't cursing. We weren't doing anything obscene. We were just going around talking to people."