Twitter Reacts to Sarah Palin's Bizarre Viral Video
Former governor of Alaska Sarah Palin recently made a home video outside her house that has Twitter confused. In the 59-second clip shared on Monday, Palin starts the video by saying "Lisa Murkowski," referring to the Alaskan senator. The words "Dear Lisa" appear super-imposed on the footage.
Palin repeatedly points to her house, telling the camera, "This is my house," emphasizing a different part of the phrase each time. "I'm willing to give it up for the greater good of this country," she continues. "The great state."
The video, which feels like a series of outtakes blended together, then abruptly cuts to Palin saying, "You can't find it within yourself to do the right thing this time, and at least give a fair shake to the Supreme Court nominee that your president will be bringing before you."
"You would at least consider," she then says in a black-and-white shot. "You can at least find it within yourself to do the right thing." Palin adds that it's "not America's agenda" with the black-and-white filter on.
"And doing what the majority of Americans want you to do, to do what you were sent to Washington D.C. to do," Palin says before the video cuts to her saying, "Walk back to what you committed yourself to do."
The video, though less than a minute long, has left many people with more questions than answers. "I don't understand what any of this means. Is Sarah Palin on drugs?" one Twitter user wrote. "Do you have to be on the same drugs to understand this? WTF?"
"Wow....bless Sarah's heart....this is just so damn cringy!!" one person commented.
"How the F*** was she almost the VP of the United States of America?" another said.
"Can anyone explain this to me?" a third user begged.
Some folks called for Tina Fey to reprise her role impersonating Palin on Saturday Night Live. "It's as if she's impersonating Tina Fey impersonating her," one user wrote. "Either that or she's on shrooms."
"Where is Tina Fey? If I don't see some Palin nonsense on @nbcsnl this Saturday I will be disappointed," another person chimed in.
"Ohhh SNL is going to have a field day with this - this coming Saturday night lol," a third person said.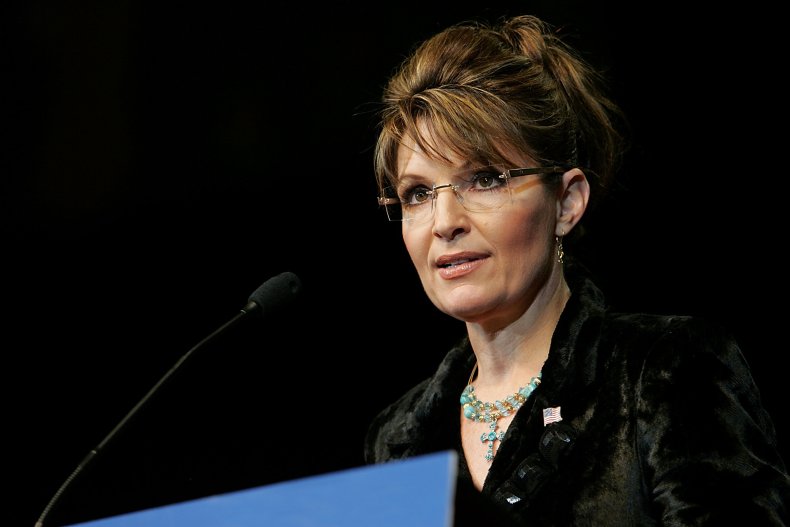 However strange it may seem to some people, there may be some reasoning behind this strange video. The clips were taken and edited from a two-and-a-half-minute video of Palin calling out Murkowski for not supporting President Donald Trumps' decision to nominate a new Supreme Court justice weeks before the presidential election. Palin posted the longer version of the video on Instagram on September 23.
"You're thinking you're going to go rogue... This isn't the time, this isn't the place," Palin says in the full video on Instagram.
Whether or not Palin will challenge Murkowski for her senate seat in 2022 remains to be seen.
Newsweek reached out to Palin for comment on the reaction to the video, but did not hear back in time for publication.