#RIPTwitter Trends After It Unveils Paid Super Follows Subscription Feature
Twitter's plan to let people charge money for access to additional or exclusive content was criticized by some users on Friday.
The hashtag #RIPTwitter became a top-five trending topic as it was used thousands of times to reject the new feature, which is known as Super Follows. Memes were widely shared to illustrate the stance, some attracting thousands of shares.
"I love y'all, but there's no way I'm paying to read your tweets," one person wrote in a post that was fairly representative of the general vibe.
Subscription services being integrated into a platform is nothing new, and is widely used on websites such as Patreon, Substack, Twitch and YouTube. Other companies, like OnlyFans, are completely based around the model of charging for access.
While there was no suggestion Twitter will become pay-to-use, or that individual tweets would suddenly become fully paywalled, it would still mark a significant shift for a platform that has always been free-to-use for everyone. This was the reaction:
The function was unveiled for investors during Twitter Analyst Day 2021 and pitched as a way to provide "monetary incentive models for creators and publishers to be directly supported by their audience." It was not clear what percentage Twitter will take.
A mock-up image of the feature showed a user offering followers a variety of content or add-on perks in exchange for a $4.99 per month subscription fee, including a supporter badge, an exclusive newsletter, deals and discounts and also community access.
It remains unknown if Spaces—the platform's audio-only Clubhouse competitor—will be integrated. Twitter also teased a new tool called Revue, for paid or free newsletters.
Twitter has been contacted for comment by Newsweek. The social network told NBC News that more information about Super Follows would surface later this year.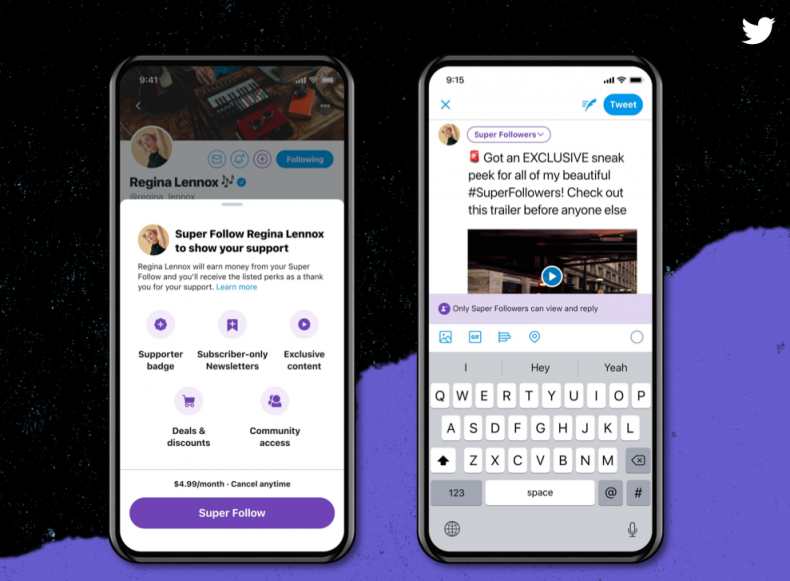 Twitter is also developing a way for people to tip other users, according to comments made to investors by Dantley Davis, head of design and research.
Davis said: "We see... opportunities to provide monetary incentive models that allow creators and publishers on Twitter to be directly supported by their audience. You'll see us explore solutions... like Tipping and account subscriptions through Super Follows.
"Audience-funding models, by virtue of allowing talented content creators to earn from their audience, motivates them to continue creating great content that their audience loves. But our focus is also to ensure that we're evolving our product so [it] amplifies... positive discourse, and that it disincentivizes toxic and jerk-like behavior."
A spokesperson for Twitter said: "Exploring audience funding opportunities like Super Follows will allow creators and publishers to be directly supported by their audience and will incentivize them to continue creating content that their audience loves."
In his own comments to investors, CEO Jack Dorsey conceded Twitter had been slow to innovate its service, especially in comparison to "peers in the market."
He said that in recent years it may have taken between six months and a year to launch a feature on the site, and he hopes to reduce that time to "under a few weeks."
"We agree we haven't been innovative. This is very closely related to the critique of our slowness," he said. The platform's billionaire boss added Twitter is working to attract at least 315 million monthly daily active users (MDAU) by the fourth quarter of 2023.
"[That] requires continued compounding growth at about 20 percent per year from the base of 152 million MDAU we reported in the fourth quarter of 2019," he said.