Twitter Reacts to Trump Saying He's Open to Cuts in Medicare and Other Entitlement Programs
After making protecting Medicare, Social Security and other social programs important campaign tentpoles during his 2016 presidential campaign, President Donald Trump said during a CNBC interview with Joe Kernen on Wednesday that he'd be open to cutting funds to such programs in the future.
"At some point they will be. We have tremendous growth. We're going to have tremendous growth. This next year, it'll be toward the end of the year. The growth is going to be incredible. And at the right time, we will take a look at that," said Trump.
"You know, that's actually the easiest thing of all things, if you look. Because it's such a big percentage."
He added that "we're going to look" at cutting Medicare as well.
"We also have assets we've never had. We've never had growth like this, we've never had a consumer that was taking in through different means, over $10,000 a family. We've never had the kind of things we have," he concluded.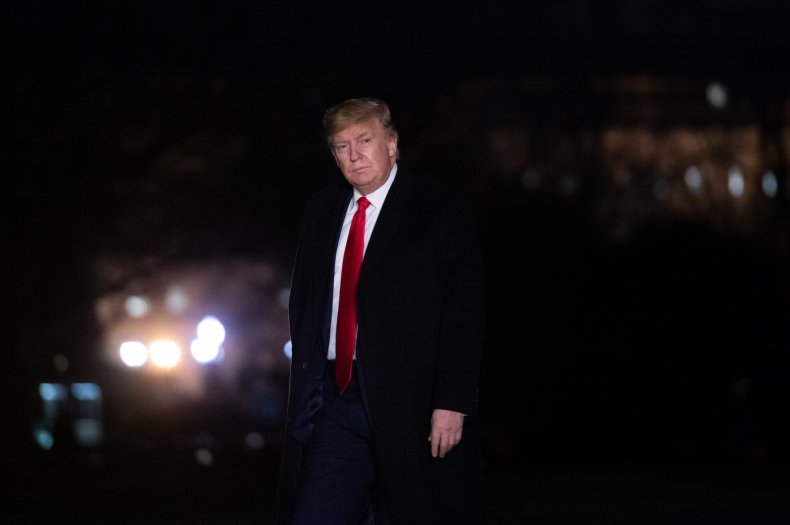 Many of the Democratic candidates for president spoke out against the potential cuts.
"Over and over, Donald Trump promised Americans that he would not cut Social Security and Medicare. He lied. When we win, we're not going to just protect Social Security and Medicare, we're going to expand them," said Senator Bernie Sanders (D-Vt.).
"My administration will not cut Social Security or Medicare benefits. Period. We'll expand them. Meanwhile, Donald Trump is saying he would consider sacrificing seniors' benefits to protect tax cuts for the wealthiest Americans and big companies. We have to defeat him in November," said former Vice President Joe Biden.
"Trump's spent his entire presidency attacking every lifeline we have for struggling families. Democrats will win by not just defending these benefits, but by fighting for progressive expansion of Social Security, Medicare, and Medicaid," Sen. Elizabeth Warren of Massachusetts wrote.
"Donald Trump is targeting Social Security, Medicare, and Medicaid to fund tax breaks for giant corporations and the wealthiest among us. The stakes in this election just got higher. We can't afford more of the same Washington dysfunction that puts American families at risk," former South Bend, Indiana mayor Pete Buttigieg wrote.
From the other side of the aisle, Trump War Room, an official media Twitter for the president's reelection campaign, replied to the situation by posting video of the President at a rally promising to defend Medicare.
Other Democratic political figures weighed in as well.
"This was the long game that was plotted all along. Think again. We won't allow cuts to these vital programs to sustain tax cuts for the super rich and biggest corporations," said Democratic New Hampshire congressman Chris Pappas.
"This has been the GOP's game plan from the start: 1) Cut taxes on the wealthy and corporations, claiming they'll pay for themselves. 2) Explode the deficit. 3) Call for cuts to Social Security, Medicare and Medicaid. 4) Repeat," said former Secretary of Labor Robert Reich.
"Another betrayal – President Trump admits he wants to pay for the cost of the #GOPTaxScam by cutting Social Security and Medicare," said Ohio senator Sherrod Brown.
While very few Republican politicians tweeted about the CNBC interview, Trump's supporters came out to defend the president. Some thought that the system needed to be overhauled, and thus, Trump was doing the right thing by proposing changes, while others blamed the media for misrepresenting what he said.
"Medicaid needs to be cut, so many abusing the system," said Twitter user Cassie.
"Literally NO ONE believes Soc Sec and Medicare can survive without being overhauled. Having the courage to start the discussion should be applauded, yet the Left and Media exploit it for personal attacks," said author and lawyer Susan Swift.
"LIAR, it was the man Interviewing @Potus who brought up "Medicare" & I dont even hear the words "Social Security" come out of t/Interviewers mouth-as both spoke at the same time. There are many other "Entitlement Programs". YOU SOBs trying to destroy @Potus need to STOP LYING!" said Twitter user @KarenSL.
"of course the fake news wants to conflate Medicare, Medicaid and Social Security with welfare. Why report the truth?" said Twitter user @DontTreadOnMass.
President Trump's last budget, submitted in March 2019, called for $1.9 trillion in cuts to Medicaid and Medicare, and $26 billion in cuts to Social Security programs.
The deficit surpassed $1 trillion in 2019, according to a report released by the Treasury last week. This is the first year since 2012 that the deficit broke the $1 trillion mark.