Twitter Removed Trump's Fake COVID Cure Retweet—Here's a Look Back at Social Media's Censorship of the President
In the most recent development between Twitter and President Donald Trump, the micro blogging platform has removed a tweet Trump retweeted Monday night which falsely claimed there is a cure for the new coronavirus.
The tweet, from the account @stella_immanuel, was replaced with a gray box that read, "This Tweet is no longer available."
The latest move comes as tensions have grown between Twitter and Trump in recent months after the social media giant began flagging Trump's tweets saying they violate Twitter's rules and guidelines.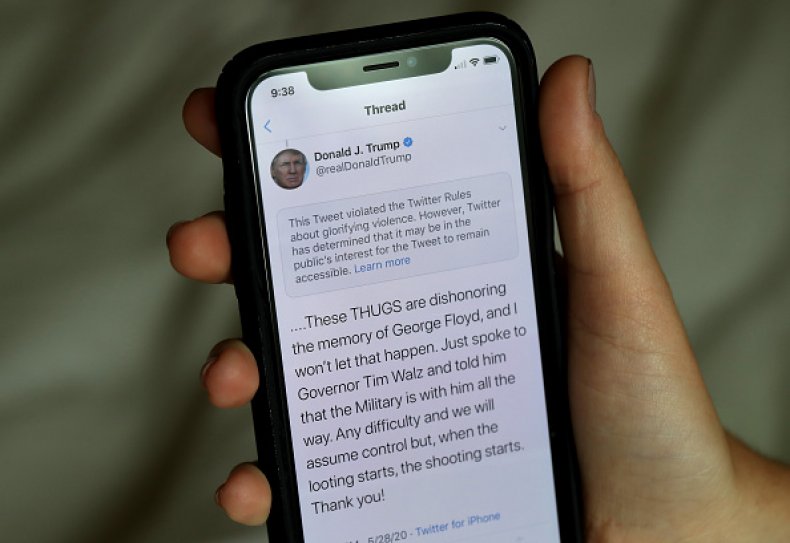 Twitter first fact-checked Trump in May on a pair of "misleading" tweets about mail-in voting. At the peak of the pandemic, a number of states pushed to expand absentee ballots to help curb the spread of the virus.
In the tweets, Trump alleged that the upcoming election will be "rigged" due to absentee voting, writing "There is NO WAY (ZERO!) that Mail-In Ballots will be anything less than substantially fraudulent."
Twitter flagged the tweets with a link that read "Get the facts about mail-in ballots," which directs users to information showing voter fraud to be rare when it comes to absentee voting.
Twitter said in a blog post that the site was rolling out a policy amid the coronavirus pandemic to combat misinformation.
Trump lashed back, tweeting that the social media platform was "completely stifling FREE SPEECH."
A few days later, the president signed an executive order targeted at social media companies, asking federal regulators to revisit a law protecting websites from liability for what their users post.
The day after the order was signed, Twitter acted again, slapping a warning label on a highly controversial Trump tweet over the George Floyd protests.
In response to the civil unrest that overtook the nation in the wake of George Floyd's death, Trump tweeted "when the looting starts, the shooting starts."
Twitter's label said the tweet violated rules about "glorifying violence" but did not remove it citing that, "it may be in the public's interest for the tweet to remain accessible."
Facebook CEO Mark Zuckerberg, however, defended the company's decision to keep Trump's same message up on Facebook, without any warnings.
In a post on the social media network, Zuckerberg said, "Unlike Twitter, we do not have a policy of putting a warning in front of posts that may incite violence because we believe that if a post incites violence, it should be removed regardless of whether it is newsworthy, even if it comes from a politician."
He had previously criticized Twitter for flagging Trump's mail-in voting tweets saying that he didn't think private companies should be arbiters of truth.
Twitter CEO Jack Dorsey responded to Zuckerberg's remarks saying the company's "intention is to connect the dots of conflicting statements and show the information in dispute so people can judge for themselves."
Then in June, Facebook took the opposite approach and joined Twitter in removing a video posted to Trump's social media accounts of a "racist baby," after one of the children's parents filed a copyright claim.
Twitter labeled the video as "manipulated media." The video, made to look like a CNN broadcast, showed two toddlers, one Black and one white, running to ominous music before cutting to the original footage of the two babies hugging.
White House press secretary Kayleigh McEnany said Trump was attempting to make a "satirical point," one "about CNN specifically."
On Monday, YouTube joined the other two social media giants in removing a video Trump and his son Donald Trump Jr. posted from Breitbart that claimed hydroxychloroquine cures COVID-19 and advised people not to wear masks.
Trump has previously endorsed the use of the drug as a cure, which has been deemed "ineffective" by health experts such as National Institute of Allergy and Infectious Diseases Director Anthony Fauci.
The younger Trump was temporarily locked out of his Twitter account for "sharing misinformation on COVID-19."
Twitter defended its actions against the president, saying that all users are subject to these consequences if they violate the platform's rules.
In a statement to Newsweek, a Twitter spokesperson said, "We enforce the Twitter Rules impartially for everyone, regardless of their background or political affiliation."
This story was updated with comments from Twitter.