Twitter to Review Taliban Tweets for Violations Amid Backlash Over Trump Ban
Twitter declined to address the backlash it has faced for allowing members of the Taliban to have accounts on the service, but said it would continue its work monitoring content for any policy violations.
Zabihullah Mujahid, a spokesperson for the organization, shared live updates of the group's takeover of Afghanistan on its Twitter feed. Sharing claims that the public is "happy" with the group's arrival, Twitter came under criticism for allowing the Taliban to spread its messages, especially after former President Donald Trump was banned.
When asked for comment on the backlash the social media platform was receiving, a Twitter spokesperson told Newsweek the company will "continue to proactively enforce our rules and review content that may violate Twitter rules, specifically policies against glorification of violence, platform manipulation and spam."
On Tuesday, Representative Doug Lamborn sent a letter to Twitter CEO Jack Dorsey expressing "concerns" about members of the Taliban being allowed on the platform but not Trump. He called it "clear" that the Taliban falls under the violent organization category and noted that spokespeople have been promoting messages of a peaceful takeover that runs contrary to media reports of violence against civilians.
"In my review of these accounts, I did not find a single fact check on any of their tweets, nor any warnings for false or misleading content," Lamborn wrote. "It is impossible to see how the accounts of Zabihullah Mujahid and Yousef Ahmandi do not violate your policies."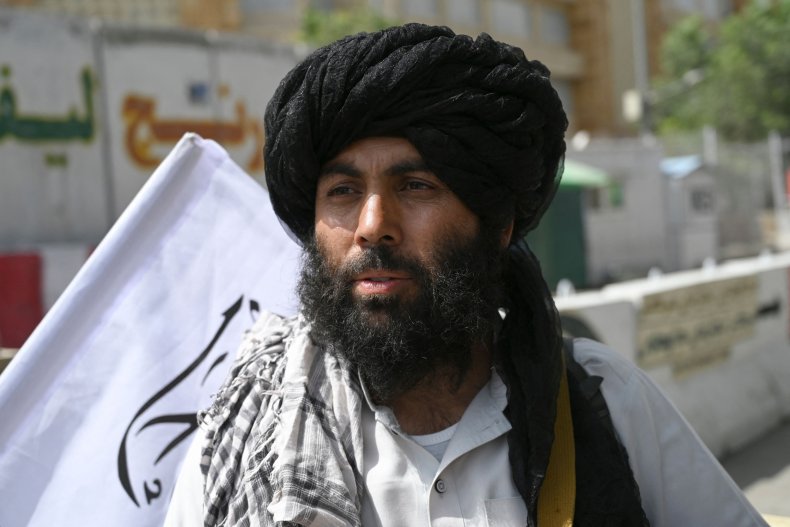 An October 2020 update from Twitter noted that there is "no place" for violent organizations. Assessments as to what constitutes a "violent organization" under the policy are "informed by national and international terrorism designations" and include organizations that identify as an extremist group, have engaged in or currently engage in violence to further their cause and target civilians.
The Office of the Director of National Intelligence's counterterrorism guide lists the Afghan Taliban as a terrorist group and the group was placed on a Treasury Department list of specially designated global terrorists. The Taliban's Pakistan-based branch was also designated a foreign terrorist organization in 2010, although the Taliban itself has never received the designation from the State Department. This may be why Twitter is allowing the accounts to remain active.
Affiliating with or promoting a terrorist organizations' illicit activities violates the policy, according to Twitter. Newsweek reached out to Twitter for clarification as to why the Taliban accounts didn't violate the violent organization policy but did not receive a response in time for publication.
While Twitter has largely avoided the issue of Taliban accounts, Facebook announced on Tuesday it would continue its ban on Taliban content and that it dedicated a team of Afghan experts to monitor and remove content.
"The Taliban is sanctioned as a terrorist organization under U.S. law and we have banned them from our services under our Dangerous Organization policies. This means we remove accounts maintained by or on behalf of the Taliban and prohibit praise, support, and representation of them," a Facebook spokesperson told the BBC.
Much of the criticism aimed at Twitter came from Trump's supporters, including Representative Marjorie Taylor Greene, who recently had her suspension lifted, and Turning Point USA founder Charlie Kirk. Trump was banned from Twitter on January 8 in the wake of the Capitol riot. The company decided to permanently suspend the former president due to the risk of "further incitement of violence."
Regardless of a person's opinion on de-platforming, Donie O'Sullivan, a correspondent for CNN, noted that Trump being banned while the Taliban is not, exposes "some big holes in the company's policy."