Twitter Ridicules Paul Ryan for Trying to School Ocasio-Cortez: 'Who the Hell Wants Useless, Soulless, Spineless Fraudulent Advice'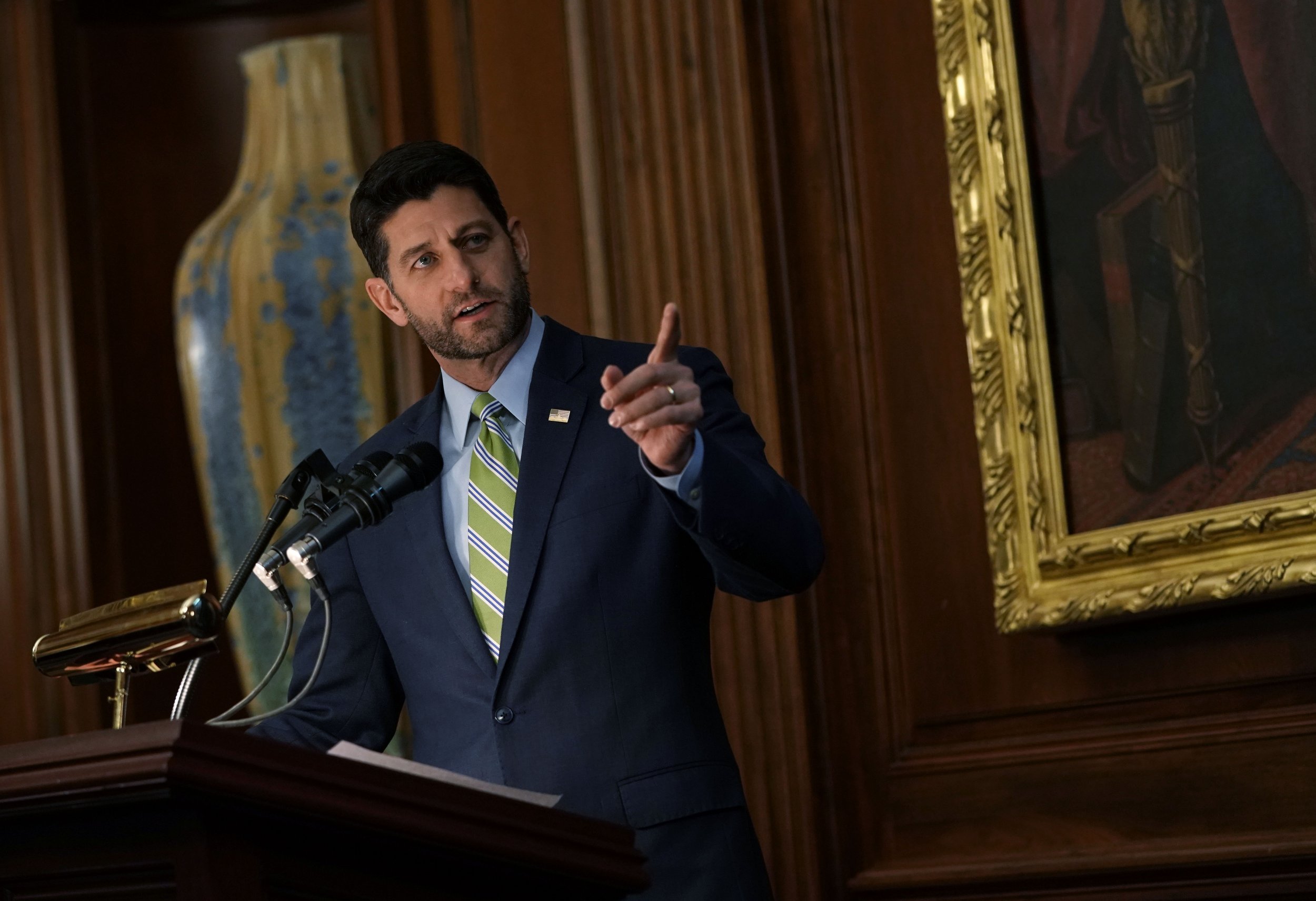 Twitter users ridiculed former House Republican House speaker Paul Ryan on Wednesday after he said he tried to give freshman Democratic Rep. Alexandria Ocasio-Cortez (N.Y.) advice on being a good congresswoman, but he doesn't believe he took her remarks on board.
"I talked to her, AOC — everybody calls her AOC… She's the youngest person now there. I gave her just a few little tips on just being a good member of Congress, new. I don't think she really listened to a thing I said," Ryan said on Tuesday during a speaking engagement at Forward Janesville's annual dinner in Florida. "Take it easy, just watch things for a while, don't ruffle any — see how it works first."
Clearly, the 29-year-old Democrat has not considered Ryan's advice since she entered Congress in January. Upon her arrival on Capitol Hill, Ocasio-Cortez has quickly become one of the most famous, outspoken lawmakers in U.S. politics. The self-described democratic socialist even made the cover of Time last month, with the magazine dubbing her "The Phenom."
When news broke of Paul's comments that his words fell on deaf ears, Americans took to Twitter to ridicule the Republican for trying, with some pointing out that he was the "worst Speaker" who couldn't even get his own caucus on board with his proposals.
"You know what's better than Alexandria Ocasio-Cortez not listening to a thing Paul Ryan said?" writer and comedian Nick Jack Pappas tweeted. "The fact that none of us have to listen to a single thing he says ever again."
"Even conservatives secretly admit at D.C. cocktail parties that Paul Ryan was the worst Speaker in recent history and maybe all-time," Human Rights Campaign staffer Charlotte Clymer wrote. "The idea that @AOC should sit at his feet, kindergarten style, eagerly awaiting his wisdom, is beyond laughable."
"Paul Ryan is complaining that Alexandria Ocasio-Cortez hasn't taken his advice about how to conduct herself as a new congresswoman," John Hartzell added. "Paul, it may be because you were the worst Speaker of the House in history. If someone flunks a class, you don't ask to copy their notes."
"Paul Ryan tried and failed to take away healthcare from millions of Americans. Paul Ryan orchestrated the tax cut for the rich. Then he ran away like a coward and retired," a user called Denizcan Grimes wrote. "Alexandria Ocasio-Cortez doesn't need advice from a failed and corrupt Republican."
"Somebody tell Paul Ryan you can't soul search without a soul to search in," comedian and actor John Fugelsang tweeted.
Read more tweets below: