Twitter Rips Trump for Claiming He Will Save Social Security One Day After Suggesting He's Open to Cuts in Entitlement Programs
President Donald Trump said that he would be willing to cut Social Security funding during a Wednesday interview on CNBC. Trump attempted to clarify and rephrase his statements about Social Security on Twitter Thursday, saying that he would "save" the program.
Twitter users were not pleased by Trump's seemingly disparate comments.
As previously reported by Newsweek, Trump told CNBC anchor Joe Kernen Wednesday that he would look into cutting funds to U.S. social programs by the end of the year.
"At some point they will be," Trump said. "We have tremendous growth. We're going to have tremendous growth. This next year, it'll be toward the end of the year. The growth will be incredible. And at the right time, we will take a look at that."
Thursday, Trump tweeted that he would not touch Social Security funding but that Democrats would.
"Democrats are going to destroy your Social Security," the president tweeted. "I have totally left it alone, as promised, and will save it!"
Maryland Congressional candidate Dr. Maya Cummings, the widow of Representative Elijah Cummings, tweeted that Trump would "rip off American workers" in his attempts to "save" Social Security.
".@realDonaldTrump will 'save' #SocialSecurity just like he saved the students attending Trump University," she tweeted. "He will rip off American workers, stripping them of their hard earned benefits and leaving seniors, the disabled and children begging Wall Street for bread. #dontfallforit"
Presidential candidate Tom Steyer called Trump's claim that he would save Social Security "Lie #16,242."
"Lie #16,242 from @realDonaldTrump," Steyer tweeted. "The truth is, Trump is the one looking to destroy Social Security. This is an intergenerational commitment that shouldn't be cut but strengthened to give everyone a dignified retirement."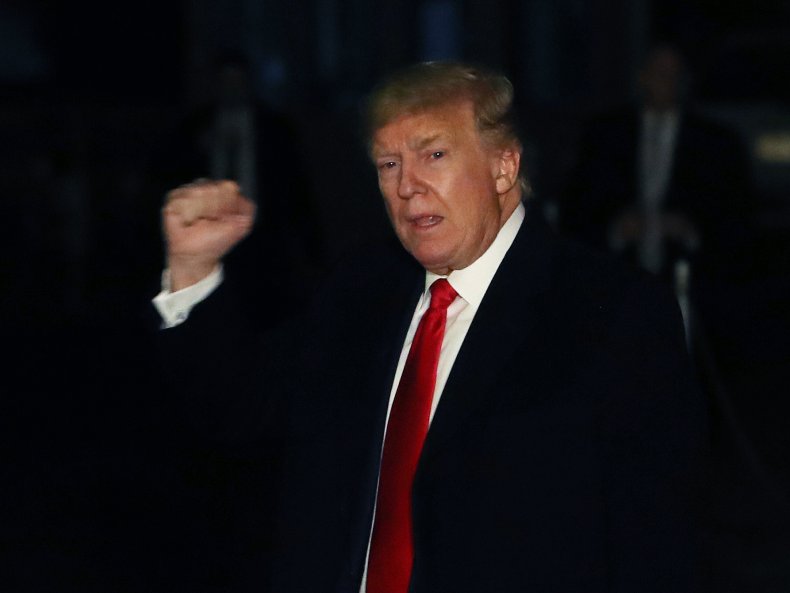 Consumer advocacy organization Public Citizen tweeted "Trump's 2020 budget includes $25,000,000,000 in cuts to Social Security."
Social Security Works said in a tweet to Trump, "You're trying to jam through a huge Social Security cut RIGHT NOW."
Writer David Frum tweeted, "Isn't the explanation that Trump had no idea what 'entitlements' mean - and certainly no idea that Social Security is one of them?"
"I'm confused," tweeted MSNBC anchor Stephanie Ruhle. "What did democrats say about social security/entitlement reform? The only recent comments I am aware of were @realDonaldTrump yesterday saying he was OPEN to social security cuts."
".@realDonaldTrump may be trying to walk these comments back now," tweeted Nevada Senator Catherine Cortez Masto, "but just yesterday, he said he'd easily break his campaign promise& slash programs like Medicare, Medicaid& Social Security. This would threaten the health & incomes of millions of Americans."
"With no benefit cuts, President Trump is keeping his commitment to the most vulnerable Americans especially those who depend on Medicare and Social Security," said a statement to Newsweek from the White House. "His budgets have proposed more savings to mandatory programs than any President in history, including lowering drug costs, eliminating waste, fraud, and abuse, and getting people off welfare and back to work. We hope Congress joins the Administration in passing these critical reforms."
Updated 11:39 p.m. EST 01/23/2020 - This story was updated to include a statement from the White House.