Twitter Says Trump Tweet About Protesters Violates 'Abusive Behavior' Rule
A tweet posted Tuesday morning by President Donald Trump is in violation of Twitter's rules regarding abusive behavior, the company said.
Later in the day, the company responded to the tweet by flagging it with a public interest notice, though the content remained accessible for those who chose to click through.
"We've placed a public interest notice on this Tweet for violating our policy against abusive behavior, specifically, the presence of a threat of harm against an identifiable group," the company said Tuesday afternoon.
"Per our policies, this Tweet will remain on the service given its relevance to ongoing public conversation. Engagements with the Tweet will be limited. People will be able to Retweet with Comment, but not Like, Reply, or Retweet it," Twitter said.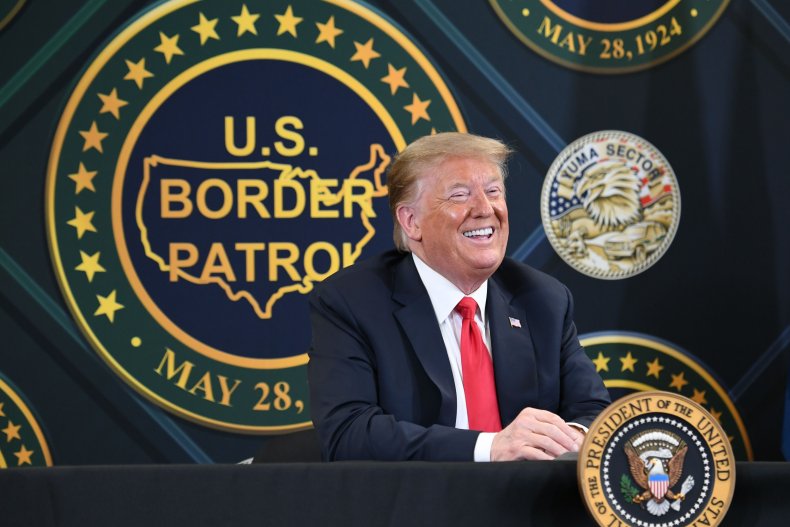 In the post that Twitter said violated its policies, the president was commenting on a group of protesters who have in recent days declared their intention to create an "autonomous zone" in the nation's capital, much like the one protesters set up in Seattle.
"There will never be an 'Autonomous Zone' in Washington, D.C., as long as I'm your President," Trump wrote. "If they try they will be met with serious force!"
According to Twitter, the company only occasionally allows members of the public to view content that has been identified as violating its policies.
"We consider content to be in the public interest if it directly contributes to understanding or discussion of a matter of public concern," the company's guidelines read. Exceptions are made only for posts by elected officials, Twitter said.
The White House did not respond to Newsweek's request for comment before publication.
Since taking office, Trump has consistently used Twitter to communicate with his followers and post updates on everything from policy decisions to his personal opinions on politicians, celebrities and other public figures. While most social media giants have largely avoided moderating his content, Twitter recently began viewing his posts with a more critical eye.
Last month, Twitter singled out two of the president's tweets about mail-in voting in California with a fact-check disclaimer, a decision the president condemned while accusing the company of interfering with the 2020 election.
"Twitter is completely stifling FREE SPEECH, and I, as President, will not allow it to happen," Trump tweeted at the time.
Another of the president's tweets about protesters was flagged a couple of days later because it violated Twitter's policies "regarding the glorification of violence," the company said.
Shortly after Twitter's moves to more actively moderate the president's content, Trump signed an executive order that targeted social media companies. The platforms were no longer open and unbiased once they began regulating content, the order said, and therefore required greater oversight.
"In a country that has long cherished the freedom of expression, we cannot allow a limited number of online platforms to hand pick the speech that Americans may access and convey on the internet," the order said. "When large, powerful social media companies censor opinions with which they disagree, they exercise a dangerous power."
Twitter responded to the executive order by calling it "reactionary and politicized." The company has stood by its decision to flag tweets that are in violation of its policies and has argued it does the same for all world leaders, not just Trump.
Trump's tweet about the proposed "autonomous zone" was one of many he has made in recent weeks that have come under fire as protesters across the country demonstrated to demand an end to violence against Black Americans in response to the death of George Floyd, who died in Minneapolis police custody on May 25.
While Trump spoke out against the protests that devolved into looting and property destruction in the early days of the unrest, his focus in recent days has largely been on the Capitol Hill Autonomous Zone, or CHAZ, a space protesters staked out in downtown Seattle earlier this month that was designed to be free of law enforcement and protective of demonstrators. The president's concerns that protesters might try to create a similar space in Washington, D.C., fueled his tweets Tuesday morning as he vowed action against those who try to make the rumored zone a reality.
This story has been updated with additional information and background.