Twitter Shares Mixed Reactions From Jaguars' Release of Tim Tebow
Tim Tebow's quest for an NFL comeback ended Tuesday when he was released by the Jacksonville Jaguars.
The former college and NFL star was attempting to transition to tight end for the Jaguars after making his name as a quarterback. Tebow also spent time in recent years in the minor league system for MLB's New York Mets.
Tebow had been out of the NFL since 2015, when he was released in the preseason by the Philadelphia Eagles. He broke into the league in 2010, when he was selected in the first round of the NFL draft by the Denver Broncos.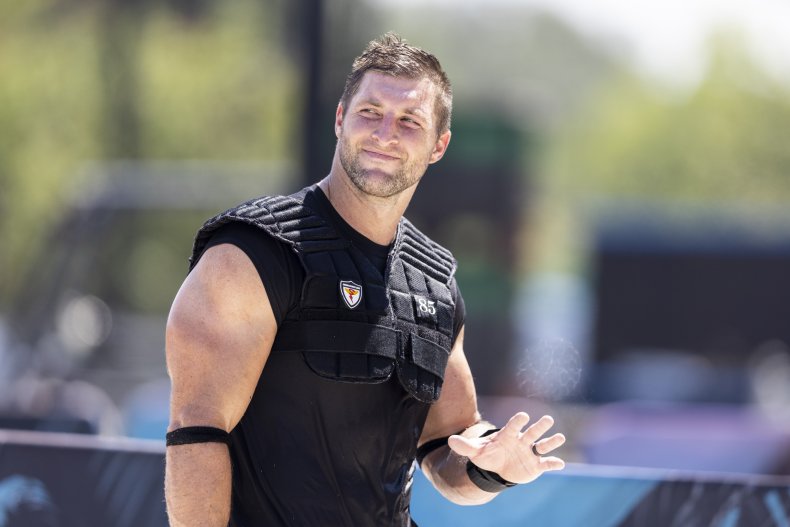 The online reaction was swift, with many praising Tebow for trying to keep his NFL quest alive, while others took shots at the star.
Tebow himself took to social media to write of his release. On Twitter, he wrote: "Thankful for the highs and even the lows, the opportunities, and the setbacks. I've never wanted to make decisions out of fear of failure and I'm grateful for the chance to have pursued a dream..."
He continued in a separate tweet to thank those responsible for the opportunity. The devout Christian also shared a Bible quote. He wrote, "Thank you to the@Jaguars organization and everyone who has supported me in this journey. And we know that...God works all things together for good. Romans 8:28."
Others chimed in to offer kind words to Tebow.
"Respect to Tim Tebow for putting himself back in the arena. Zero shame in that," wrote ESPN NFL draft analyst Jim Nagy.
Ian Rapaport, a pundit for NFL.com, tweeted: "The #Jaguars and coach Urban Meyer took a chance, an experiment. It didn't work out, but a fascinating no-risk gamble. Tim Tebow now released."
Conservative political commentator and author Nick Adams called Tebow "a class act and a great Christian."
David Hookstead, a journalist for The Daily Caller, seconded the sentiment expressed by Adams. He tweeted: "The Jaguars have cut Tim Tebow. Even in defeat, Tebow remains 100% classy."
A football reporter for The Athletic, Andy Staples, simply wrote: "The Jaguars have cut down to 85. The Tim Tebow experiment is over."
Some took the news as an opportunity for humor, even if it weren't even directly related to Tebow. Ariel Edwards-Levy, an editor for polling and election analytics at CNN, joked: "I know literally nothing about football, but I know enough to know that this sentence would be more exciting if it were 'Tim Tebow has released jaguars.'"