Twitter Silent on Disturbing Video of Holiday Inn Employee Crying After Altercation With Customer
A viral video of a Holiday Inn Express employee's interaction with a customer that's circulating on Twitter has users advocating for people to stop sharing it and criticizing the person who recorded it.
The video, which Tariq Nasheed posted on Twitter on Sunday, shows the employee hitting himself before walking away in tears during an altercation with a customer, who accused the hotel chain of "stealing" his money. The alleged employee later posted on Reddit that he suffers from Bipolar Disorder and schizo-affective disorders. His distress prompted fierce criticism on social media.
Several Twitter users called it "triggering" and used it as a moment to share their own struggles with mental health, calling for compassion for the employee. Nick Martin, editor of The Informant, a news website that reports on hate and extremism, said he wouldn't post or link to the video and advised anyone who is triggered by the imagery to "consider avoiding it."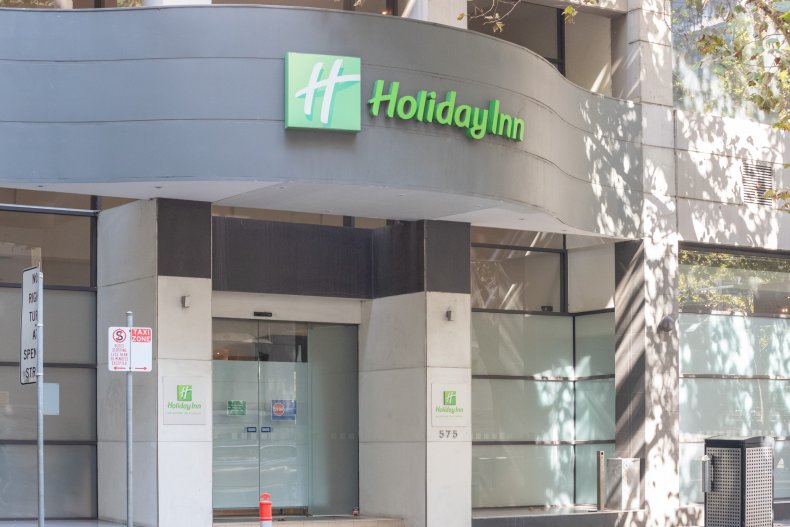 "A customer sees fit to publish a video of a person clearly suffering from a crisis. The customer's reaction is callous and exploitative," Dr. Nan Hayworth, a former House lawmaker from New York, wrote on Twitter.
Twitter didn't respond to Newsweek's requests for comment on whether it would allow the video to remain on the platform.
In the video, a customer asks the employee why he got mad and hit the computer and was taking out frustrations that his company made a mistake on him. After responding that he hit the computer because he was mad, the employee repeatedly hits himself in the face and bangs his head against the computer monitor.
The employee says he has to go and that the customer "ruined my night, ruined my whole life." While the employee is audibly sobbing out of the camera view, the customer walks to the other side of the desk and continues filming.
As the video began circulating on social media, a Reddit user who claimed to be the employee in the video wrote on the platform that he quit his job, although management told him he was welcomed back. He alleged that the customer called him a "f**got" and was "fishing for a reaction," which he got.
Jeremy Hambly created a GoFundMe for the employee and in about 24 hours, it raised over $40,000, more than eight times the original goal of the fundraiser. Nearly 2,000 people have donated to the GoFundMe, which Hambly wrote will be used to give the employee a "head start on finding a job where people don't treat him terribly" and a "nice little vacation."