Twitter Slams Tulsi Gabbard's Stance on Syria, Praises Buttigieg After He Called Her Out for 'Embracing' Trump's Policies
Presidential candidate and Hawaii congresswoman Tulsi Gabbard drew criticism on Twitter for her stance on the Trump administration's decision to withdraw U.S. troops from locations in northern Syria during the fourth Democratic debate in Westerville, Ohio on Tuesday.
"Last week, you said that American troops should get out of Syria now. You don't agree with how the president handled the withdrawal, what would you have done differently? How would you have pulled out troops without the bloodshed we're seeing now?" CNN moderator Anderson Cooper asked the congresswoman.
"The slaughter of the Kurds being done by Turkey is yet another negative consequence of the regime change war that we've been waging in Syria," Gabbard responded. "Donald Trump has the blood of the Kurds on his hand but so do many of the politicians in our country from both parties who have supported this ongoing regime change in Syria that started in 2011, along with many in the mainstream media who have been championing this regime change war. The New York Times and CNN have also smeared veterans like myself for calling for an end to this regime change war."
Gabbard then asked Senator Elizabeth Warren to "join" her in calling for an "end to these regime change wars in Syria."
"I think we oughta get out of the Middle East but we have to do it the right way, the smart way," Warren said. "What this president has done that he has sucked up to dictators, he has made impulsive decisions that often his own team doesn't understand. He has cut and run on our allies and he has enriched himself at the expense of the United States of America."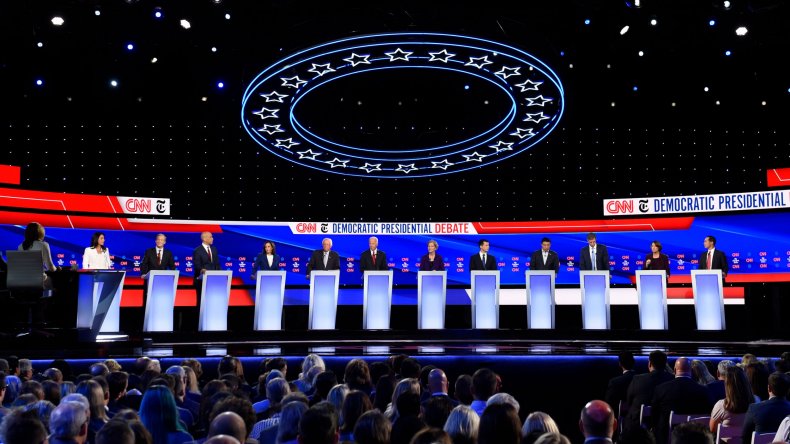 Buttigieg chimed in to rebuke Gabbard. "Respectfully congresswoman, I think that is dead wrong," the South Bend mayor said. "The slaughter going on in Syria is not a consequence of American presence, it's a consequence of a withdrawal and betrayal by this president of American allies and American values."
He continued: "I didn't think we should have gone to Iraq in the first place. I think we need to get out of Afghanistan. But it is also the case that a small number of special operations forces and intelligence capabilities were the only thing that stood between that part of Syria and what we're seeing now, which is the beginning of a genocide and resurgence of ISIS."
Gabbard responded by accusing Buttigieg of wanting to have "U.S. troops in Syria for an indefinite period of time."
"We can end this war without embracing Donald Trump's policies," Buttigieg fired back.
Social media users quickly took to Twitter to comment on their exchange, with many backing Buttigieg and criticizing Gabbard.
"Tulsi Gabbard's 'regime change war' is a Syrian and Russian propaganda buzz phrase," American journalist Liz Wahl tweeted. "Pay attention to her rhetoric and how it impacts the conversation. We'd be in a better place if we were appropriately alarmed with Trump's anti-democratic rhetoric when it mattered."
"Tulsi Gabbard's take on Syria is completely false," author Clint Watts tweeted. "US did not start the war in Syria nor did we initiate a regime change. US did not back al Qaeda in Syria. Why didn't the moderators or other candidates challenge her on these falsehoods?"
"After that weird answer from Gabbard, Buttigieg slammed it home. Maybe his best and strongest answer so far in any debate," author Paul Rieckhoff tweeted.
"A fascinating exchange between two vets just now. Gabbard and Buttigieg (the only two on stage with military experience) are on opposite ends of the debate re: military intervention," NPR political correspondent Asma Khalid tweeted. "Buttigieg comes across as far more passionate and seasoned."