Twitter Sounds Off on Live-Action 'Clifford' Movie Trailer
Viewers first caught a glimpse of Clifford the Big Red Dog's new look last fall, thanks to a short teaser released by Paramount—but a full trailer, posted to Twitter on Tuesday, has sparked a resurgence of conversation online as viewers debate the film's stylistic choices and nostalgic appeal.
Directed by Walt Becker, the children's adventure-comedy centers around Emily Elizabeth (Darby Camp), a young girl struggling to fit in with her peers. When she adopts a red puppy that soon grows to an enormous size, she must protect him from an evil genetics company that's hoping to use the dog to supersize other animals.
The movie, slated for a fall release, features the beloved pup as he's never been seen before. A slick CGI treatment means that this version of Clifford is far more lifelike than his previous iterations. However, according to some social media users, that's not necessarily a good thing.
Aside from his giant size and brick-red fur, the new Clifford resembles a highly realistic Labrador retriever—a choice that appears to be creating an "uncanny valley" effect for some viewers. Many criticized the decision to make the dog so lifelike, especially in contrast to his original, cartoonish appearance. "I feel like this is something that only works as a cartoon," wrote one Twitter user, adding, "It looks horrifying." Others called the new Clifford a "nightmare," a "terrifying monster," and "the scariest f***ing thing I have ever seen in my life."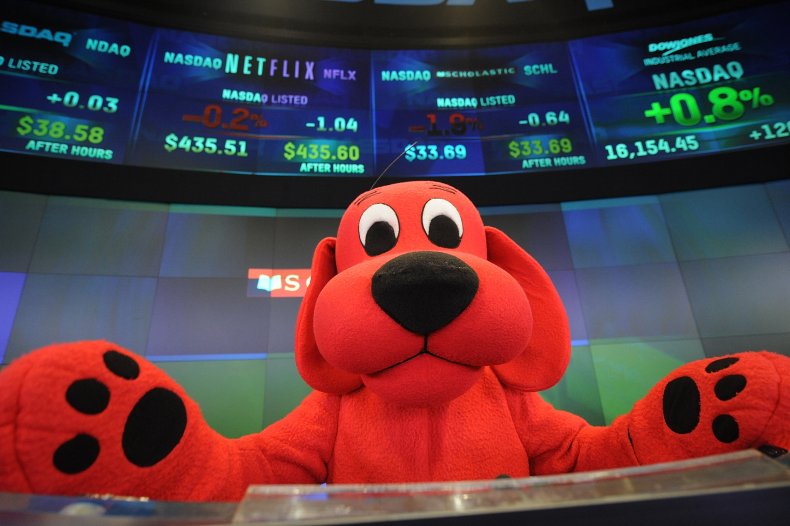 A running theme among the responses is that the reality of a giant, red dog is far scarier than the original Clifford cartoons ever suggested. Many commenters, for example, joked "that Clifford is 100% a kaiju," referring to the Japanese term for supersized monsters like Godzilla. Even Comedy Central saw the resemblance, posting a meme from their Twitter account in which the new Clifford is superimposed onto an image from the monster flick Godzilla vs. Kong:"Ok hear us out: Godzilla vs. Kong vs. Clifford."
The live-action adaptation is following in the footsteps of countless predecessors, including reboots of illustrated classics like Garfield: The Movie, The Cat in the Hat, and this year's Tom & Jerry remake—a genre which is controversial in its own right. Wrote one Twitter user, lamenting the trend of making live-action versions of childhood favorites: "Nah, cause I'm tired. I'm over the remake, reimagined, reboot crap." Another commented that "a Dragon Tales movie is gonna be next on the 'destroy my childhood' list."
But for each critical tweet, joking or not, there's another that expresses wholehearted enthusiasm for the new flick. "I unironically want to see this," wrote one Twitter user. "This looks precious."
The trailer also appeared to tap into a feeling of childhood nostalgia for several millennial viewers: "Shouts [sic] out to the 90's kids who couldn't afford Cable so we grew up on PBS Clifford and Arthur," reads one response. "My childhood right here," another fan tweeted.
Many more appear ready to simply embrace the "chaos [the movie] may bring." Said one Twitter user: "I am so glad they are just running with the absurd a** premise that he's a big f***ing dog capable of incredible damage."
Clifford the Big Red Dog will be released in theaters September 17, 2021.