Twitter Suspends Jim Banks Account After GOP Lawmaker Calls Transgender Rachel Levine 'Man'
Twitter temporarily suspended the official account of Indiana Rep. Jim Banks on Saturday after the Republican lawmaker intentionally mislabeled Assistant Secretary of Health Dr. Rachel Levine—the first openly transgender federal official confirmed by the U.S. Senate—a "man."
In a tweet earlier this week, Banks responded to news that Levine became the first woman to be awarded the title of a four-star officer, by stating that the historic honor was instead taken by a "man."
In response, Twitter said the post violated its hateful conduct policy, which prohibits the "misgendering or deadnaming of transgender individuals." A spokesperson for company told Newsweek that Banks' account was temporarily locked and would be restored if the GOP lawmaker deletes the violating tweet.
"The account owner is required to delete the violative Tweet before regaining access to their account," the spokesperson said.
However, Banks doubled down on his stance through his personal Twitter account on Friday, and used the opportunity to criticize Big Tech companies for censorship.
"Big Tech doesn't have to agree with me, but they shouldn't be able to cancel me. If they silence me, they will silence you. We can't allow Big Tech to prevent us from telling the truth. When Republicans take back the House next year, we must restore honesty to our public forums and hold Big Tech accountable," he wrote.
In a separate tweet, Banks said that he would not "back down," and would instead be posting messages from his personal account for the time being.
Banks' controversial tweet came after Levine was sworn in as an admiral of the U.S. Public Health Service Commissioned Corps on Tuesday, making her the nation's first openly transgender four-star officer and the first female four-star admiral in history.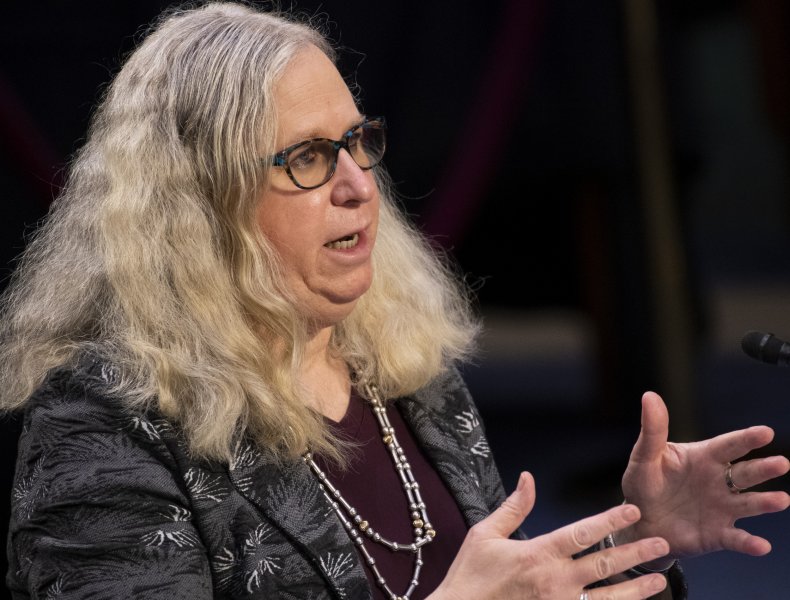 "This is a momentous occasion, and I am honored to take this role for the impact I can make and for the historic nature of what it symbolizes," Levine said during the ceremony, according to NBC News.
"I stand on the shoulders of those LGBTQ+ individuals who came before me, both those known and unknown. May this appointment today be the first of many more to come, as we create a diverse and more inclusive future."
Levine joined President Joe Biden's administration as assistant health secretary in March after serving as Pennsylvania's health secretary and working as a pediatrician. Now, as an admiral, she will be in charge of deploying public health workers to respond to national crises such as the COVID-19 pandemic and natural disasters.