Colorado Republican Representative Lauren Boebert had her Twitter feed temporarily suspended on Wednesday, only for Twitter to reverse its decision later in the day.
Boebert, who just began her first term in the house, voted against impeaching President Donald Trump in the House on Wednesday. Twitter locked down Boebert's account after she posted a tweet about former presidential candidate Hillary Clinton, who ran against Trump in 2016.
"Hillary must be pissed it took the DNC until 2020 to successfully rig an election."
Boebert's tweet was reinstated with a label that read, "This claim of election fraud is disputed, and this Tweet can't be replied to, Retweeted, or liked due to a risk of violence."
In a statement sent to Newsweek on Wednesday, Twitter said it made a mistake in locking down Boebert's account.
"In this instance, our teams took the incorrect enforcement action," a Twitter spokesperson said. "The Tweet in question is now labeled in accordance with our Civic Integrity Policy. The Tweet will not be required to be removed and the account will not be temporarily locked."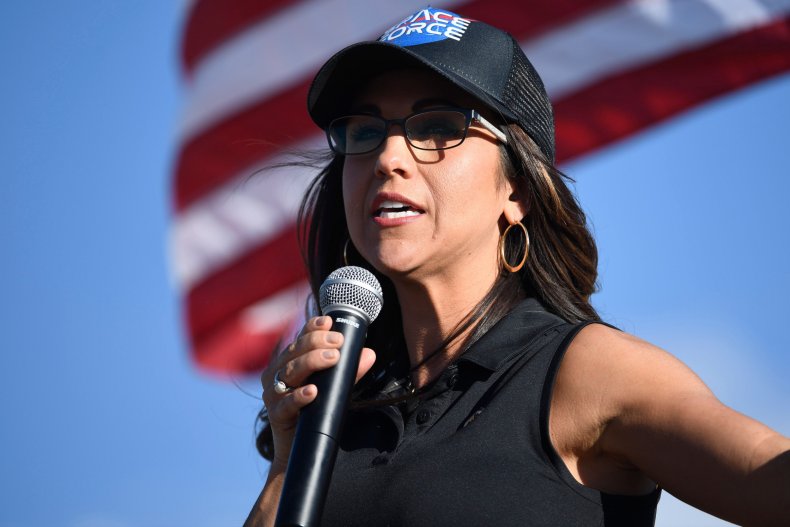 After her account was placed back online, Boebert implied Twitter's decision was part of a larger censorship movement against conservatives.
"Twitter randomly shut my account down with no explanation," Boebert posted to social media on Wednesday. "They do this to thousands of conservatives every single day. When the press reported the ban, it was lifted. What about the thousands of Americans who have been banned and are never heard from again?"
Boebert's Wednesday tweet appeared to support Trump's unsubstantiated claims that the results of the 2020 election were fraudulent. Trump has repeatedly claimed that voter fraud perpetrated on a grand scale by Democrats allowed President-elect Joe Biden to appear to win the election. Multiple lawsuits were filed on behalf of Trump's campaign seeking to overturn the results of the election. A majority of those lawsuits were not successful.
Trump's allegations that he actually won the election may have led to a violent riot at the U.S. Capitol building in January. During a speech at a D.C. Stop the Steal rally, Trump encouraged thousands of his supporters to walk to the Capitol during the Congressional certification of Biden's win in the Electoral College. Rioters were able to breach the doors of the Capitol, forcing a number of lawmakers into hiding. Five fatalities were attributed to the riot.
On Wednesday, the House voted to approve an article of impeachment against Trump which alleged that he was guilty of "inciting violence against the Government of the United States." Boebert voted against Trump's impeachment, citing the perceived tacit approval of Democrats for demonstrations against racism and police culture during the summer of 2020.
"Make no mistake here," Boebert said, "the hypocrisy of the left is on full display."
The impeachment resolution passed the House by a vote of 232-197. Ten members of the GOP broke ranks with their party to vote in favor of Trump's removal.