Twitter Suspends Marjorie Taylor Greene After She Said COVID Not Dangerous for People Under 65
Georgia Republican Rep. Marjorie Taylor Greene was suspended from Twitter for 12 hours on Monday evening. The ban came after she made controversial comments about the COVID-19 vaccine.
Over the weekend, she claimed that the COVID-19 "was not dangerous for people under the age of 65 who are not obese" in a post shared to Twitter, and called the vaccine "controversial." Her comments were in response to a tweet made by Kentucky Republican Rep. Thomas Massie, who said that the military were considering compulsory vaccines for service members.
Twitter said Greene's tweets contained misinformation and suspended her from the platform until Tuesday.
"We took enforcement action on the account @mtgreenee for violations of the Twitter Rules, specifically the COVID-19 misleading information policy," a Twitter spokesperson said, according to the New York Times.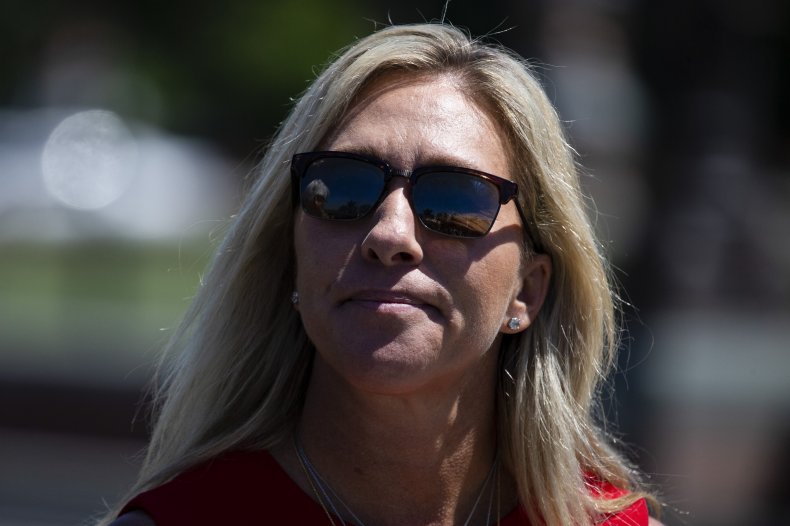 In March, Twitter issued new penalties that users would face if they attempt to spread information regarding COVID-19.
"We've observed the emergence of persistent conspiracy theories, alarmist rhetoric unfounded in research or credible reporting, and a wide range of unsubstantiated rumors, which left uncontextualized, can prevent the public from making informed decisions regarding their health and puts individuals, families, and communities at risk," the company said in its policy against sharing COVID-19 misinformation.
"People who violate that policy are subject to escalating punishments known as strikes and could face a permanent ban if they repeatedly share misinformation about the virus," the statement continued.
"A 12-hour ban, like the one Ms. Greene is experiencing, is Twitter's response to users who have either two or three strikes. After four strikes, Twitter suspends users for seven days, and after five strikes, Twitter bars the user altogether," said a Twitter spokesperson.
Greene recently faced backlash after she voice interest in being appointed to the Capitol riot committee. She claimed she would be a good candidate to stand up to House Speaker Nancy Pelosi.
"The Republicans assigned to the J6 committee should be the toughest fighters that will stand up to Pelosi's witch-hunt 2.0 and defend Pres Trump, Republicans who objected, & political abuse against J6 protestors," the Georgia representative tweeted.
Greene has also promoted former President Donald Trump's baseless voter fraud claims, saying that Biden didn't win the state of Georgia in the 2020 presidential election.
"Georgia was stolen, I know for a fact that President Trump won, none of us believe that Biden won Georgia," she said. "I have stood up for the truth that I know to be true, and that's President Trump won our state. And I'm so proud to say it, I'll say it over and over again. They laugh at me, they scoff at me, they constantly make fun of me on every single level, and I just don't care."
Last week, President Biden said that misinformation that's being spread about COVID-19 on social media sites is "killing people." After receiving push back from Facebook, Biden clarified his statements on Monday by placing the blame on users rather than the platforms.
"It was pointed out that on Facebook, of all the misinformation, 60% of the misinformation came from 12 individuals. ... Facebook isn't killing people, these 12 people who are out there giving misinformation ... are killing people," said Biden, referencing a report by the Center for Countering Digital Hate.