Twitter Takes Down Trump Campaign Tribute to George Floyd After Copyright Claim
Twitter removed a President Donald Trump campaign video featuring a tribute to George Floyd after receiving a complaint that the video violated copyright laws on Thursday.
A Twitter spokesperson confirmed to Newsweek that the video had been restricted due a valid claim under the Digital Millennium Copyright Act, citing a request from Sam Koolaq, a California lawyer specializing in copyrights and trademarks for the entertainment industry.
"My client is very talented, so I can understand why the President chose to use their work as part of his re-election efforts," Koolaq said in a statement to Newsweek. "Thankfully, the law protects artists from unauthorized usage, even when the unauthorized user is the President. Twitter made the right decision here, and we hope that other platforms will soon follow suit."
On Friday, Facebook and Instagram also removed the video after receiving copyright claims.
The campaign video may have been intended to counter criticism the president has received over his response to widespread protesting taking place after the death of Floyd, an unarmed black man who died on May 25 when his neck was pinned to the ground for nearly 9 minutes by a white police officer as pleas for help were ignored.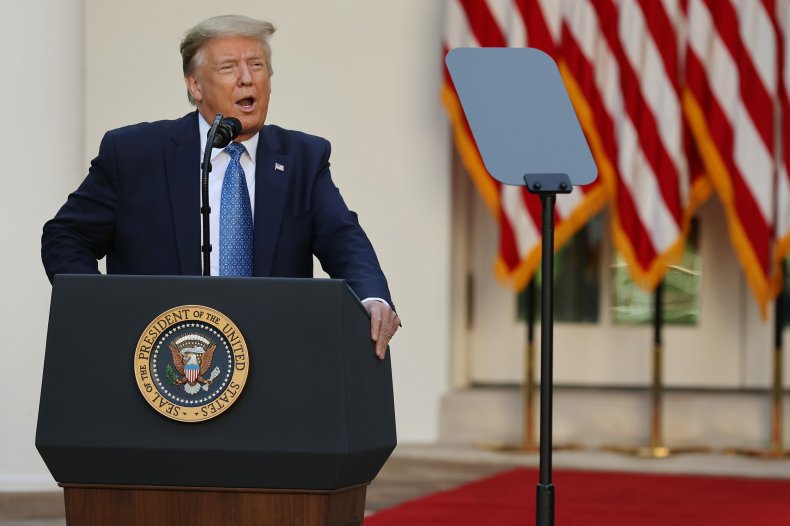 The video, titled "Healing, Not Hatred," shows scenes of peaceful protests while Trump is heard describing Floyd's death a "grave tragedy" that "should never have happened." It then shows images of rioting and looting as Trump warns that "the memory of George Floyd is being dishonored" due to violence by "radical left-wing groups." Images of police officers embracing members of the public and cleaning garbage off streets are later shown as Trump praises the "devoted public servants."
"This incident is yet another reminder that Twitter is making up the rules as they go along," Trump campaign spokesman Andrew Clark told The Hill. "Twitter has repeatedly failed to explain why their rules seem to only apply to the Trump campaign but not to others. Censoring out the president's important message of unity around the George Floyd protests is an unfortunate escalation of this double standard."
The removal of the video comes after a series of recent conflicts between Twitter and Trump. Last week, the platform put a fact check label on a tweet from the president that claimed voting by mail is wrought with fraud. Twitter linked to a landing page that stated studies have historically not shown any link between voting by mail and widespread voter fraud.
Twitter restricted a different tweet for violating rules against inciting violence days later, when the president used the racially charged phrase "when the looting starts, the shooting starts" in reference to ongoing protests over Floyd's death.
Twitter's previous actions against Trump's tweets were met with harsh condemnation from the president and many of his allies. Soon after the tweets were restricted, Trump signed an executive order attempting to remove legal protections for social media companies, although legal experts have questioned whether the order would have any significant effect.
Critics of the president, including some Republicans and former members of the administration, have denounced his insistence that those protesting against police brutality and racism in the wake of Floyd's death should be "dominated," including suggestions that the military be used against Americans.
The president also said that he was declaring "Antifa" protesters part of a "terrorist organization," despite the label being used to loosely describe an ideological movement against fascism, rather than the name of an organization that includes any true membership.
Update 6/5, 4:13 p.m.: This article has been updated to include a statement from the attorney who filed the copyright claim. In addition, information has been added about the video's removal from other platforms.