Twitter User Accuses Trump of Planting Amish Man at Pennsylvania Rally
Did President Donald Trump place Amish supporters at a rally in Pennsylvania? One Twitter user appears to think so. They claimed that the president hired supporters for his rally on Monday in Lancaster County, a dominantly Amish (and apolitical) community.
"Trump's campaign should do their homework before hiring their 'supporters,'" one user wrote. They shared an image of the president at the rally with a man in a traditional Amish straw hat and beard, who also appeared to wear earbuds, behind him in clear view.
"The Amish fellow in the left of this picture is shown wearing earbuds and jacket with a zipper;the Amish shun both. And, wait for it........Amish don't VOTE!" they added.
In a video shared online, Trump mentions having the Pennsylvania Dutch in his crowd and giving a thumbs up. Several Amish men respond by giving him a thumbs up behind him.
"Don't tell anybody, but the Pennsylvania Dutch are voting en masse. They're voting. I heard that the other day," Trump said a rally he held at the Lancaster Airport in Lititz, via Philadelphia Inquirer.
"They said, 'We work hard. We can't have a man who sleeps all day in the basement," the president added, taking aim at his election rival Vice President Joe Biden. A handful of Amish men could be seen in the front row of the rally. Whether or not they will vote "en masse" remains to be seen.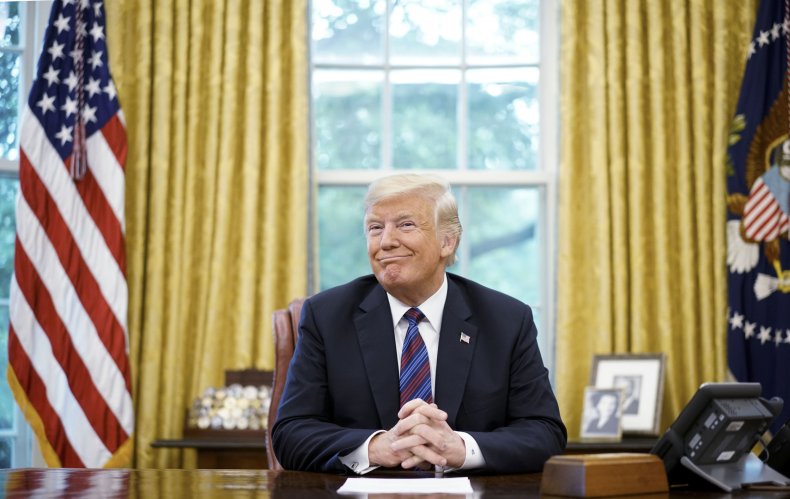 Some Twitter users believe that the attendees who appeared Amish were allegedly, either hired, or Trump supporters dressed up for the rally.
They also alleged that at another Trump rally, nuns were hired to attend, wearing "MAGA" face coverings and placed right behind the president's podium.
Newsweek contacted the White House but did not hear back by the time of publication.
The Pennsylvania Dutch community are known for their rejection of technology, along with other aspects of modern life, such as voting.
As per the York Daily Record, the Amish appear to shun political activism. "I read in the Bible, my Kingdom is not of this world," said one Amish man about not voting. "As followers of Jesus, we don't believe in political power."
"As followers of Christ," another man told the publication, "they believe they should strive to live in the kingdom of God rather than deal with earthly matters." York Daily Record did not that the Amish who do vote are typically Republican, and 90 percent of the Amish community who are registered to vote are Republican. Only one percent of the Amish community who are registered to vote are Democratic.