Twitter Won't Lift Ban on GOP House Candidate and 'Proud Islamophobe'
Twitter has refused to reverse its ban of Republican U.S. House candidate, far-right political commentator, activist and self-described "proud Islamophobe" Laura Loomer after she recently won her primary in Florida.
In a statement to the political newspaper, The Hill, a Twitter spokesperson said that it had no plans to reverse its ban because of Loomer's "repeated violations of the Twitter Rules."
Although Twitter didn't tell the newspaper what specific tweets caused Loomer to be banned, the microblogging social network banned her in November 2018 after Loomer regularly harassed Democratic Minnesota U.S. Representative Ilhan Omar, claiming that Omar supports female genital mutilation, homophobia and anti-Semitism because of her Muslim religious faith.
Loomer had over 260,000 Twitter followers before she was banned.
Loomer has also made comments complaining that she can never find non-Muslim cab or Uber or Lyft rideshare drivers. Both Uber and Lyft banned Loomer from their platforms after her comments received widespread attention. She has blamed all Muslims for the violence of radical Islamic terrorists and supports a U.S. ban on allowing any Muslims to enter the country. On her anti-Muslim tweets, she often included the hashtag #ProudIslamophobe.
The week after Twitter banned Loomer, she handcuffed herself to the doors of the social platform's New York City headquarters as a form of protest. During her protest, which only lasted two hours before she asked police to remove her handcuffs with a pair of bolt-cutters, Loomer wore a yellow star reminiscent to the patch that Nazis required Jewish people to wear in the lead-up to the Holocaust.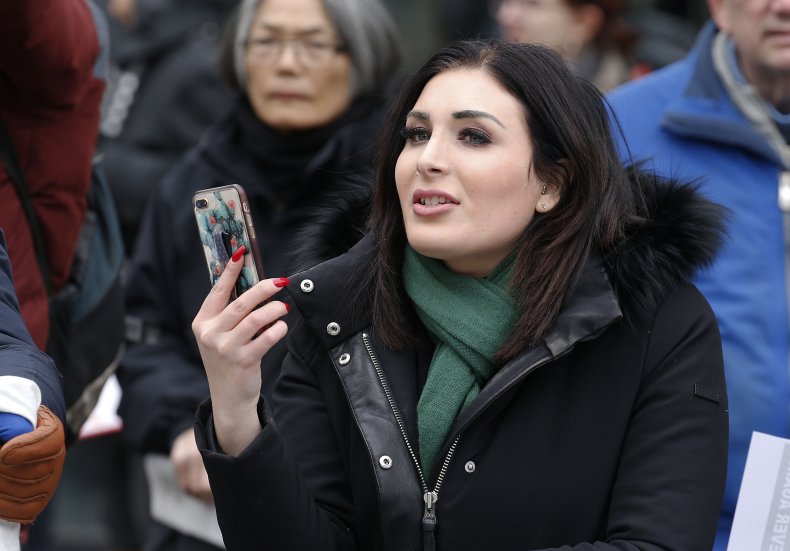 She was also banned from Facebook and Instagram in May 2019.
Loomer said of her banning from Twitter, "My haters are celebrating today, and they are saying this is the end of my career, but I want everyone to know I'm just getting started. Everyone who knows me knows I don't back down."
"Everything I said is 100 percent true and factual. It's not malicious, it's not mean, it's not hateful," she added. In a November 2018 YouTube video, she said Republican President Donald Trump should help reinstate her on Twitter, saying, "If you want to win in 2020 you have to ensure your supporters have a voice on social media."
Loomer defeated five other Republican candidates in her Tuesday race, winning roughly 43 percent of the vote. In November, she will run against her district's Democratic incumbent, Representative Lois Frankel. Frankel is expected to win as the district heavily leans Democratic.
Newsweek contacted Loomer for comment.