Twitter User Does Her Best Impression of How She Thinks Zoe Kravitz Will Act as Catwoman
One Twitter user named Raina posted a video of what she expects Zoe Kravitz's portrayal of Catwoman will be like in the upcoming DC The Batman film directed by Matt Reeves.
In the clip, which is presented as leaked footage from the film, Raina portrays Selina Kyle as a snarky, quick-witted badass, firing off clever and edgy lines to Bruce Wayne. Raina told Newsweek that the inspiration came after reading an interview with actor Andy Serkis that the new film would be a darker take on the franchise. "I was mostly inspired by [an IndieWire] article about how the movie will be "darker" and "broodier" than the other Batmans," she told Newsweek in a message.
Taunting Batman, Raina delivers a raw, nearly unfiltered impression of what she anticipates Kravitz's take on Catwoman will be. "Why do I go by Catwoman? I don't know; cause I'm a c**t," she says right at the beginning of the clip.
Other, less vulgar, but equally hilarious lines include: "Oh your parents are dead? Well, I'm kinda black" and "Nice motorcycle. Is it for kids?" Although the best line that Raina wrote for Catwoman was: a self-aware dig at superhero fandom.
Of course, Raina does intersperse her "brooding, edgy" dialogue with a few fight scenes and lines that you'd expect Kyle to deliver in a more tame Batman film. "What do you want, Batman? Ever since I saved your ass last night, you've been chasing my tail all the way around Gotham City," she says.
She also gives a Marvel-crossover backstory to the new Catwoman. "They call me Catwoman because my dad was the Black Panther before he died, in a war," she says tearfully.
Raina obviously was having a lot of fun shooting the video, and it shows in the final quip she delivers giggling before the camera cuts her off. "Hey Batman, stop being a f**king p***y and come help me kill these people," she says as she starts to laugh.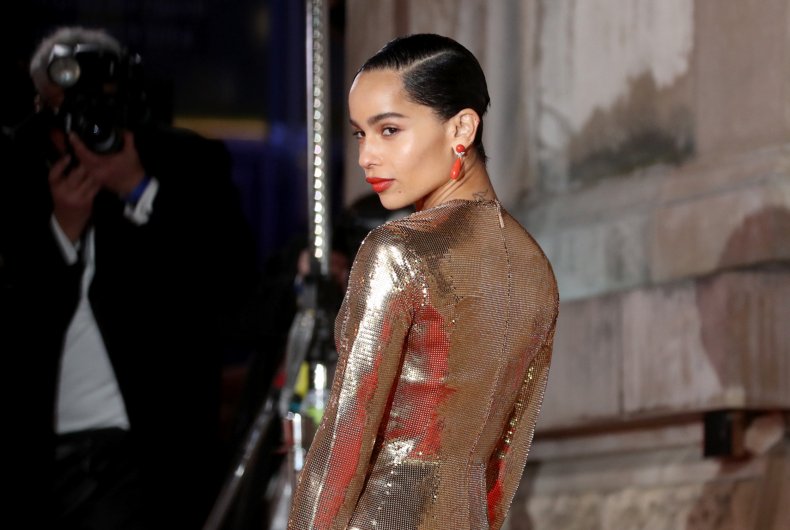 This isn't Raina's first take on a Kravitz impression. The Twitter user said she'd also impersonated Kravitz's character Robyn Brooks in High Fidelity. "[S]he's so unbelievably angsty and I love her," she wrote.
Fans on Twitter raved about her performance, saying that Raina deserves an Academy Award for her impression.
A few people have expressed concern that Raina's impression will be accurate, which she finds amusing. "I love how many people seem worried that my video will end up being very accurate!" she wrote.
Besides Kravitz as Catwoman, The Batman is set to star Robert Pattinson in the title role. The film will also feature Andy Serkis as Alfred Pennyworth, Paul Dano as the Riddler, Colin Farrell as the Penguin, and John Turturro as Carmine Falcone, according to IMDb.
Production on the film was halted due to the COVID-19 pandemic, so fans will just have to wait to see if Raina's predictions for Catwoman were accurate. The film was originally slated to be released on June 25, 2021, but it won't hit theaters until October 1. Reeves told Deadline that about a quarter of the film had been shot, when production was put on hold.
Update: 5/12/20 2:05 p.m. EDT: This story has been updated to include comment from Raina, which was received after the story published.