Two Americans Sentenced to 20 Years for Failed Venezuela Coup Attempt
Venezuelan Attorney General Tarek William Saab has said that two U.S. citizens who were allegedly involved in the recent coup attempt against Venezuelan President Nicolás Maduro have been sentenced to 20 years in prison.
Saab announced the news on his official Twitter account.
"1) #Now list the 1st preliminary hearing GEDEÓN CASE (Silvercorp mercenaries) the citizens Luke Denman and Airan Berry were accused by prosecutors of the cause for serious #crimes .. #TODAY THEN AT A PREVIOUS HEARING OF ACCUSATIONS: THEY ADMITTED THEIR RESPONSIBILITY FOR THE FACTS. 2) ... said gentlemen ADMITTED to have committed crimes of conspiracy, association, illicit trafficking of weapons of war and terrorism typified in the Penal Code: for which they were sentenced to imprisonment for 20 years, months and 9 days. .the #audience follow with others #accused," Saab wrote, as translated by Google.
Luke Denman and Airan Berry were two former U.S. special forces soldiers who, in January 2020, joined a band of armed rebels eager to overthrow the country's socialist government.
The two men were recruited by Jordan Goudreau, the founder of the private Florida-based security contractor firm Silvercorp USA. Goudreau claimed to have hundreds of millions of dollars to help fund a coup with a small army of 60 Venezuelan expatriates training in camps near the border in Colombia.
Goudreau allegedly told the expatriates and Berry and Denman, who was a former Iraq veteran who missed military life amid his new work as a diver, that their mission was backed by the U.S. government, according to Denman's sister, Sarah Blake.
"I think (Denman) really missed that close bond with the people he was working with because they live, sleep, breathe together, and trust each other with their lives. Jordan was the medic with their team, and Luke saw those men as his brothers - he completely trusted them," said Blake.
"Jordan called up Luke, and must have convinced him this was something important, and would really make a difference to the lives of Venezuelans. Luke called my dad and told him he was taking a job, and it was the most meaningful thing he'd ever done," Blake continued.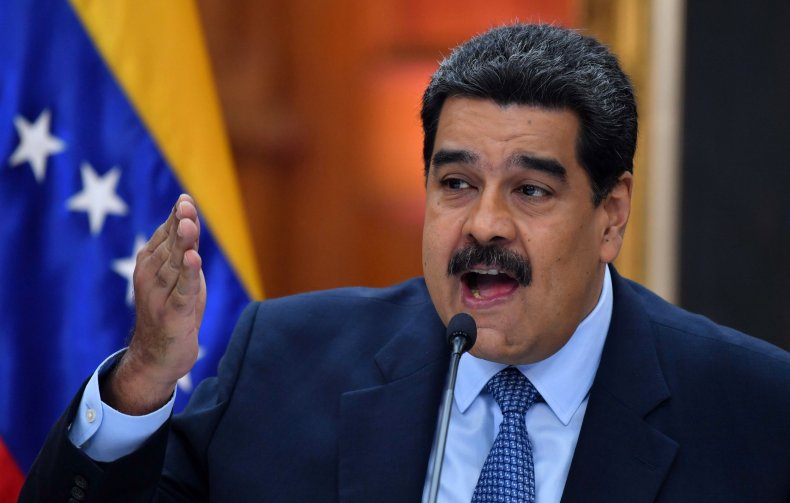 Berry reportedly had a satellite phone in Colombia while waiting to stage the attack and was in touch with Goudreau who continually assured him that more U.S. veterans would arrive to help with the coup. Those troops never materialized.
The two boarded a motor boat with 45 other soldiers and only two rifles between them on board motored. One of the boats' engines failed an hour into the trip, leaving unarmed seasick passengers to sail rough waters on the Caribbean sea.
The boat was eventually captured by Venezuelan armed forces and all the passengers were arrested.
"We are making efforts to learn more, including about the activities of two U.S. Citizens who are reportedly in the custody of the former regime, as well as Mr. Goudreau," a State Department spokesperson told Newsweek.
On Wednesday, Maduro called the coup attempt an "armed incursion, prepared by mercenary groups, by the Silvercorp company, in the United States, under from Donald Trump, acknowledged as such by U.S. citizens."
However, President Donald Trump and Defense Secretary Mark Esper told reporters Tuesday the U.S. had "nothing to do" with the blundered invasion. In statements sent to Newsweek, the DEA said it "had no involvement in this weekend's events" and the State Department affirmed the White House and Pentagon's positions.