Two Cars Swept Away During Hurricane Katrina, a Truck Bed and a Sofa Among Debris Pulled From New Orleans Canals
Drainage problems in New Orleans have been explained after two cars were found among other rubble in the city's canals.
City officials believe the two cars were swept into the drainage canals when Hurricane Katrina's storm surge and heavy rainfall flooded the city 14 years ago.
This seemed to be confirmed by one of the car owners, who reported his 2002 Mazda 626 missing on August 29, 2005, the same day Hurricane Katrina made landfall. According to NOLA.com, the owner didn't know the car's whereabouts until last week, when it was removed from the drainage canal, along with 750 tons of debris.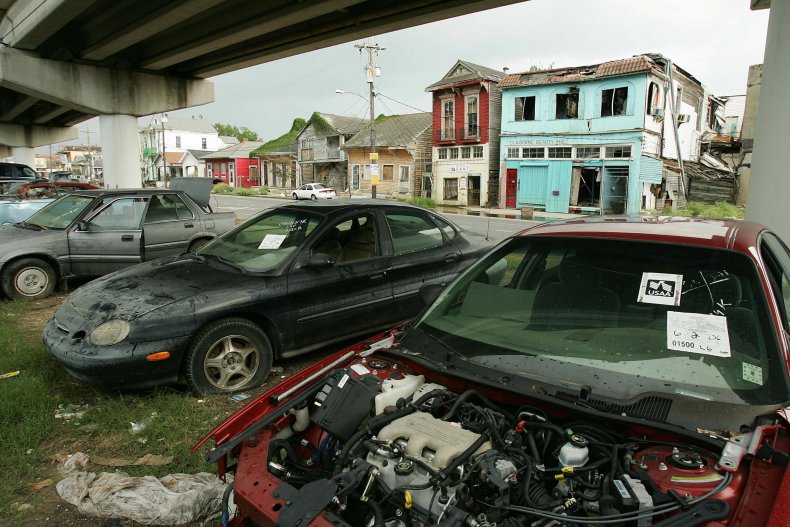 A full truck bed was also unearthed, as was a sofa.
A police report on the Mazda does not explain how the car or the rest of the debris got into the drainage canal. It's probable that the winds from Hurricane Katrina pushed the items into the canal through a large opening, as they were found no more than 250 feet from an open-air portion of the canal.
The police report says the Mazda was "in deplorable condition and appeared to be submerged in water for numerous years," according to NOLA.com. "The vehicle's interior did not allow the officer to determine if there had previously been any damage sustained from auto theft."
These discoveries had prompted a new investigation into canals and pipes throughout the city.
"Now we're looking at the infrastructure we can't always put our eyes on, and that's what you saw with the Lafitte Canal," said New Orleans Sewage and Water Board spokesperson Courtney Barnes.
The news of the possible Katrina discoveries comes just before Hurricane Dorian is expected to hit the coast of Florida and other East Coast states as far north as Virginia. The storm is currently a Category 4 hurricane. The storm has already wreaked havoc in the Bahamas. The first confirmed casualty from the storm was a 7-year-old boy.
Another tropical storm, named Juliette, is expected to become a hurricane later on Monday, according to the National Hurricane Center. Juliette is forming near Mexico in the Pacific Ocean. Meanwhile, Hurricane Dorian is approaching the United States from the Atlantic Ocean.