'My Children Both Live With a Rare Disease'
Head injuries are scary–especially when they happen to young children. So, in 2019, when my then three-year-old son Colton hit his head falling off a jungle gym and started throwing up, we were terrified. My wife Jackie and I immediately rushed him to our local emergency room to be evaluated. While Colton didn't have a concussion like we initially feared, but what we did learn that day has impacted our family more than we could have ever imagined.
Colton's reaction to the impact and the vomiting meant medical staff at the emergency room wanted to run a CT scan to ensure he didn't have a skull fracture. He didn't, but they noticed other potential problems and sent the scans to a neurologist at Lurie Children's Hospital in Chicago. With no immediate treatment possible, we went home to allow Colton to rest. At that stage, we hardly had any information, so we were anxious all night. But we made a point not to tell Colton all the details—he was only four-years-old after all.
The next day a child neurologist from Lurie Children's called to explain the CT scan had shown two tumors on Colton's brain CT scan. We were told this may mean he had tuberous sclerosis complex (TSC). Like any parents, we immediately panicked. What should we do? What happens next?
The first steps were to visit the TSC Clinic at Lurie for genetic testing and an MRI scan, and in a matter of days, it was confirmed—Colton had TSC. This rare genetic disease causes tumors to form in vital organs and is a leading genetic cause of epilepsy. Due to the genetic component of TSC, we decided to also have our daughter, Riley, evaluated. At just two-years-old, she also tested positive. After an MRI, it was revealed that she had tumors in her heart. However, doctors explained to us that she would grow out of these tumors over time, which was a relief.
Even with that reassurance, our biggest concern was, and still is, around what changes might happen over time. TSC is not a static syndrome, different issues can develop over the years and none are predictable. Each person with TSC is different. Nevertheless, Riley's diagnosis was slightly less shocking because we had already begun learning about TSC.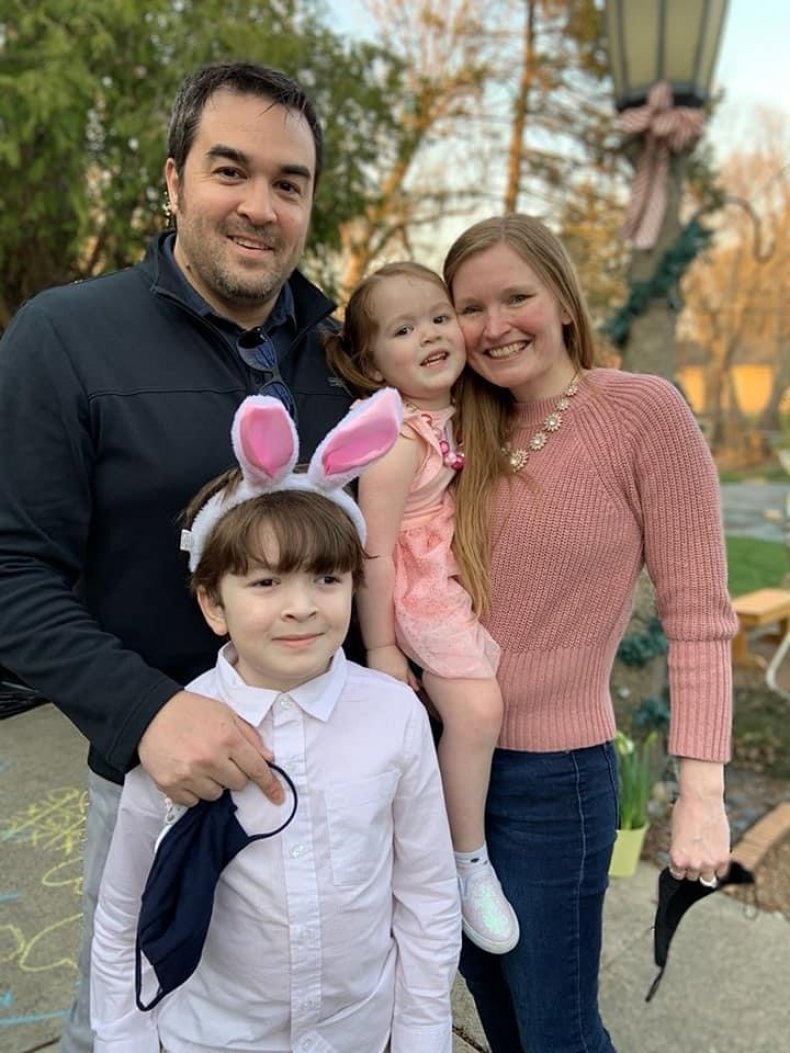 We discovered that TSC can develop when inherited by a parent or, by a spontaneous genetic mutation. During the summer of 2019, I discovered that I also carried the genetic mutation, but I had never experienced manifestations of the disease. It wasn't really a shock—50% of children with TSC inherit it from a parent.
After the initial whirlwind of discovering our family was affected by this rare condition, we dove into understanding it more deeply. We were connected to the Tuberous Sclerosis Alliance (TS Alliance), a non-profit organization, and through them we were able to meet families like ours, in our local region, who have children affected by TSC. It was helpful to understand the challenges that they had faced and how they handled them. After all, TSC is a rare disease, only 50,000 people in the US have it. Some people can go their entire lives without meeting another person with a TSC diagnosis.
Looking back, my son would often fall down when he was little, and we never knew why. Now, it's clearer that those episodes could have been absence seizures, a symptom of TSC. Those with TSC can also experience infantile spasms, epilepsy, autism spectrum disorder, ADHD, kidney problems, tumors and skin abnormalities. There are also non-physical conditions.
Colton showed signs of ADHD and obsessive-compulsive behaviors and we have since found out these types of behaviors fall under TSC-associated neuropathic disorders (TAND). Knowing these behaviors are TAND-related helps psychiatrists and social workers better understand and treat Colton. It is helpful for us too, as it allows us to work with him to build strategies for handling his behaviors and reactions more effectively.
Fortunately, medication has helped my son tremendously. Since he was diagnosed, Colton has been taking medicine to help avoid invasive brain surgery, which would have been needed to remove the tumor that was blocking fluid from flowing through his brain.
But for us, the first year of constant testing, hoping and waiting for the results were extremely difficult. One of the most challenging time periods was between Colton's first and second MRI scans. We were waiting to see if the medication he was on had shrunk his tumors enough to avoid brain surgery. Thankfully, it had.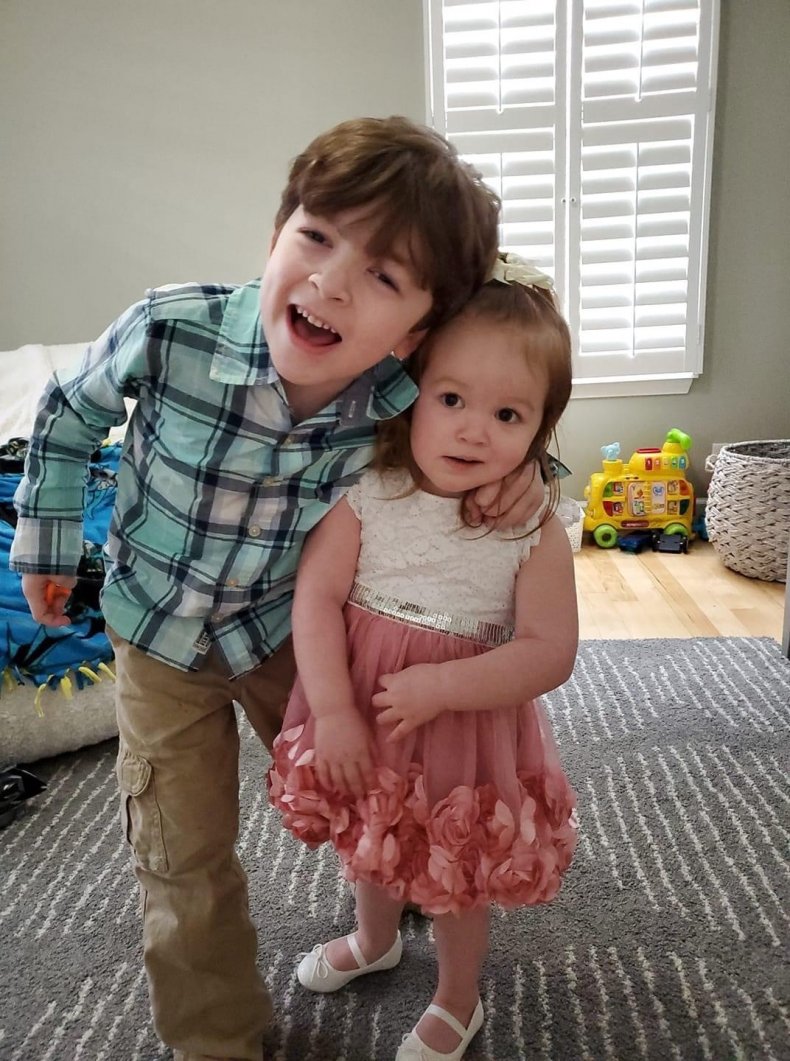 No parent ever wants to be told their child has a serious health condition, and we are lucky to have received so much support. A diagnosis like TSC is daunting in itself, but we also have to address different symptoms as they arise, since no two diagnoses are the same.
We have tried to keep life as normal as possible, but the pandemic had a huge impact on our family. Treatments altered because we weren't able to visit Colton's specialist at Lurie Children's for most of 2020. Psychologist appointments were also moved to telemedicine which wasn't as effective for Colton. When we were able to schedule appointments at the hospital, COVID-19 tests were needed prior to each visit.
Colton's medication also made him more susceptible to serious complications from COVID-19, so it has been an extremely isolating time for our family. We haven't been able to travel or participate in activities with others. Fortunately, Riley was not high risk. The biggest challenge for her was the absence of day care; we were just too concerned about the virus being transmitted to Colton.
Similarly, remote learning has been difficult for Colton. He had received additional support when he was in-person learning, but the school was unable to provide similar services in a remote setting. Digital learning can be tricky for all children, and it proved even more difficult for Colton due to his TAND based issues. Thankfully, he recently returned to school and, with proper precautions, is able to be around his friends and other kids his age again.
For parents who are eager to regain control after a TSC diagnosis, I would suggest advocating for your kids, it has become a big, empowering part of our new lives. My wife and I learned that so many doctors and teachers do not really understand TSC or what it entails, so we have to be willing to educate others and stand up for our child's unique needs.
As well as being heavily involved in the non-profit that connected us with other TSC families, in the past few years, we have both taken part in a variety of fundraisers. I also do TSC-related volunteer work and Jackie takes part in a TSC clinic focus group.
It is so important for people to know that early diagnosis and intervention can improve a child's chances against developmental delays. So, if parents are seeing their child displaying signs or symptoms of TSC, I'd urge them to seek help as soon as possible.
Having two children with a rare genetic disorder was never something we thought would happen. But, we've been able to learn from other families and better understand what to expect as our kids get older. It is challenging, of course, but ultimately I believe we've grown closer as a family.
Phil Tallman and his wife, Jackie, live in Aurora, Illinois with their son, Colton and daughter, Riley. Phil and Jackie are both involved with TS Alliance, a non-profit organization dedicated to supporting families with TSC.
All views expressed in this article are the author's own.